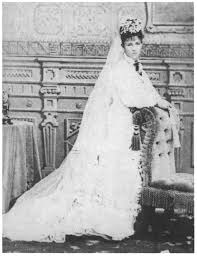 990: Mary Page Handy
Her Husband is Remembered for Being the First Chancellor of the University of Arizona—Even Though He Also Horrifically Abused Her and Tried to Ruin Her Life
Born: c.1860-1861, Tucson, New Mexico Territory, (Present-day Tucson, Arizona, United States of America)*
Died: 1893, Tucson, Arizona Territory (Present-day Tucson, Arizona, United States of America)
Mary's life was tragic from the start. Her father was killed by a band of Apache Native Americans while her mother was taken captive by them. Mary's mother managed to escape and crawl through the wilderness for over a week (once source states sixteen days) before making her way back to Western Civilization.
When Mary was sixteen, she married a well-known physician who served Tucson residents as well as working for the US Army at Camp Thomas. The couple would eventually have five children.
In November of 1886, Mary's husband was named the first chancellor of University of Arizona (though he was removed from office only a year later for being terrible at his job, shocker!). By then, he had already begun to torture his wife.
The good doctor would chain Mary to a bed in their home and forcibly inject her with morphine. His goal? To make her an addict. And he was eventually successful. After two years of this abuse, he filed for divorce (one source says he wanted to divorce Mary so his affair with a married woman wouldn't be as scandalous. I think he was just a horrible person). In the court filing, Mary's husband accused her of being, "a morphine fiend and common slut." She was a morphine addict, that was true, but she was only an addict because her husband had made her so.
I think we should refer to her ex from here on out as Dick. Sound good to the rest of you?
After filing for divorce, Dick publicly let it be made known that any lawyer who dared to defend Mary would be sorry. Nice guy, I know. Luckily one man was brave enough to step up and fight for her in the territorial court.
In 1889, Dick was successful in obtaining a divorce from Mary. He also managed to gain full custody of their five children. Once the kids were in his possession, Dick sent them away to live with his mother in California. Then Dick complained that he had been ordered to pay Mary $30 a month in alimony and tried to kick her out of the house the court had decided she could keep in the divorce settlement.
That's right, Dick made Mary a morphine addict, smeared her name in the press, threatened any attorneys who might be brave enough to do the right thing, tried to evict her from her own rightfully obtained home, pissed and moaned about having to pay her alimony, and then he also took away Mary's children and dumped them on his mother instead of caring for them himself.
The story doesn't end there. But luckily this next bit should put a smile on your face.
On 24 September 1891, Dick attacked Mary's attorney in the street. The attorney knew how nuts the good doctor was and shot him where he stood (I mean, Dick had been threatening to kill Mr. Heney, Mary's attorney, openly for anyone willing to listen to him so can you blame the guy?). Mary's attorney got away with it with a successful (and in this case completely true) plea of self-defense. Dick got what was coming to him in the end.
Oh Karma, how we love you so so much.
Sadly, Mary didn't live with her victory long. She passed away from cancer two years later. According to some sources, she asked for her children to be brought back to Arizona for her to see them before she died, but Dick's family refused to let them come see her.
According to an article I found online, one of Dick and Mary's sons had sworn to kill Mary's attorney in revenge for his father's death. However, after meeting Mr. Heney, the two became lifelong friends instead. One final *expletive* you to the good doctor that I sincerely hope is true!
Oh and by the way, Mary is unfortunately in the ever-expanding collection of women I have found who were victims of a man in their life and the man has a Wikipedia article that pops up right away on Google search results while little appears for their victim (Mary does not have her own Wikipedia article). Other women in this unfortunate collection include Maria Milagro de Hoyos, Mary Phagan, Anna Aumuller, and Emily Mather. 
*Two Notes on Mary's Early Life:
According to Mary's headstone, she was born in 1860. However, according to genealogists on WikiTree, Mary's father died in February 1861 while Mary's mother was pregnant with their daughter, and so Mary would have to have been born later in 1861. The obituary printed at the time of her death also supports the 1861 date because it states she was "Thirty-one and a half years old" at the time of her death in 1893.
Note Two: On Mary's Find a Grave profile, one of the flowers placed on her virtual grave is said to be from a distant relative. On the attached note, they said Mary made a long journey from Tennessee to Arizona. However, taking anything you see on the internet at face value is never a good idea and so I did a little more digging and found a copy of her obituary posted to a WikiTree profile for her (the same one I mentioned above). The obituary states Mary was born in Tucson, and so I have listed her birth location as Tucson, Arizona. This also makes sense if her mother was pregnant with her when she was taken captive by a band of Apache. The Apache people historically lived in the Southwestern United States--nowhere near Tennessee. If I ever find out different, I will update her profile accordingly, but for now I am listing Mary's birth location as Arizona.
Badges Earned:
Find a Grave Marked
Located In My Personal Library:
Southern Arizona Cemeteries by Jane Eppinga
Sources:
Southern Arizona Cemeteries by Jane Eppinga
https://commons.wikimedia.org/wiki/File:Mary_page_handy_1878.jpg
https://arizonahistoricalsociety.org/wp-content/uploads/2012/05/Cemetery_Evergreen_flyer_2012.pdf
http://tucsoncitizen.com/morgue/2006/10/14/29340-lookin-back-temper-proves-deadly-for-physician/
https://www.wikitree.com/wiki/Page-13076