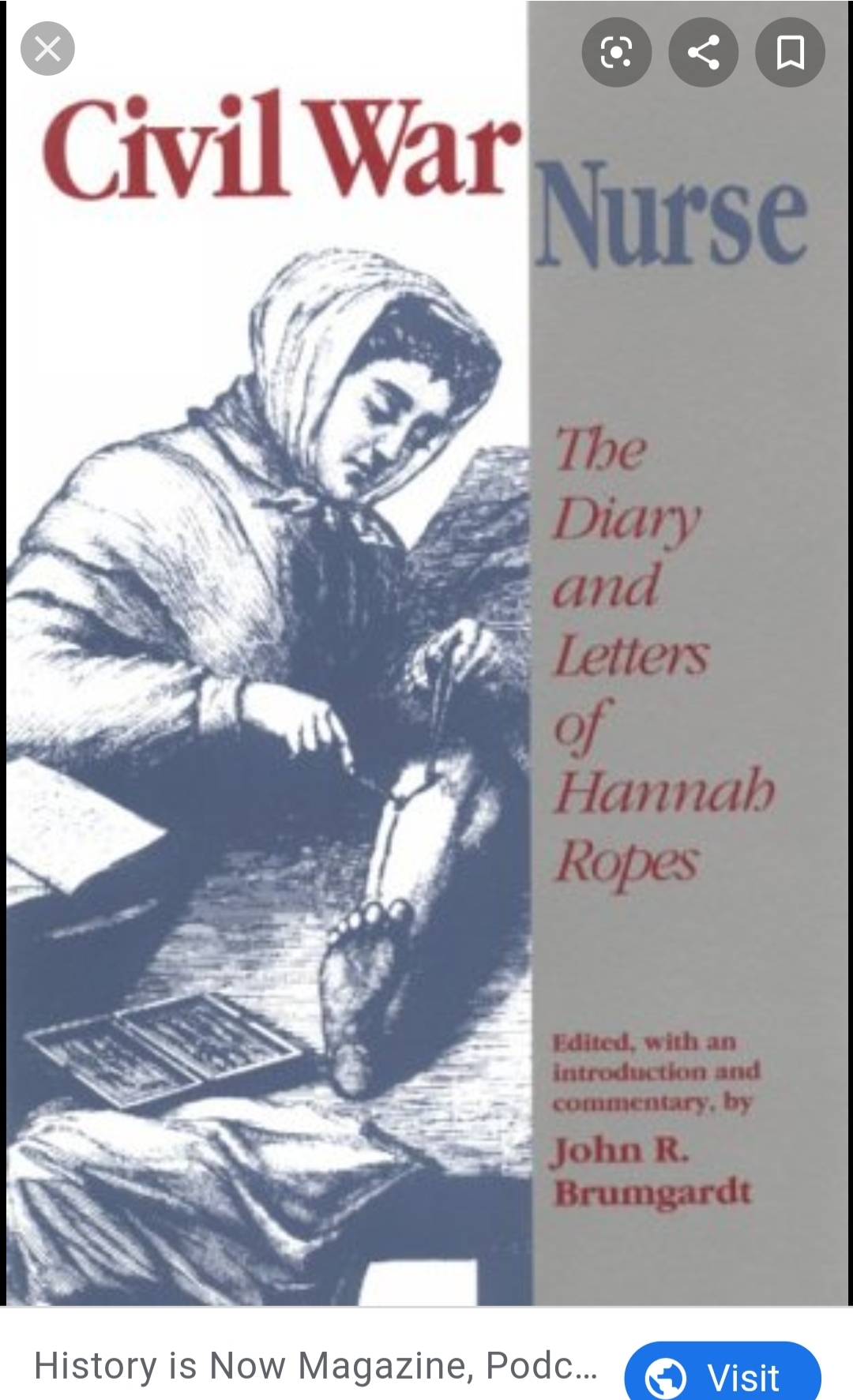 655: Hannah Anderson Ropes
War Between the States Nurse and Abolitionist
Born: 13 June 1809, New Gloucester, Maine, United States of America
Died: 20 January 1863, Washington DC, United States of America
Hannah's parents were wealthy enough to provide her with a fine education at home. She was also raised to be a good Christian. Her Christian faith fit well with her belief in abolition and equality between the sexes. While Hannah's beliefs weren't popular with the majority of men in her day and age, she did manage to find a like minded man, and they married in 1834.
Unfortunately, the man wasn't without fault. Hannah had four children with her husband before he abandoned her and the children (two of which lived to adulthood), in 1847, citing "health concerns". He moved to Florida and a few years later, Hannah packed up and moved herself and the children to the Kansas Territory.
The Kansas Territory at the time was in the midst of the struggle that would soon become known as Bleeding Kansas. Hannah protected her children by keeping knives and loaded guns in the house but refused to shake in her abolitionist faith. She was an ardent liberal feminist, at least the nineteenth century definition.
In 1857, Hannah moved her family back to Massachusetts where they would be safer. After the move, Hannah took up a career in writing, publishing several books. She also began reading from a wide range of topics. One of the books she picked up was by Florence Nightingale. This book would change Hannah's life, and thereafter she endeavored to become a nurse.
At the outbreak of war, Hannah began working as a hospital nurse. Soon enough she became matron of the Union Hotel Hospital in Washington DC. As head matron, Hannah instructed the nurses to treat every soldier with the equal amount of respect. They each deserved good treatment, a clean environment, and healthy food. Hannah was such a strong force for change in the hospital not everyone liked her or agreed with her. Surgeons frequently got into Hannah's bad graces, and the disagreements sometimes boiled over to actual fights. At one point, Hannah actually had to go to then-Secretary of War Edwin Stanton to see action against a surgeon treating his patients with actual cruelty. The Secretary listened to Hannah and acted accordingly. He followed it up by ordering no one could remove Hannah from her post.
One of the nurses Hannah worked with at this time was Louisa May Alcott, before Louisa became an internationally known author. After the particularly dreadful Battle of Fredericksburg, Louisa suggesting cutting rations for the wounded soldiers, but Hannah would have none of it. She said, "'Bless their hearts, why shouldn't they eat? It's their only amusement; so fill every one [bowl], and, if there's not enough ready tonight, I'll lend my share to the Lord by giving it to the boys."
Hannah and Louisa both ended up contracting typhoid pneumonia at the hospital where they were working. While Louisa would recover, sadly, Hannah did not; proving her point that better sanitation and more help was needed in the medical field during the war. After her death, the hospital was draped in black and the soldiers staged a moment of silence for their fallen head matron.
The diary Hannah wrote while in Kansas, entitled Six Months in Kansas: By a Lady, is now available in print copies and shares a unique perspective on the battle that became known as Bleeding Kansas.
Badges Earned:
Find a Grave Marked
Sources:
http://www.historyisnowmagazine.com/blog/2019/2/24/a-great-us-civil-war-nurse-hannah-anderson-ropes#.XmPuIahKhPY=
https://www.newenglandhistoricalsociety.com/hannah-ropes-spends-6-months-in-kansas-with-loaded-pistols-and-bowie-knife/
https://www.findagrave.com/memorial/39185837/hannah-a_-ropes