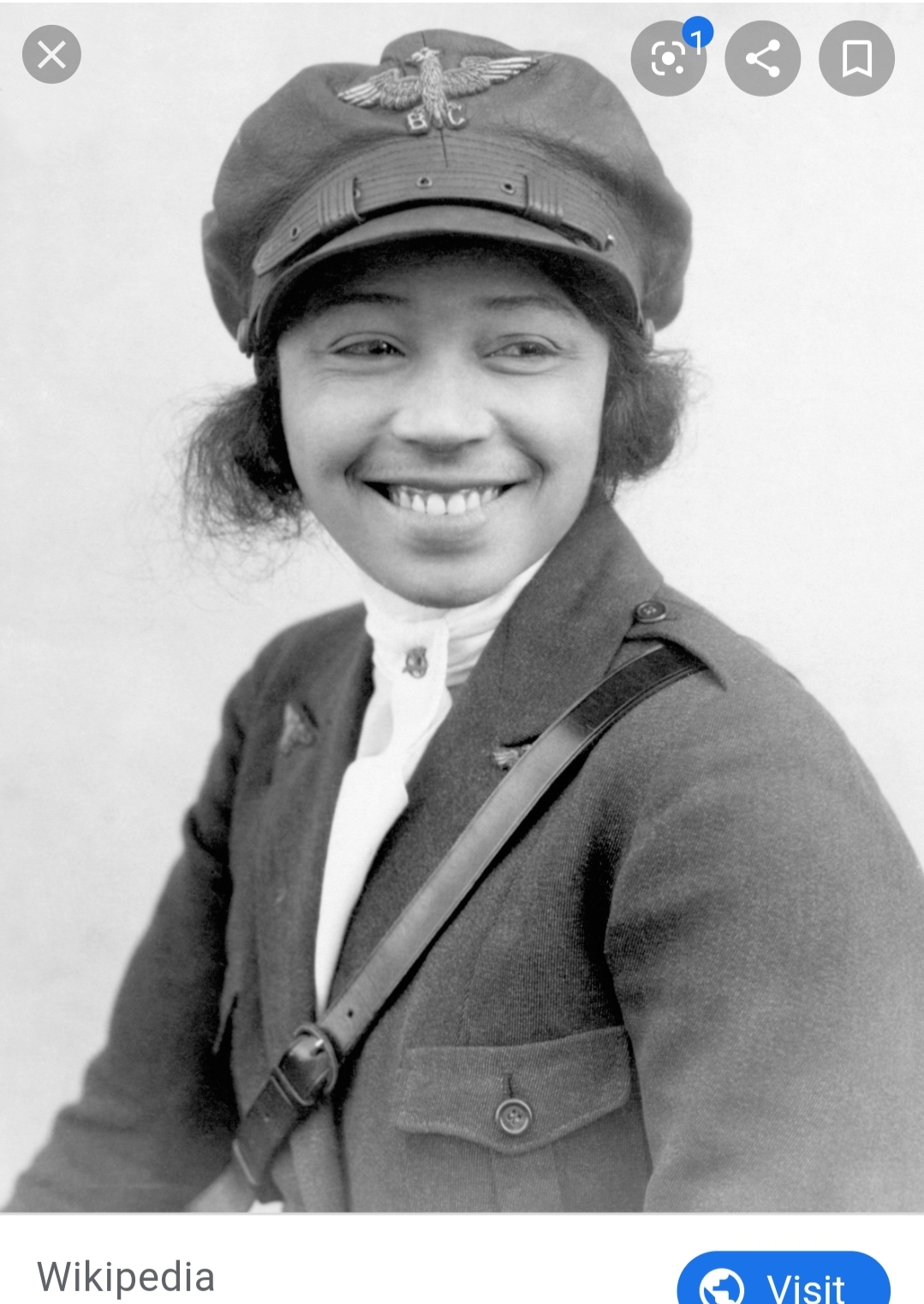 980: Bessie Coleman
The First Female African American & the First Female Native American to Receive a Pilot's License
Born: 26 January 1892, Atlanta, Texas, United States of America
Died: 30 April 1926, Jacksonville, Florida, United States of America
Original Name: Elizabeth Coleman
Bessie was also the first African American person to earn a civilian pilot's license in world history.
Bessie had twelve brothers and sisters. Her father was a Native American (I haven't been able to see which tribe or nation he came from) sharecropper and her mother was an African American maid. In 1901, Bessie's father returned to Oklahoma while Bessie's mother and her numerous siblings stayed in Texas. Though Bessie worked throughout her childhood to save money, she had to drop out of college after only one semester because she ran out of money.
In 1915, Bessie moved to Chicago and went to school to become a manicurist. Bessie's brothers, whom she'd been living with at the time, went off to serve in World War I. Upon returning, Bessie's brother John teased her his sister because she was unable to learn to fly but French women could.
That's right, Bessie heard her brother talk and decided she wanted to earn her pilot's license, but she would be denied lessons over and over again. The reason? Her race, of course.
With this in mind, Bessie teased her brother right back and began taking night classes to learn French. If she wanted to apply to flight schools in France, she needed to be able to fill out her applications in French. Once she'd learned enough to get by, Bessie headed to France, where she successfully signed up for classes. She earned her international pilot's license in 1921, but it wasn't easy. Bessie later recounted seeing one of her fellow students die in a crash during a training flight.
After returning to the United States, she worked in exhibition shows across the country and dreamed of opening an aviation school for young girls. Bessie's other dream was to own her own plane. She began touring across the country, giving speeches and showing footage of her flights in order to raise money. Bessie refused to speak in any location that discriminated or segregated against any population.
In 1922, Bessie became the first African American woman to perform a public flight. She was most known for doing two stunts: the figure eight and the loop the loops. Bessie also began teaching flying lessons, doing her best to encourage women to learn to fly.
The following year, Bessie was involved in her first major accident. In February of 1923, Bessie was in the middle of a flight when her engine suddenly stalled and she crashed. She walked away with a broken leg, cuts to her face, and several cracked ribs. Bessie was back to performing dangerous aerial tricks within two years of the crash.
Finally, after years of hard work, Bessie was able to purchase her own plane. To celebrate, Bessie returned to her hometown to celebrate and perform in a show. At first, the managers of the show wanted the entrance to the show to be segregated, one gate for whites and one gate for colored people. Bessie refused to appear in the program unless there was one gate for everyone to enter through. Unfortunately, the seating arrangement for the show was still segregated, but Bessie was recognized for her work in getting the entrance to be open for everyone and for standing up for her beliefs.
Sadly, Bessie died when riding as a passenger on a flight. The pilot on the flight was a mechanic named William Wills. When flying at approximately three thousand feet, a loose wrench somehow got stuck in the engine. With William no longer able to steer the craft, the plane flipped upside down. Bessie was not wearing a seatbelt, and immediately fell out of the plane (aircraft did not have roofs at the time). She died upon impact with the ground. William also died in the crash. Though he was wearing his seatbelt, William died when the plane crashed into the ground.
Bessie's funeral was held in Chicago. Her service was conducted by Ida B Wells-Barnett. In 1931, the Challenger Pilots' Association of Chicago began a tradition of flying over Bessie's grave every year. In 1977, a group of African American female pilots got together and formed the Bessie Coleman Aviators Club. Then in either 1992 or 1995 (sources differ), Bessie was honored on a postage stamp.
In 2006, Bessie was inducted into the National Aviation Hall of Fame.
Badges Earned:
Find a Grave Marked
Located In My Personal Library:
Wild West Women by Erin Turner
Historical Heartthrobs by Kelly Murphy
Who Knew? Women in History by Sarah Herman
Sources:
https://www.womenshistory.org/education-resources/biographies/bessie-coleman
https://www.pbs.org/wgbh/americanexperience/features/flygirls-bessie-coleman/
https://www.nationalaviation.org/our-enshrinees/coleman-bessie/
A Fun Update (July 2021):
In late June/early July 2021, my mom and I took a road trip around some of the closer states to where we live. Along the way we stopped at the National World War II Aviation Museum in Colorado Springs, Colorado, where the following was on display there (this is a photo I snapped while in the museum).