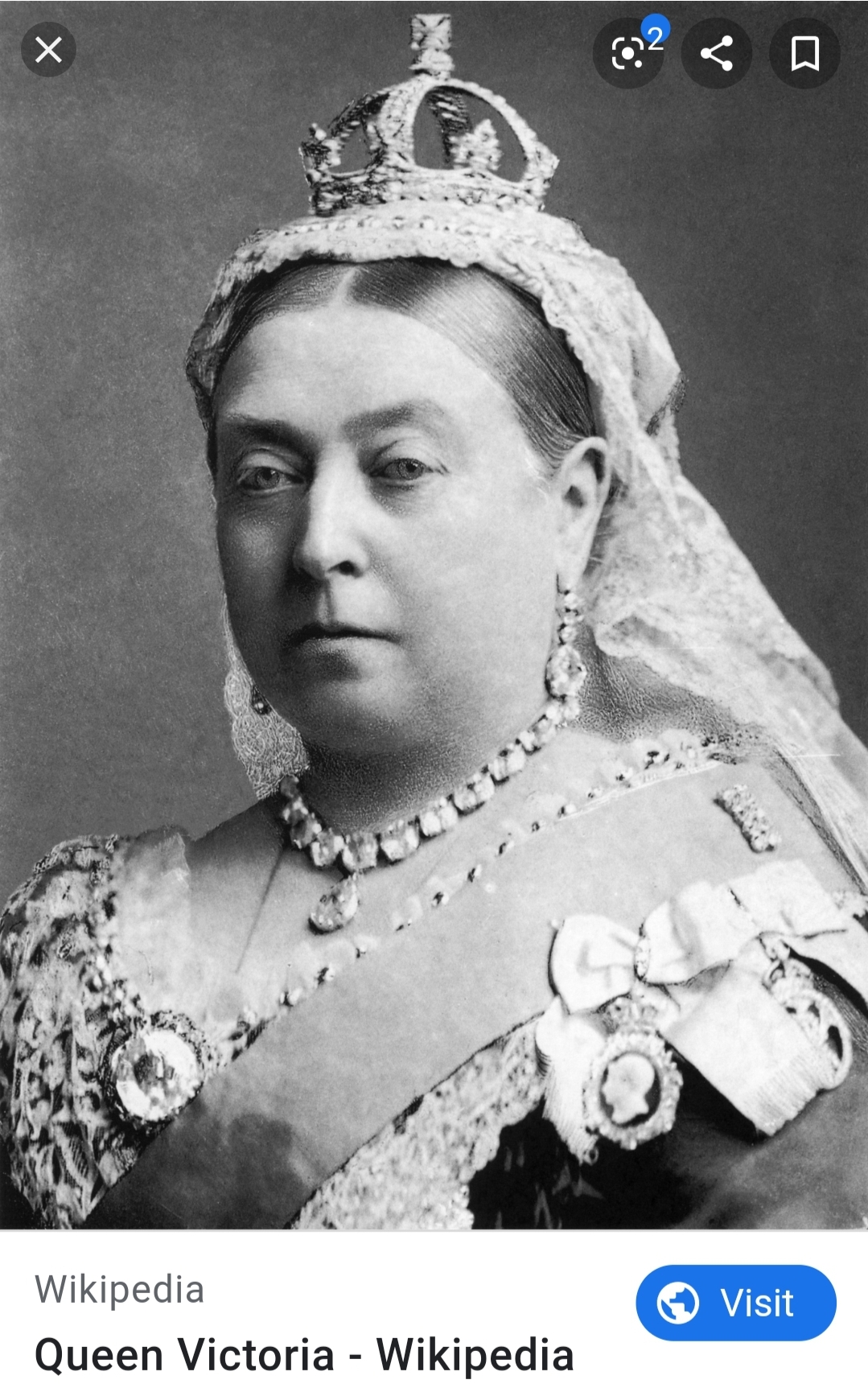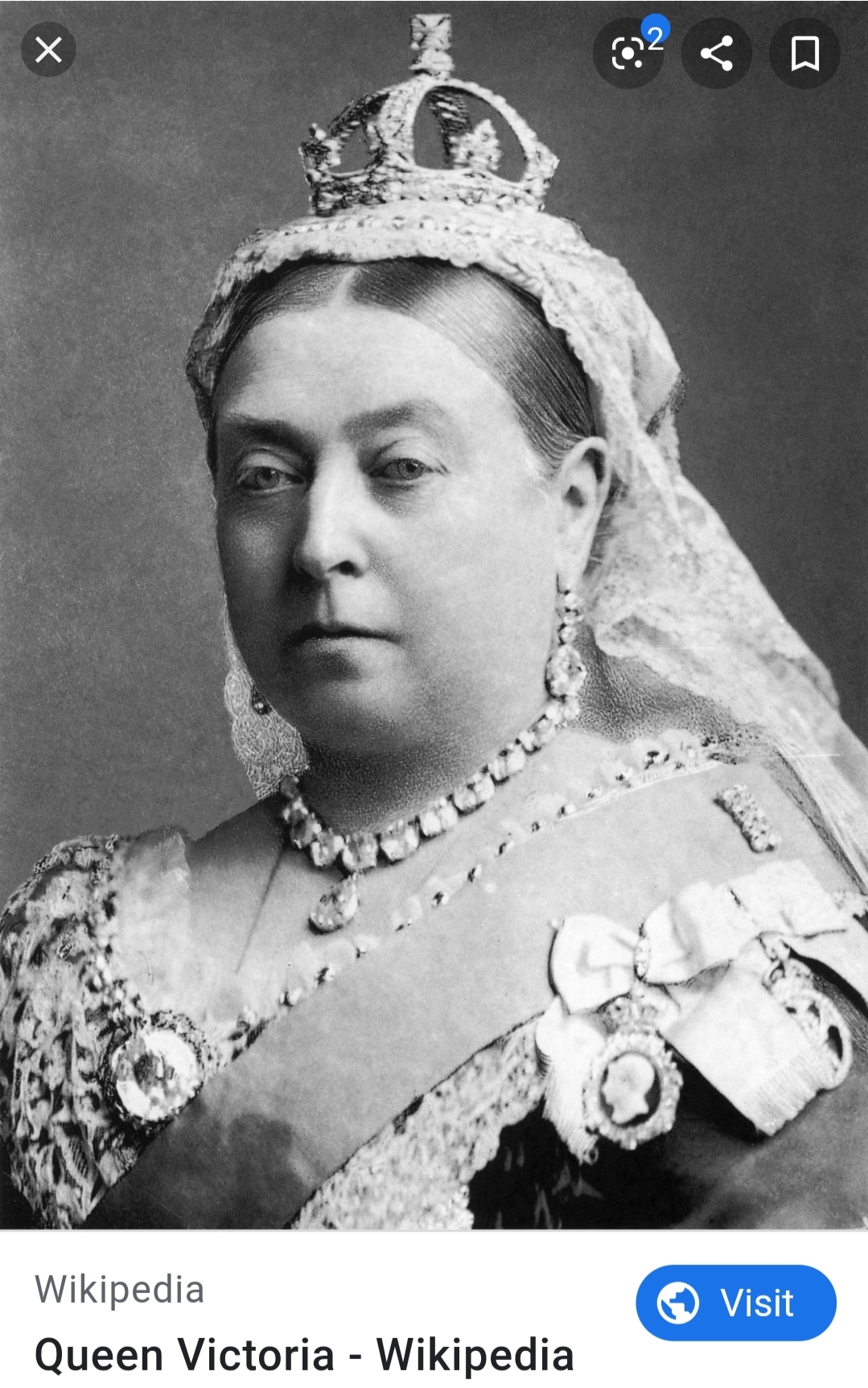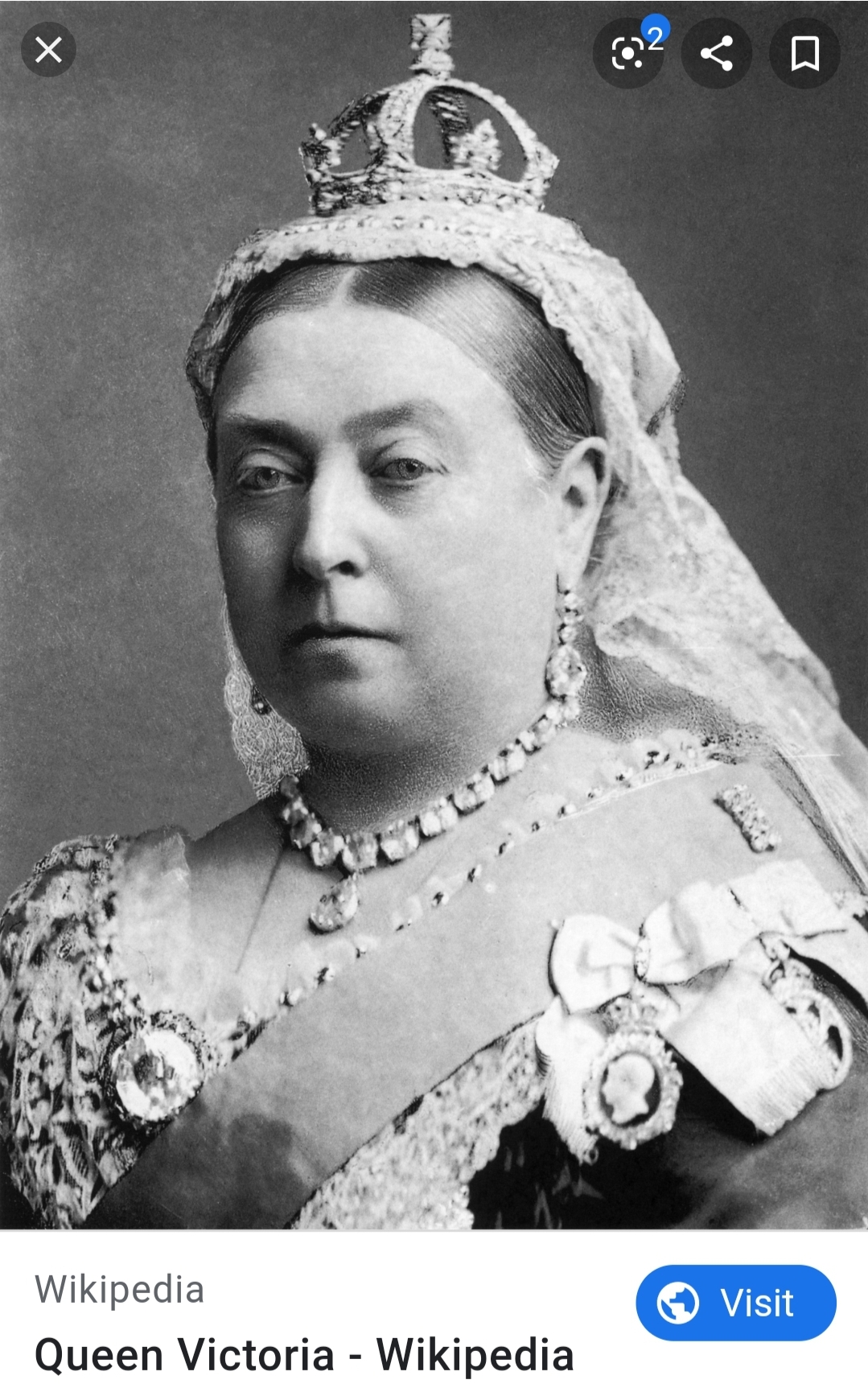 202: Victoria
Queen of the United Kingdom of Great Britain and Ireland and Empress of India From 1837 to 1901
Born: 24 May 1819, Kensington, London, United Kingdom
Died: 22 January 1901, East Cowes, Isle of Wight, United Kingdom
Christening Name: Alexandrina Victoria (Her parents were not allowed to name their child, instead, her uncle, the King, did so)
Victoria was the final ruler of the Hanoverian Dynasty taking the throne after the death of her uncle, King William IV (She was also, therefore, the first monarch in the Saxe-Coburg-Gotha Dynasty, which changed its name during World War I to the more English Sounding Windsor Dynasty). 
She would have nine children with her husband Prince Consort Albert of Saxe-Coburg-Gotha (they were also first cousins).
Victoria's children's marriages would make most of the royal families of Europe descended in some way from Victoria and Albert.
Despite having nine children it is known that Victoria hated pregnancy, but her actual relationship towards babies and children is a little harder to ascertain. Most sources state she had a strong dislike for them, to say the least, and yet the biography I read (linked below) said quite the opposite.
It is almost insane how Victoria came to be the heir and later Queen Regnant—her grandfather, George III and his wife Charlotte had fifteen children and yet of all of them only George IV (his successor) had a legitimate heir in his daughter Charlotte—so when she died Victoria became the heir after the three remaining sons of George III were pitted into a race—the first to have an heir would change the course of British history after all.
Victoria's father Edward won the race; she became queen after her father and uncles died—leaving her heir apparent.
Victoria ascended the throne and became a staunch Whig thanks to her first Prime Minister—Lord Melbourne—but calmed her political fervor after her marriage to Albert.
She reportedly had violent temper tantrums and fits of depression both during and after her pregnancies (I would too if I had nine children!).
It should also be noted that by 1845 Albert was pretty much king in everything but title and Victoria even once wrote, "we women are not made for governing," (this would change after Albert's death in 1861 though, with Victoria retaking control).
During the Crimean War she visited crippled soldiers and oversaw the committees of women who organized relief for the wounded. Victoria was also very enthusiastic towards Florence Nightingale's work during the war.
After Albert died in 1861, Victoria survived through three years of deep depression and never fully recovered—living the rest of her life in complete mourning wearing black and staying in partial retirement. Victoria completely retired to Balmoral for four months of every year.
It also didn't help that she blamed her son the Prince of Wales and her heir as the reason Albert had died (it was a whole thing, Bertie—as he was known before taking the throne, had gotten embroiled in a scandal pertaining to women and Albert had gone to visit him even though he was sick. Albert and Bertie went for a walk in the cold and soon after Albert was dead).
In her months she spent at Balmoral, Victoria became friends with a Scottish Man named John Brown. John's influence soon grew, and his title was: The Queen's Highland Servant. It is most likely that Victoria and John became a couple, which her children hated—to put lightly, and when he died in 1883 Victoria was devastated all over again. This in turn led her to bringing an Indian Servant, Abdul Karim, into the castle. Abdul was ambitious, plotting ways to make himself and his family wealthier and more important while lying to the queen about who he really was (its telling that within hours of the queen's death her children had banished him back to India). Judi Dench portrays Queen Victoria in films relating her relationship with both John Brown and Abdul Karim.
It took the South African War in the final years of Victoria's reign to finally pull her back into public life—appearing in numerous ceremonies, troop inspections, and visits to military hospitals.
Every night Albert's clothes had to be laid out on the bed beside her and she slept every night with a picture of his head and shoulders (taken after he died) above her head.
At the time of her death she had thirty-seven great-grandchildren and had outlived two of her nine children.
To the left I have included links to only a few of the movies and Television Series made about Queen Victoria.
Badges Earned:
Find a Grave Marked
Located In My Personal Library:
Briefly Mentioned:
Alexandra The Last Tsarina by Carolly Erickson
Bad Days in History by Michael Farquhar
Buffalo Bill's Wild West: An American Experience by Robert Lawrence
The Butchering Art: Joseph Lister's Quest to Transform the Grisly World of Victorian Medicine by Lindsey Fitzharris
Consuelo and Alva Vanderbilt: The Story of a Daughter and a Mother in the Gilded Age by Amanda Mackenzie Stuart
History's Naughty Bits by Karen Dolby
The Husband Hunters by Anne de Courcy
Lost Bodies by Jenni Davis
Modowe Rewolucje (Fashion Revolutions) by Karolina Żebrowska
The Race to Save the Romanovs: The Truth Behind the Secret Plans to Save the Russian Royal Family by Helen Rappaport
The Roosevelts and the Royals: Franklin & Eleanor, the King & Queen of England, and the Friendship That Changed History by Will Swift
Sex With the Queen: 900 Years of Vile Kings, Virile Lovers, and Passionate Politics by Eleanor Herman
Star Spangled Scandal: Sex, Murder, and the Trial That Changed America by Chris DeRose
Uppity Women Speak Their Minds by Vicki Leon
What is the Story of Alice in Wonderland? by Dana M Rau
Who Knew? Women in History: Questions That Will Make You Think Again by Sarah Herman
Covered Greater:
Kings and Queens of England and Scotland by Plantagenet Somerset Fry
National Geographic History Magazine Article "Victoria's Crowning Glory" (November/December 2017 Edition)
National Geographic History Magazine Article "The Wedding Cake: A Royal Tradition" (May/June 2021 Edition)
Queen Victoria's Matchmaking: The Royal Marriages That Shaped Europe by Deborah Cadbury
Victoria: The Queen by Julia Baird
Victoria's Daughters by Jerrold M Packard
Warrior Queens by Antonia Fraser
Sources:
The Books Listed Above and...
https://www.britannica.com/biography/Victoria-queen-of-United-Kingdom
https://www.sundaypost.com/fp/new-diary-extracts-reveal-queen-victorias-true-relationship-with-loyal-scots-ghillie-john-brown/
https://www.smithsonianmag.com/history/victoria-and-abdul-friendship-scandalized-england-180964959/