---
In May of 2023, I graduated from Arizona State University's College of Interdisciplinary Sciences and Arts (better known as CISA by those associated with ASU). I majored in History and minored in English.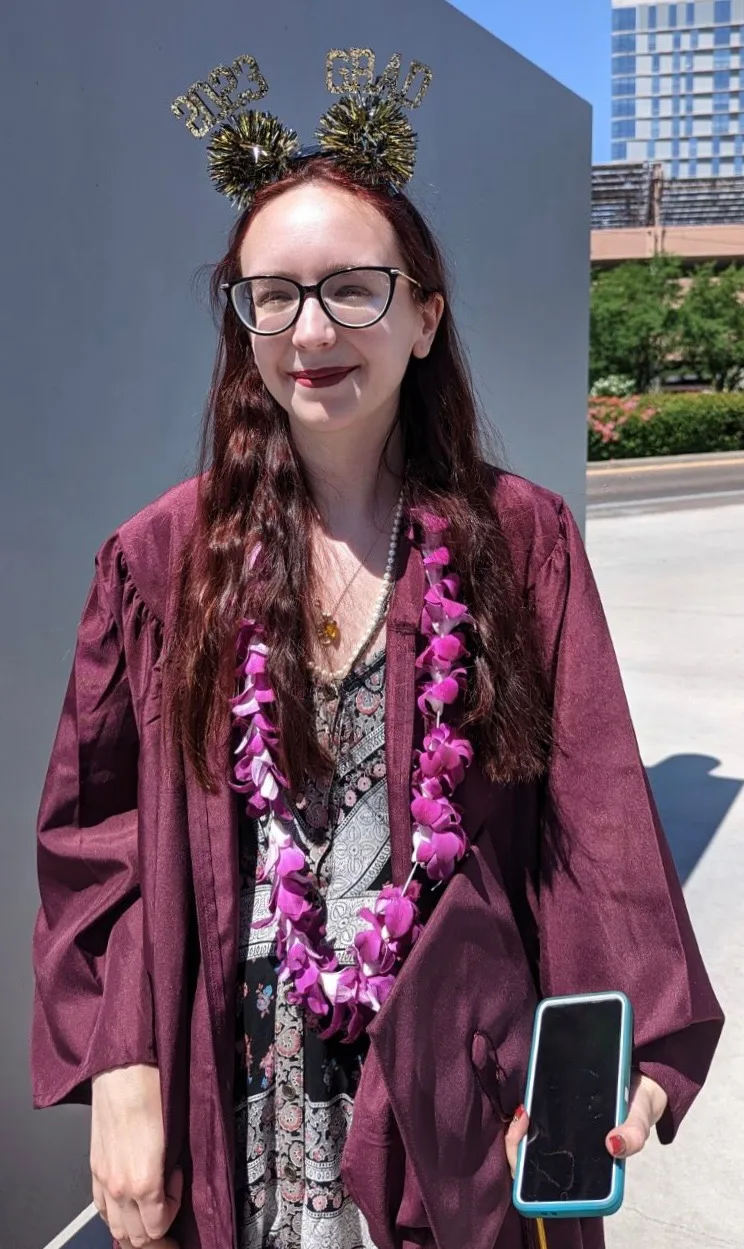 Graduation itself went fairly smoothly, unlike my actual college experience. Unfortunately for me and my family, it took place at 9 AM on the Thursday morning leading up to Mother's Day week here in the United States. Also, the ceremony took place at Desert Financial Arena on the ASU Tempe campus. Graduation was the first, and hopefully last, time I ever set foot on ASU's Tempe campus.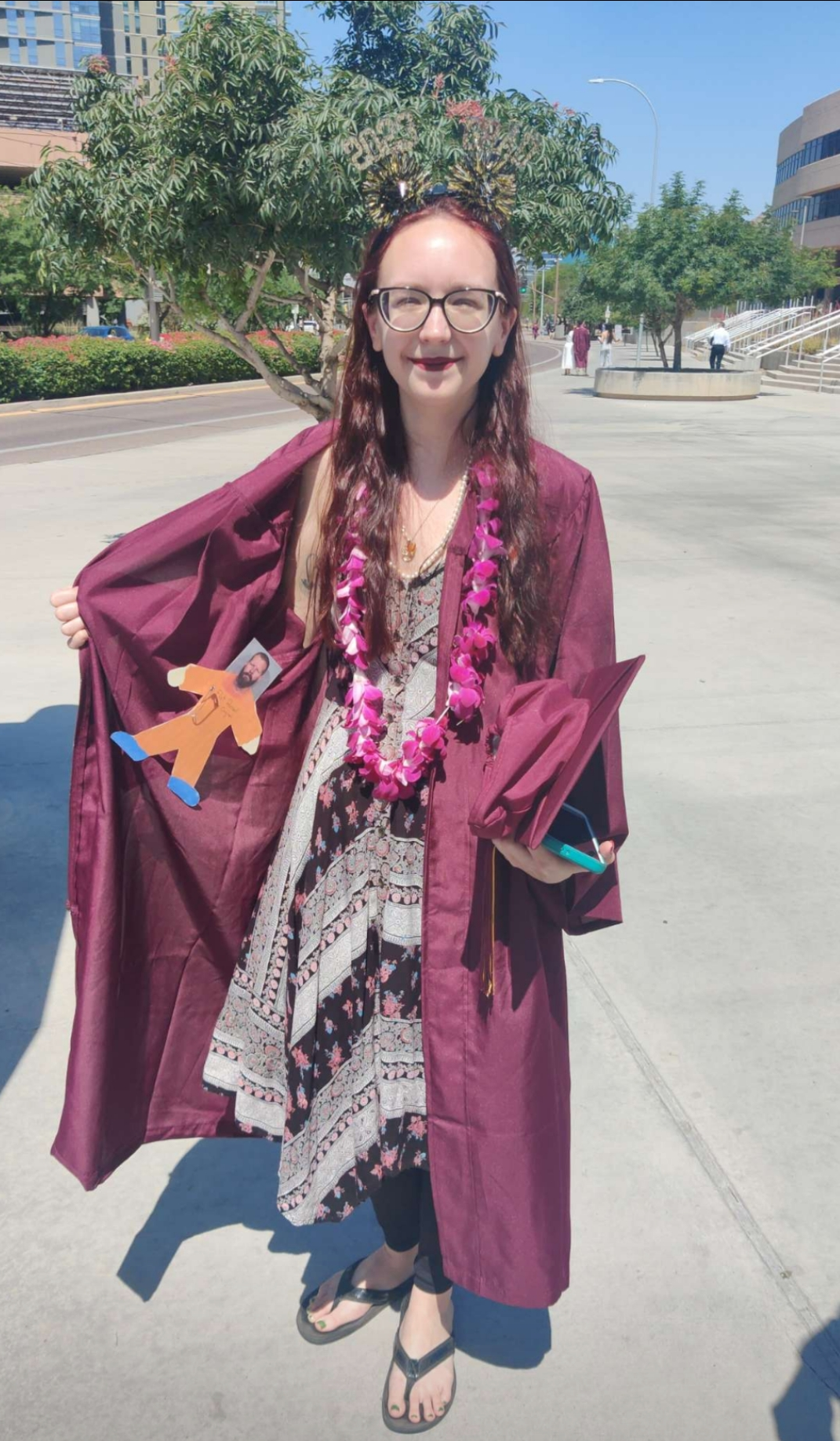 I managed to sneak across the stage my friend, Flat Russell. Flat Russell is a representation of my prison-pen-pal (its a long story!) Russell. Since Russell can't get out and travel himself, I take him along with me on various adventures. Since Russell might not ever have a graduation ceremony of his own, I decided to take him with me.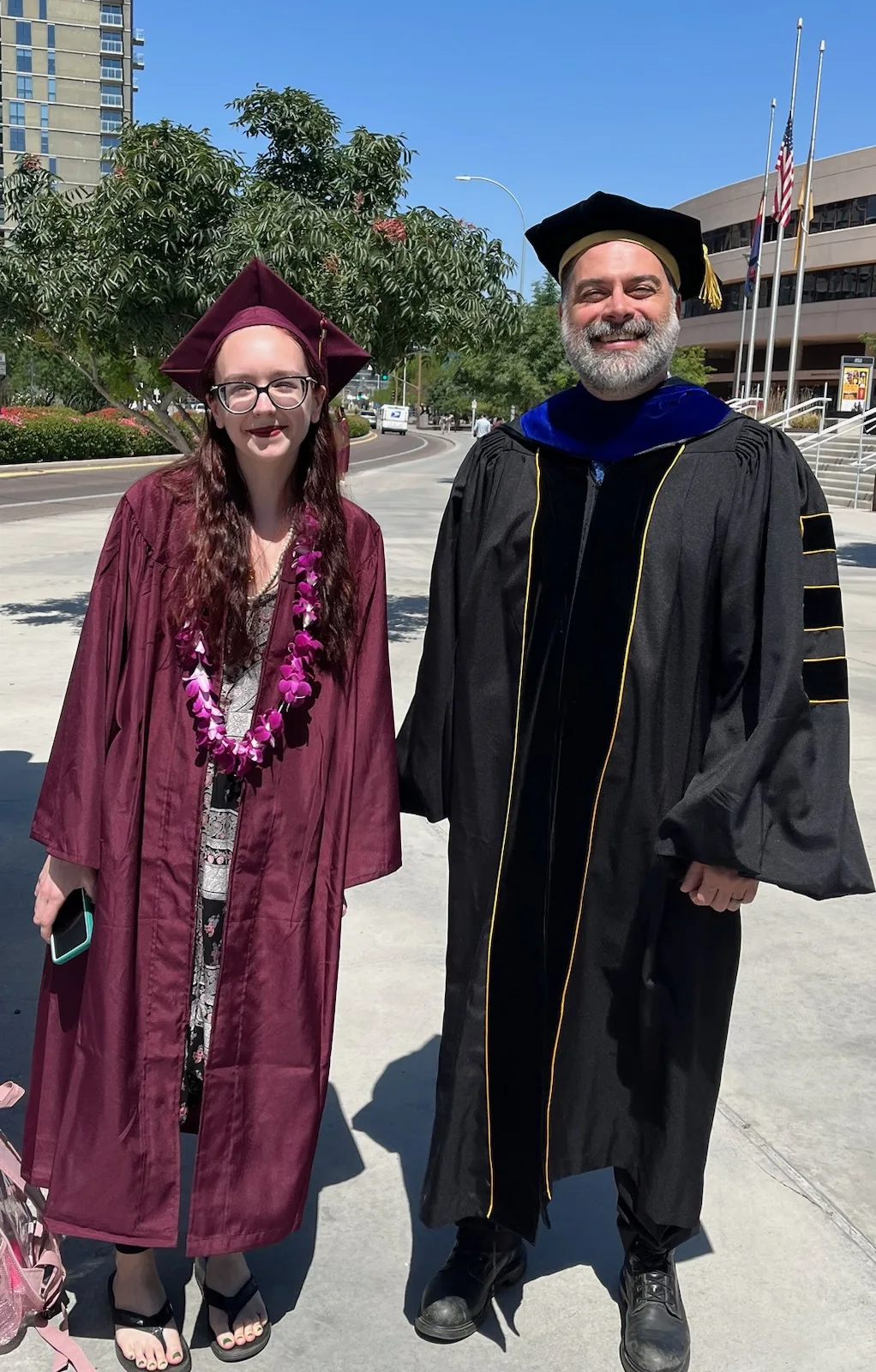 As I mentioned, my ASU journey was...interesting to say the least. During my five semesters at the university, I had many headaches, horrible teachers, incredibly dimwitted fellow classmates, and many assignments that made me grab my temples and attempt to not scream at the top of my lungs.
My saving grace was my professor for my capstone class, HST495, Methods of Historical Inquiry. Dr. Eric Nystrom is one of the few reasons I actually managed to graduate with my sanity intact. His reviews on Rate My Professor are mixed, but that's because he also teaches History of Engineering, and let's be honest, not many engineers are probably in any way interested in the history aspect of their field. So I don't blame him for the less than favorable reviews.
If you are an ASU student and are a history major/minor, or are wanting to become a social studies teacher, I highly recommend taking a class from Dr. Nystrom. I spent five years in college overall (starting at Mesa Community College, part of the Maricopa Community College network in December of 2017), and through all of those long semesters and classes, Dr. Nystrom was the only history professor I had who actually seemed interested in the field and willing to help his students succeed both in the classroom and beyond.
Because of the bad-timing of the graduation ceremony itself, a lot of my family was unable to attend the ceremony because they had to work (understandably so! Seriously, 9 AM on a Thursday?!). Anyway, my dad, his girlfriend, my boyfriend, his mom, and my maternal grandmother all came to support me at the stadium itself, while other members of my family watched on the ASU livestream video. Here I am with my dad--buying the hat was my mom's idea but my dad was nice enough to pose for me with it on!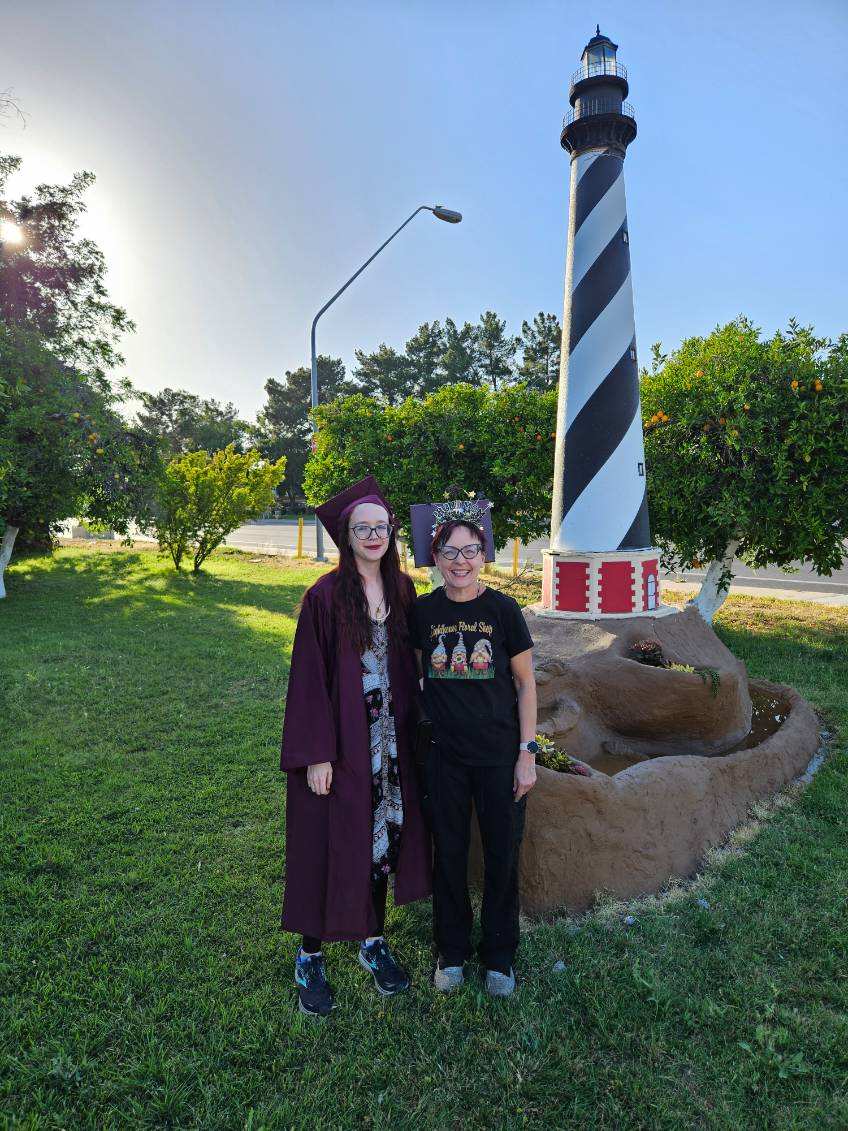 After the ceremony was over, and I got a few photos with my professor and family, I raced to get to work to help out my mom at our family's flower shop. Later that evening, once the craziness from Mother's Day had calmed down, I posed with my mom for a few photos by our newly rebuilt fountain in front of the flower shop. I am holding my ASU diploma envelope behind my mom's head to display her "Grad Mom" head-boppers!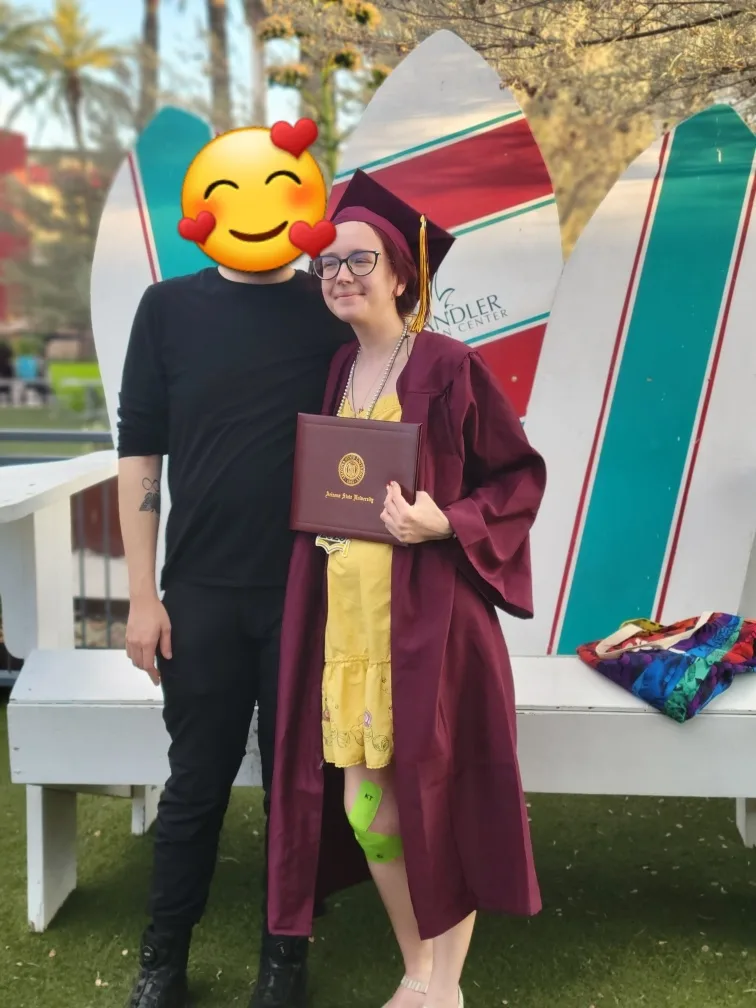 After the Mother's Day madness had ended, my family took me out to celebrate at our favorite restaurant, The Old Spaghetti Factory. That was when my boyfriend and I finally got a chance to pose for some photos as well since we had forgotten to on the graduation day itself.
My boyfriend prefers his internet anonymity, and so I have decided to cover his face and refrain from naming him in case you are wondering.
Also, my knee has been swollen for six weeks now and the green KT tape helps support it--in case you are wondering about that!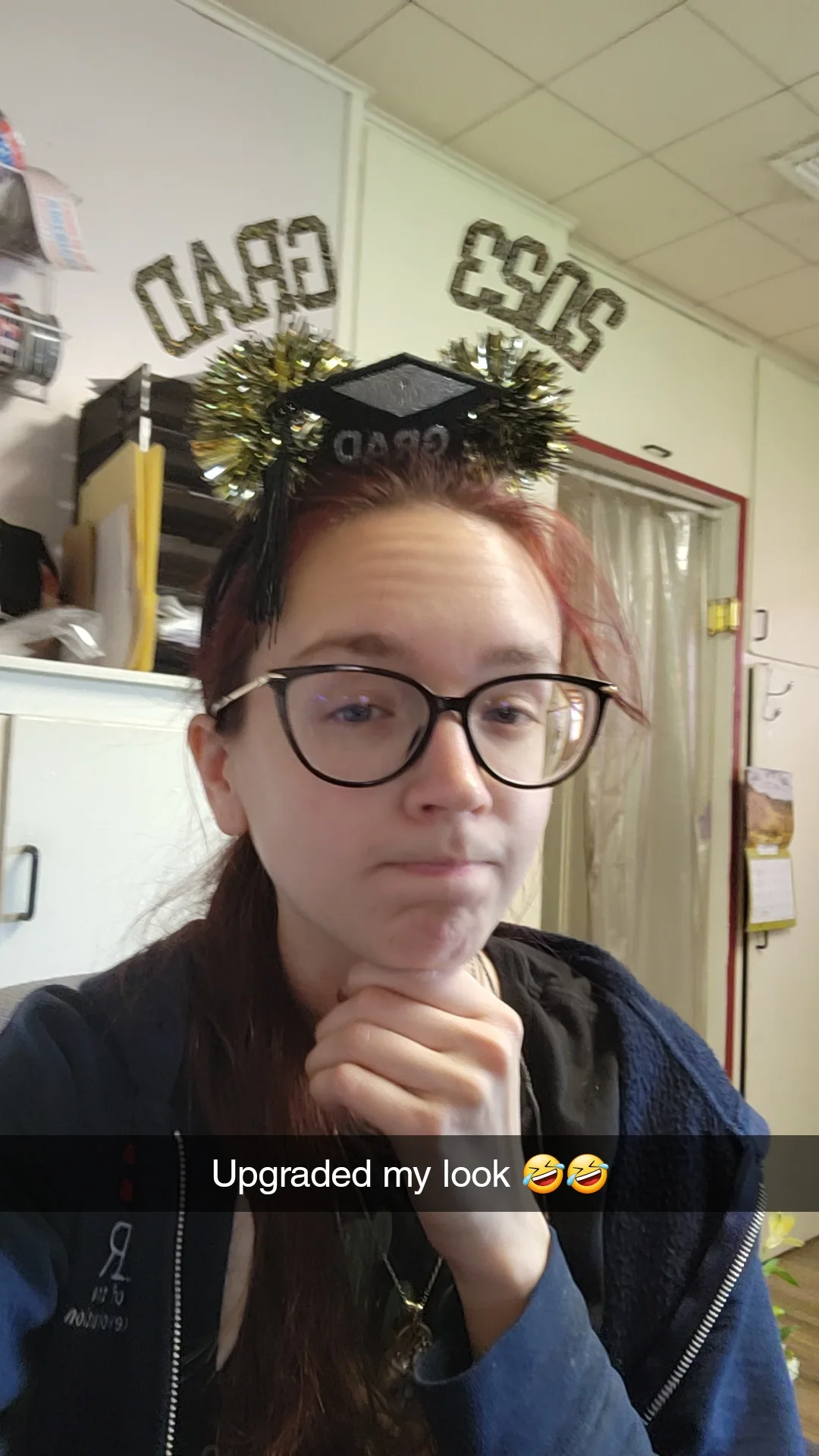 My mom bought me a set of "2023 Grad" head-boppers, and my boyfriend's mom also gave me a smaller head-bopper that says "Grad" on a more-standard looking graduation cap. Both are able to be layered and you can bet I wore them at work for a few days after graduation to continue the celebration!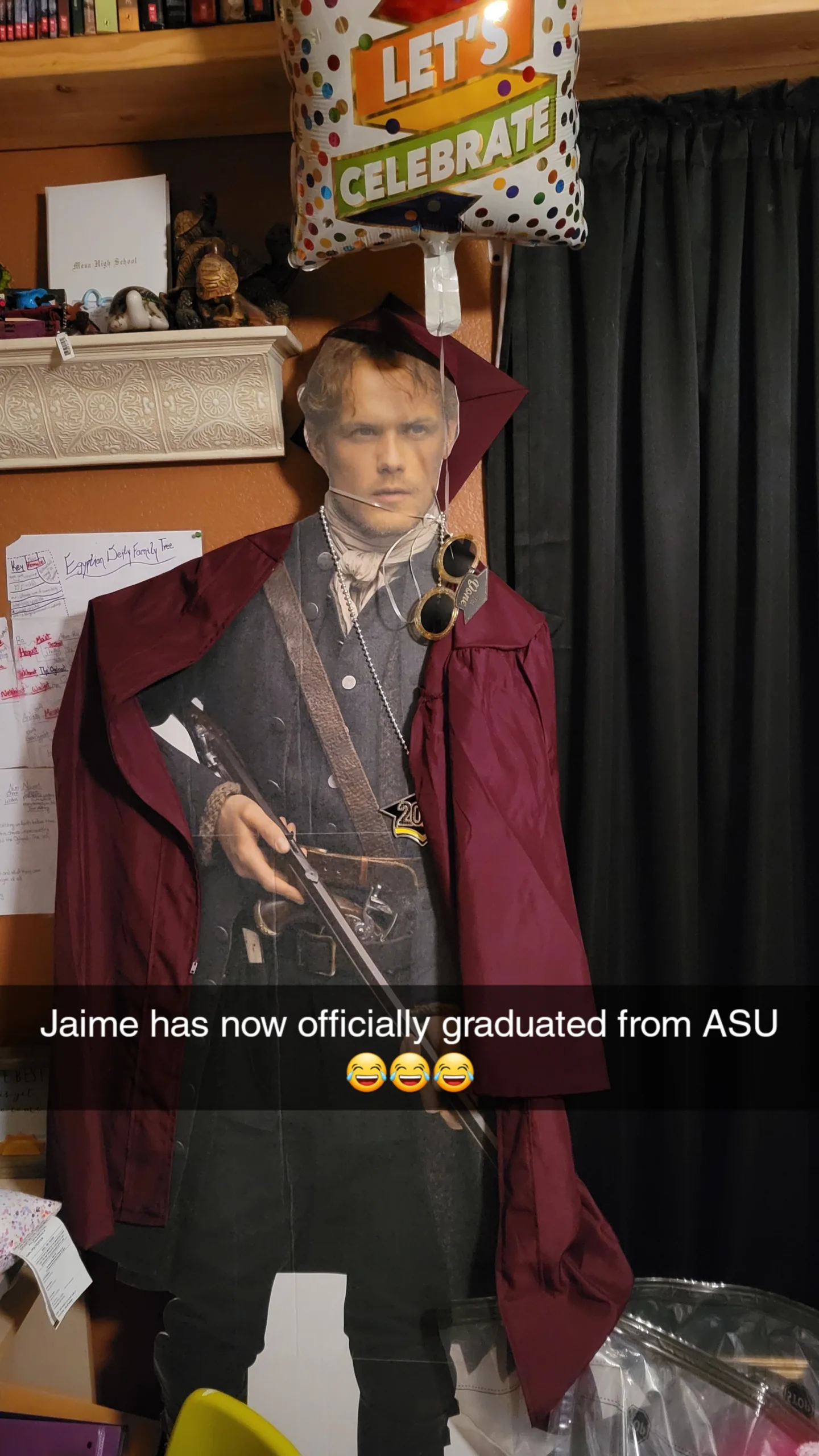 (I apologize for misspelling Jamie Fraser's name...I blame autocorrect.)
In case some of you are unaware, before I met my boyfriend I purchased a life-size cardboard cutout of the Outlander character Jamie Fraser and claimed he was my "boyfriend."
I was very upfront about Jamie's presence when my actual boyfriend and I started dating, and Jamie has continued to stand guard in my room ever since. After the graduation festivities came to an end, I didn't really know what to do with my cap, gown, and other graduation-related items I had been gifted, including a balloon from my friend Ronda!
Anyway, since I didn't want the balloon to escape my room and scare my brother down the hall, I decided to be-deck Jamie with all my stuff and make him an ASU grad. I think its a good look for him.
So friends, seeing as I got an email from ASU yesterday letting me know my diploma is officially in the mail and on its way, I figured it was time to announce my graduation and make it clear that I am technically now an *actual* historian, whatever that means anyway. I have no idea what the future holds, but my college career is officially over...until I recoup my savings and go back for my masters in any case.
I will never return to ASU, I have heard nothing but bad things about their history masters program, and also my actual experience at ASU (sans Dr. Nystrom) was ATROCIOUS to say the least. Even though I had a high enough GPA to technically graduate with honors, I was told that I was ineligible because I was two-credits short of the minimum to wear honor cords to graduation. And yet, when I received my email confirmation that my diploma was in the mail, I was informed I graduated summa cum laude--so really I have no idea what is going on, and I graduated already! It really was that bad...
One day I will be selecting another school to go for my masters, but that will be far in the future. I would love to eventually earn a PhD, in part because I would love to have that distinction and also in part to honor my paternal grandmother, who graduated from ASU with her PhD in 1989. She passed away just over ten years later, a day before I was born.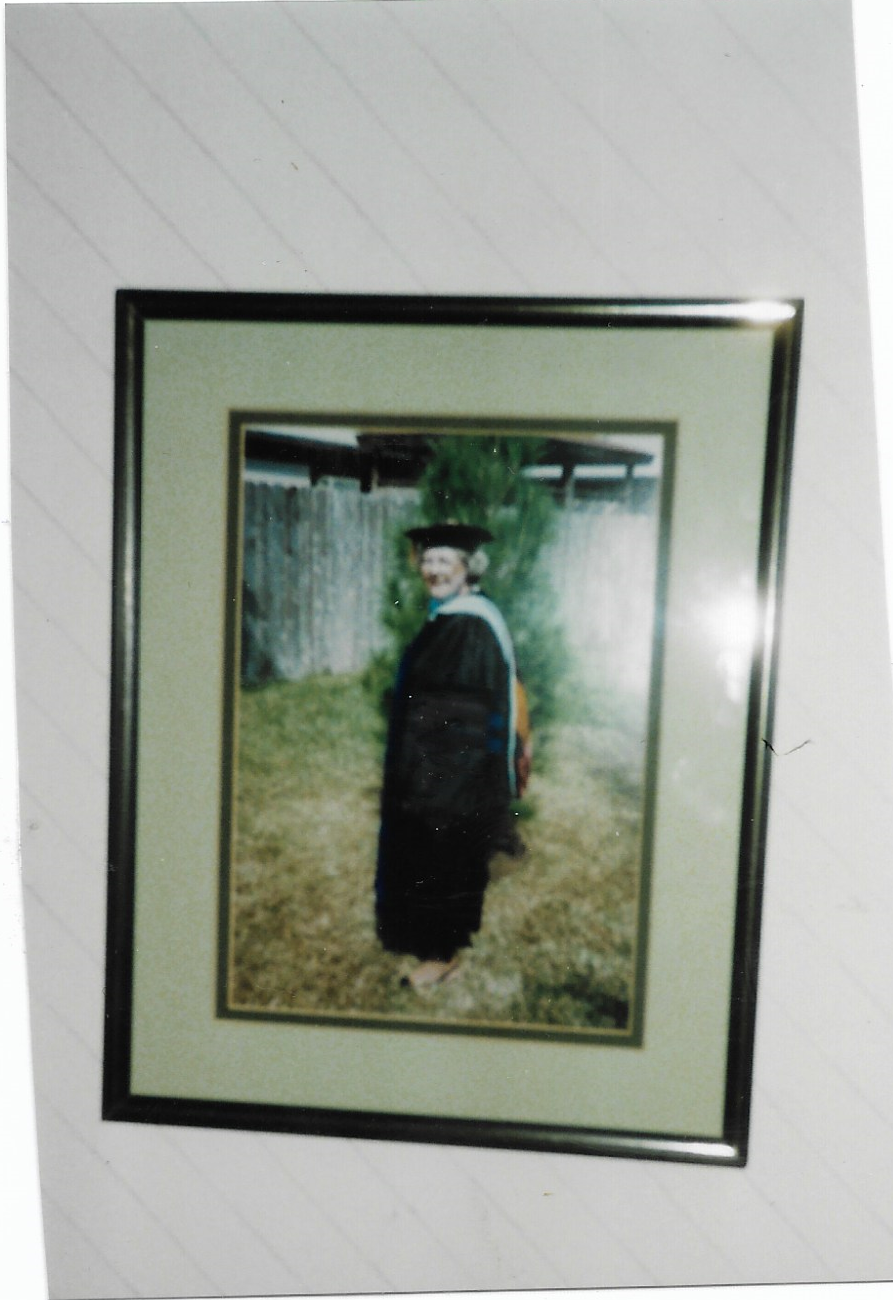 In the meantime, I will continue to work at my family's flower shop, and am also in the process of becoming a licensed substitute teacher in my home state of Arizona. Hopefully I will also be able to one day publish my final project for ASU, a short-history of the floral industry in Arizona, that incorporated standard print sources as well as interviews with some of the men and women who have been involved in the industry for decades.
As I proudly displayed on my graduation announcements, The Best is Yet to Come. Who knows what the future holds? All I know is, I have many many many more stories to share with the world, and I am happy that I will finally have more time to share those stories again.
Thank you to my readers and supporters who have followed my website since the beginning, or have joined along the way. Continue reading and learning! And if you have any stories you think should be shared on this site, send me an email and I'll add them to the list!
Thanks again everyone,
-Zoë, the Slightly-Less Exasperated Historian