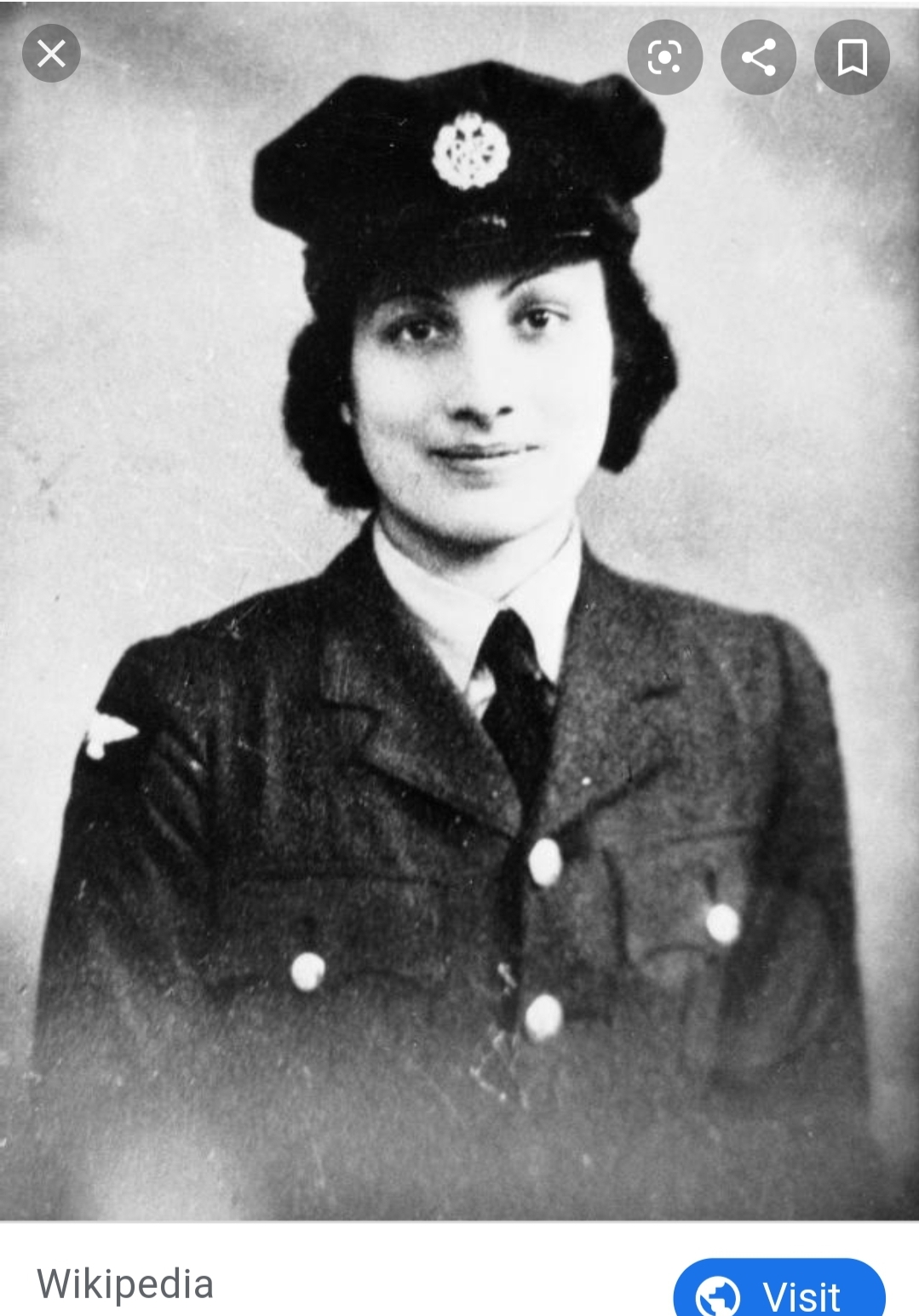 816: Noor Inayat Khan
Radio Operator and Spy in Occupied France
Born: 1 January 1914, Moscow, Russian Empire (Present-day Moscow, Russia)
Died: 13 September 1944, Dachau Concentration Camp, Germany
Noor was a direct descendant of Tipu Sultan (making her kind of a princess). She was raised to be a pacifist; her father was a Sufi Muslim and counted Mahatma Gandhi as a personal friend. When her father died when Noor was thirteen, she had to step up to care for her mother and three younger siblings. Noor herself was so devoted to Sufism she refused to ever lie. So, to say Noor deciding to become a spy was a shock is the understatement of the century.
Noor published children's stories and wrote music and poetry before the war broke out. Once World War II kicked off, Noor continued her brutal honesty when she interviewed with the SOE. Noor promptly told the British she didn't like them, and that once the war was over, she would start fighting for India's independence. She also was not at all in physical shape or had even the most basic knowledge needed to be a successful spy. Her interviewers noted Noor tended to freeze when interrogated and frequently left codebooks out in the open.
Despite all of this, Noor was the first female radio operator (of the SOE) to be parachuted behind enemy lines in occupied France. After only ten days, Noor was the only agent to be working as a radio operator for her network in occupied Paris when all the rest were captured. The SOE offered to extract her, but Noor refused until a replacement could be found. She ended up covering the work of six operators all on her own.
According to some sources, the average lifespan for a radio operator was six weeks; Noor lasted nearly four months before she was captured by the Gestapo after being betrayed by a double agent.
Within hours of her capture, Noor attempted to escape. She was quickly recaptured but gave the Nazis hell. Noor finally learned how to lie, and attempted to escape again only to be caught, again. Noor was kept in isolation for ten or so months before being transported to Dachau and executed alongside three other female agents. She had undergone brutal beatings and torture methods, but never cracked. Noor's final word before she was shot was shouted at the top of her lungs, "liberté!"
In the words of Jason Porath of the Rejected Princesses, "She became a pacifist that fought dirty. A klutz that climbed buildings. A Sufi that lied daily. An artist that braved torture. A captive that told nothing."
Noor was posthumously awarded the George Cross in 1949 and the Croix de Guerre with gold star as well. She has been called a modern Joan of Arc, her sacrifices remembered on statues and plaques across Europe. In recent times, it has been suggested Noor's face grace the £50 bank note in the UK (instead the UK government voted for Alan Turing to grace the note). In 2012, the Noor Inayat Khan Memorial Fund finally saw the installation of a memorial statue for Noor in London. When it was unveiled, the bust earned its place in history as the first of an Asian woman in Britain.
Badges Earned:
Find a Grave Marked
Rejected Princess
Located In My Personal Library:
Rejected Princesses by Jason Porath
Women Wartime Spies by Ann Kramer
Bygone Badass Broads by Mackenzi Lee
Sources:
https://www.rejectedprincesses.com/princesses/noor-inayat-khan
http://www.bbc.co.uk/history/historic_figures/inayat_khan_noor.shtml
https://www.nytimes.com/2018/11/28/obituaries/noor-inayat-khan-overlooked.html
https://war-experience.org/lives/noor-inayat-khan-soe/
http://www.noormemorial.org/aboutus.php
https://www.findagrave.com/memorial/15255888/noor-inayat_khan