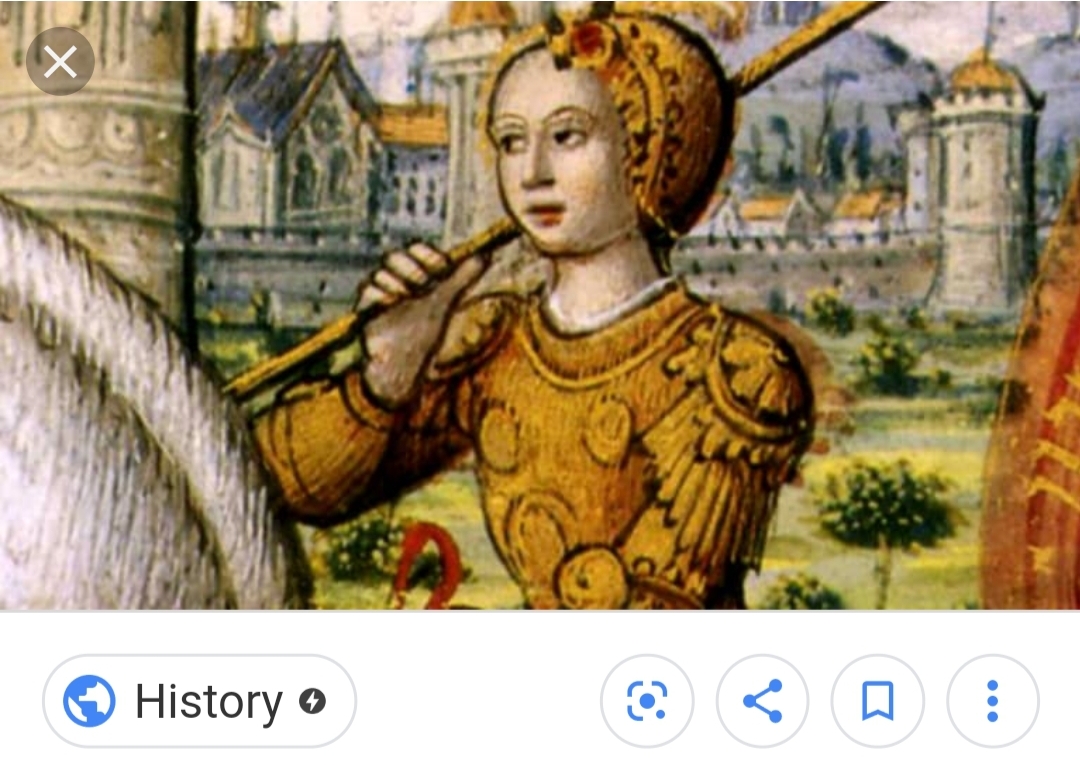 77) Joan of Arc
Heavenly Warrior
Born: 6 January 1412, Domrémy-la-Pucelle, France
Died: 30 May 1431, Rouen, France
Original Name: Jeanne d'Arc
Jeanne grew up as a peasant farmer in the French countryside. At the age of thirteen she began to receive messages from Angels sent from God.
Jeanne believed it was her divine mission to help place the rightful king of France back on the throne. She left home at the age of sixteen after her father tried to arrange a marriage for her (Jeanne had taken a vow of chastity after beginning to hear the angels).
Jeanne began her journey in May of 1428 with a band of followers who believed she was prophesied to return France to glory and restore the rightful (Catholic) king.
During this time, she cut her hair short and began to wear male garb; for some time, Jeanne was victorious in fighting the English back and forcing them to give up territory back to the French people—she also helped ensure Charles VII was crowned King in July of 1429.
Jeanne was captured in the spring of 1430 and brought to trial against seventy charges—most concerning heresy for being a witch and wearing men's clothes. Charles did nothing to try and negotiate her release.
Under duress, she broke the following May and signed a confession but soon after was caught wearing men's clothes again and was sentenced to death.
Jeanne was burned at the stake at the age of nineteen.
Twenty years after her death a new trial was ordered, and she was found not guilty on all charges.
In 1920 she was officially canonized a Saint by the Catholic Church.
Badges Earned:
Find a Grave Marked
Rejected Princess
Located In My Personal Library:
Bad Days in History by Michael Farquhar
Blood Sisters: The Women Behind the Wars of the Roses by Sarah Gristwood
Heroines of God: Saints for Girls by Daniel A Lord
Isabella: The Warrior Queen by Kirstin Downey
Joan of Arc by Tabatha Yeatts
Joan of Arc: A Life Transfigured by Kathryn Harrison
Modowe Rewolucje (Fashion Revolutions) by Karolina Żebrowska
National Geographic History Magazine Article "Joan of Arc, Heretic, Warrior, Saint" (March/April 2017 Edition)
One Bloody Thing After Another: The World's Gruesome History by Jacob F Field
The Oxford Encyclopedia of Women in World History Edited By Bonnie G Smith
Rejected Princesses by Jason Porath
Scandalous Women: The Lives and Loves of History's Most Notorious Women by Elizabeth Kerri Mahon
The Warrior Queens by Antonia Fraser
The Wars of the Roses: The Fall of the Plantagenets and the Rise of the Tudors by Dan Jones
Who Knew? Women in History: Questions That Will Make You Think Again by Sarah Herman
Sources:
https://www.history.com/topics/middle-ages/saint-joan-of-arc
https://www.rejectedprincesses.com/princesses/joan-of-arc