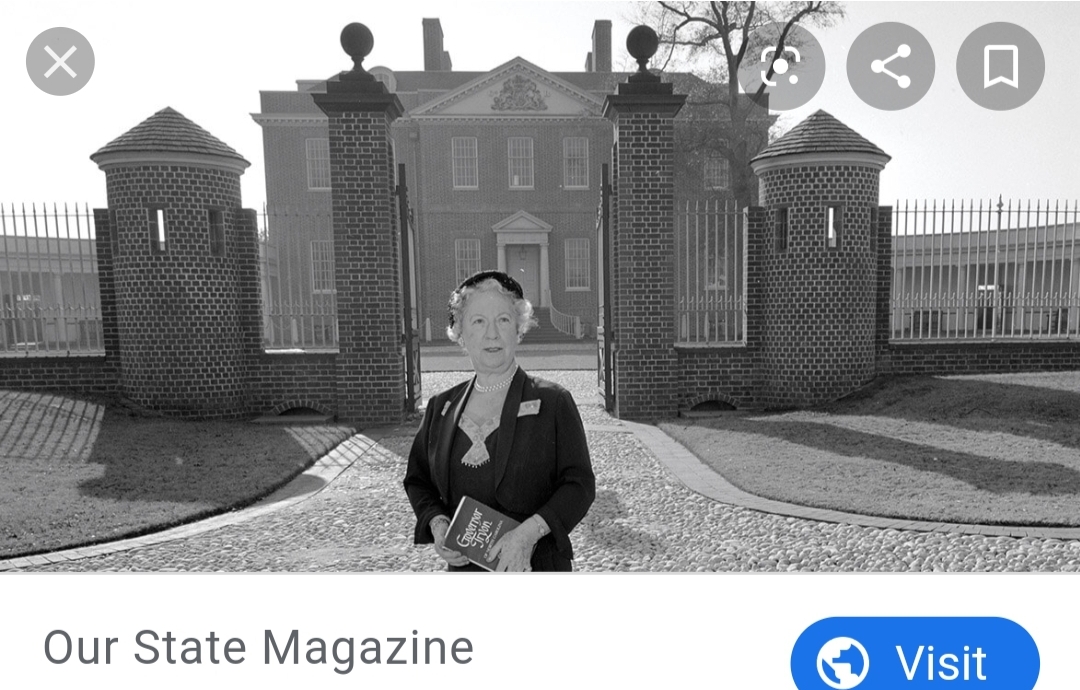 "You didn't want to physically be in the way of Gertrude. If Gertrude would have stood up to Hitler, it would have been a two-year war. She just flat out got it done," -Nelson McDaniel, President of the New Bern [North Carolina] Historical Society
653: Gertrude Carraway
Journalist, Teacher, Speaker, Historian, Director and President General of the National Society Daughters of the American Revolution
Born: 6 August 1896, New Bern, North Carolina, United States of America
Died: 7 May 1993, New Bern, North Carolina, United States of America
Gertrude graduated from high school at the age of fifteen. Her father was a banker, and she was raised from the get-go to be a strong, iron willed woman. She went to college, taught English, and coached the basketball and debate teams at the school where she worked. Eventually, Gertrude left teaching to become a journalist for a variety of publications, including the Associated Press, before turning to freelance writing.
Her job as a freelance writer left Gertrude with plenty of free time. She filled this time with a variety of efforts and projects, including leading the charge to restore Tryon Palace in her home state of North Carolina. Rebuilding Tryon Palace wasn't as simple as putting a few bricks back in their place. The palace had burned to the ground in 1798, and Gertrude's work on rebuilding began in the early 1920's. Blueprints for the palace had long since disappeared, and houses and other construction works had sprung up in its place, but Gertrude didn't give up. She talked to the grandchildren of the original architect before finally uncovering the blueprints at a historical society in New York. Gertrude even got her friend to pledge to donate her entire estate, worth $1 Million, after her death to see the palace finished. When Mrs. Latham died in 1951, the state of North Carolina accepted the money, and construction on Tryon Palace's restoration started soon after.
When the palace opened in 1959, Gertrude instructed tour guides in a lengthy course. The guides were to know everything about the palace, from the history behind it to the wallpapers and doorknobs in each of the rooms (most of the decor had been personally chosen by Gertrude herself).
Gertrude even found the time to travel the world twice, visiting every state except Alaska and journeying as far as China. She also helped create the North Carolina Historical Marker Program.
When Gertrude ran for the office of President General of the NSDAR, she ran unopposed. She also led the effort to make her friend, President of the United States Dwight Eisenhower, create the national Constitution Week holiday. Gertrude was appointed publicity committee chair of the North Carolina DAR before her application had even been approved at the National Level, meaning she was a state committee chair without a national number for fifteen days! She served as state regent and national vice president before her election as President General. Gertrude even went on to create the National Magazine as a way to stop DAR from collapsing into bankruptcy. Today's magazine, American Spirit, is highly subscribed to by DAR members and outsiders alike.
The DAR came under fire during the era of the Civil Rights movement for their refusal to let singer Marian Anderson sing at Constitutional Hall, one of the most prestigious concert halls in Washington DC, in 1939. In response to the controversy, First Lady Eleanor Roosevelt resigned from DAR and referred to the organization as narrow minded.
This was Gertrude's response to the First Lady's remarks: "If being patriotic, with deep love of country and its welfare, and being zealous to maintain our American Way of Life can be considered 'narrow and conservative,' then we plead guilty, and are proud to be guilty of such a worthy characteristic."
Gertrude knew every first lady of the United States between Eleanor Roosevelt and Barbara Bush. She was also interviewed by Jackie before she became a Kennedy.
While Gertrude was President General membership increased at an unprecedented rate that hasn't been seen since. Junior Membership rates increased, the society's debt was paid off, no new debt was incurred, and Gertrude oversaw the unveiling of the painting The Battle of Bennington by famed artist Anna Mary Robertson Moses (better known as Grandma Moses).
Gertrude was born and died in the same bed, having never married or had children. Gertrude wasn't meant for homemaking, she was made to work, and she worked hard every day of her life.
Badges Earned:
Find a Grave Marked
Sources:
https://www.ourstate.com/gertrude-carraway/
http://www.ncdar.org/ncdar/html/history.html
https://www.dar.org/national-society/dar-presidents-general
https://www.findagrave.com/memorial/25430672/gertrude-sprague-carraway