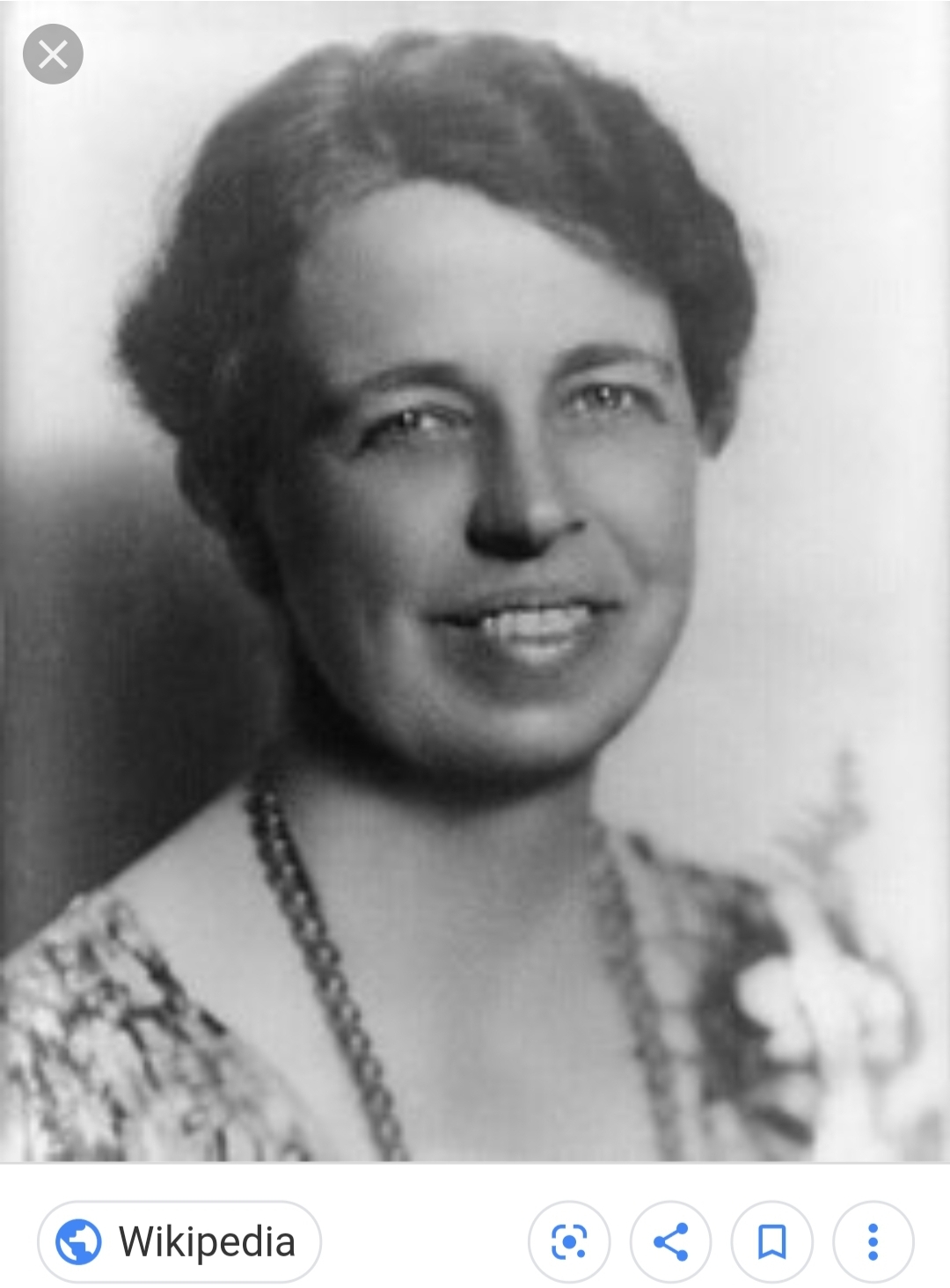 104) Eleanor Roosevelt
Former First Lady of the United States During Her Husband Franklin Delano Roosevelt's Administration
Born: 11 October 1884, New York City, New York, United States of America
Died: 7 November 1962, New York City, New York, United States of America
Original Name: Anna Eleanor Roosevelt
She was a niece of President Theodore Roosevelt and a distant cousin to her husband (her maiden name was also Roosevelt, meaning she never had to change her name after getting married).
Eleanor was orphaned and suffered the loss of one of her brothers before the age of ten, so she and her remaining brother were sent to live with relatives. She spent three years in a boarding school outside London under the direction of an influential French headmistress.
Eleanor returned to New York the summer she turned eighteen for her coming out into society.
She and her husband would have six children (one of whom died in infancy) but she often commented that her own serious nature didn't fit well with her husband's and he often had to find pleasure elsewhere (for example see Lucy Mercer Rutherfurd).
Her husband became assistant secretary to the Navy in 1913 prompting the family's move to DC.
During World War One, Eleanor volunteered with wounded soldiers and the Red Cross.
In 1918 Eleanor discovered the affair her personal secretary Lucy and her husband had taken up—and while Franklin promised to end it history shows that is not the case as Lucy was present with Franklin when he died in 1945.
History shows that the Roosevelts would remain married and dedicated to one another but were never intimate again.
In the 1920's Eleanor's interest in politics increased (partly due to helping Franklin's career after he was struck with polio in 1921). She joined the Women's Trade Union League and the Democrat Party of New York State after returning there to live.
During her twelve years as First Lady of the United States she achieved many firsts including hosting female only journalist press conferences (thanks to her good friend Lorena Hickok--see note).
She had various interests during her tenure including child welfare, equal rights for women and minorities, and housing reform.
Eleanor resigned her membership in the National Society Daughters of the American Revolution in 1939 after the DAR refused to let African American singer Marian Anderson perform in Constitution Hall.
Eleanor was appointed as a delegate to the United Nations after her husband's death. She played a major role in drafting and the eventual adoption of the Universal Declaration of Human Rights in 1948.
In 1961, President John Fitzgerald Kennedy appointed her to chair the Commission on the Status of Women.
She died from a rare strain of tuberculosis.
Note:
Lorena Hickok and Eleanor were friends, best friends, and perhaps more. Though never definitely proven one way or the other, it seems more than likely that when Franklin reached out to Lucy Rutherford, Eleanor turned to Lorena.
Badges Earned:
Find a Grave Marked
Located In My Personal Library:
Affairs of State: The Untold History of Presidential Love, Sex, and Scandal (1789-1900) by Robert Watson
America's Women: 400 Years of Dolls, Drudges, Helpmates, and Heroines by Gail Collins
Bad Days in History by Michael Farquhar
The Book of Awesome Women: Boundary Breakers, Freedom Fighters, Sheroes, and Female Firsts by Becca Anderson
Don't Know Much About History: Everything You Need to Know About American History but Never Learned by Kenneth C Davis
Eleanor and Hick by Susan Quinn
Eunice: The Kennedy Who Changed the World by Eileen McNamara
First Ladies: Presidential Historians on the Lives of 45 Iconic American Women by Susan Swain and C-SPAN
The Roosevelts and the Royals: Franklin & Eleanor, the King & Queen of England, and the Friendship That Changed History by Will Swift
Sex With Presidents: The Ins and Outs of Love and Lust in the White House by Eleanor Herman
The Smithsonian First Ladies Collection by Lisa Kathleen Graddy and Amy Pastan
Time Magazine's 100 Women of the Year (Eleanor appears in the 1948 article, "Eleanor Roosevelt")
Sources:
https://www.britannica.com/biography/Eleanor-Roosevelt
https://www.whitehouse.gov/about-the-white-house/first-ladies/anna-eleanor-roosevelt/