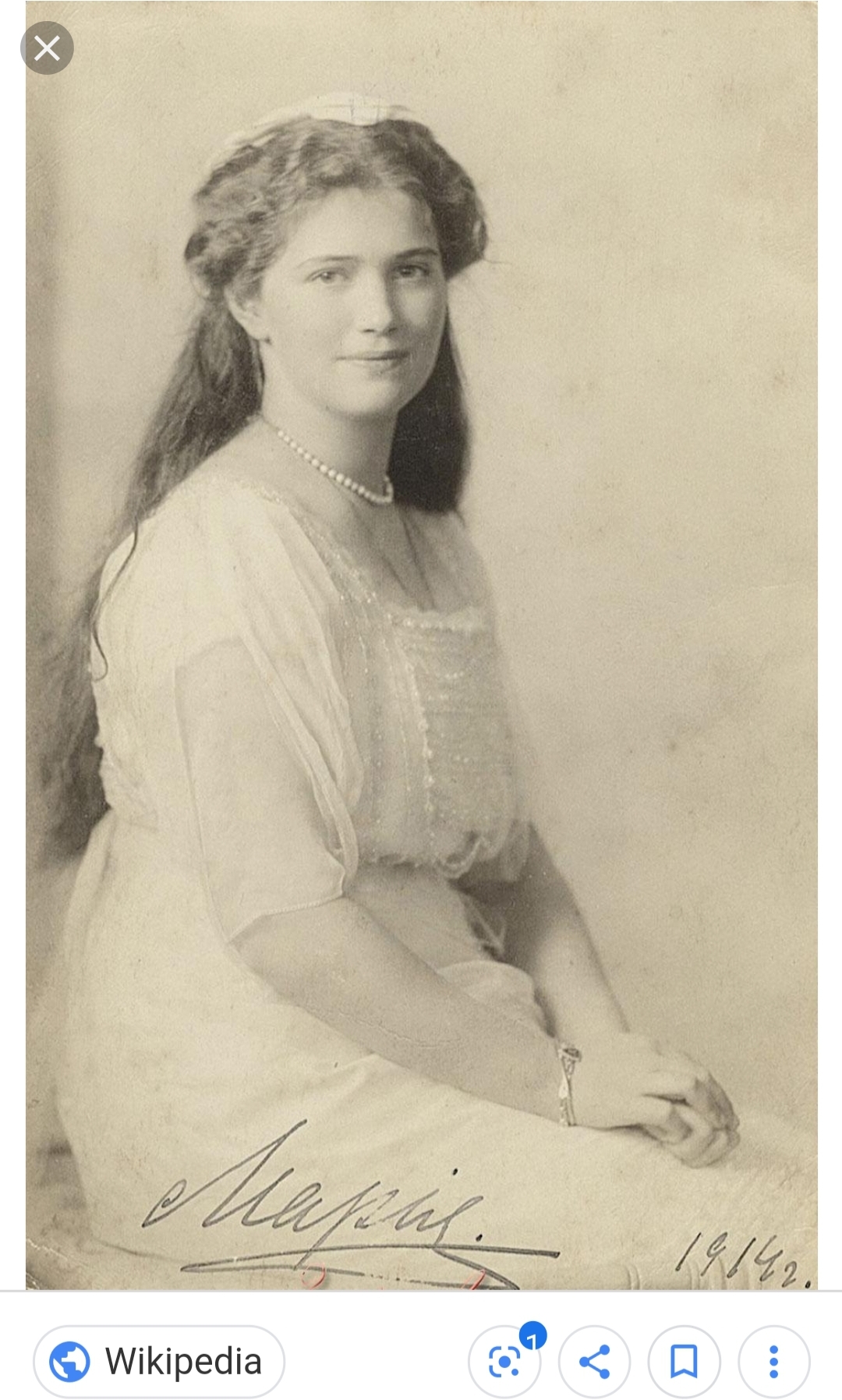 212: Maria Nikolaevna Romanova
Russian Grand Duchess and Third Oldest in Her Family
Born: 26 June 1899, St. Petersburg, Imperial Russia (Present-day St. Petersburg, Russia)
Died: 17 July 1918, Yekaterinburg, Bolshevik Controlled Russia (Present-day Yekaterinburg, Russia)
It is said that when Anastasia (Maria's Younger Sister) would go around teasing people and kicking them Maria would follow behind apologizing profusely.
Maria was also known as being the most beautiful of her sisters.
Lord Mountbatten was their cousin and wanted to marry Maria—he kept a photo of her by his bedside until his death.
In 1916, the entire imperial family became political prisoners to the new Bolshevik Regime after Nicholas II (Maria's father and the Tsar) abdicated the throne amid political and social upheaval and turmoil. In July of 1918, the Bolsheviks determined it was too dangerous to let the family live and ordered the executions of them all.
The four sisters, Alexei, their parents, and several servants were all shot and bayoneted to death in the basement of the house they were staying in.
Biography.com wrongly states that Anastasia's body was recovered beside her brother Alexei's; in actuality it was Maria's body found near Alexei's.
Maria and Alexei's bones were only discovered in 2007—after the rest of the family had been buried in St. Petersburg—without full rites because the Orthodox Church of Russia contested the DNA findings.
Maria and her brother remain in cold storage in a university laboratory awaiting burial.
The church refuses to recognize the bones as authentic because the family was canonized in 2000 and if they are in fact authentic (read: they are) they would then be Holy Relics, which apparently puts burying these children (Maria was nineteen and Alexei thirteen at the times of their deaths) beside their family so they can actually rest in peace a bit of a conundrum.
Note:
Maria's Actual Title in Russian Was Velikaya Knyazhna—a more accurate English Translation would be The Grand Princess. Her title also made her an Imperial Princess, which made her higher ranking than all other European Princesses who were "only" Royal Highnesses.
Badges Earned:
Find a Grave Marked
Located In My Personal Library:
Alexandra: The Last Tsarina by Carolly Erickson
Lost Bodies by Jenni Davis
National Geographic History Magazine Article "Death of a Dynasty" sub-article "Michael the First Romanov" (July/August 2018 Edition)
The Race to Save the Romanovs: The Truth Behind the Secret Plans to Save the Russian Royal Family by Helen Rappaport
Risked by Margaret Peterson Haddix (Historical Fiction)
The Romanov Sisters by Helen Rappaport
Sources:
https://allthatsinteresting.com/maria-romanov
https://www.thevintagenews.com/2019/04/09/mountbatten-and-romanova/
https://www.biography.com/royalty/anastasia-romanov
https://www.google.com/search?rlz=1C1CHBF_enUS847US847&ei=x81dXdW2NaOr0PEPxs2ksA4&q=maria+romanov+burial&oq=maria+romanov+burial&gs_l=psy-ab.3..0.2285.2699..2937...0.0..0.120.678.0j6......0....1..gws-wiz.......35i39j0i22i30.lWnEHFBQhiM&ved=0ahUKEwiVttypiZXkAhWjFTQIHcYmCeYQ4dUDCAo&uact=5
https://www.findagrave.com/memorial/6612033/maria-nikolaevna-romanova