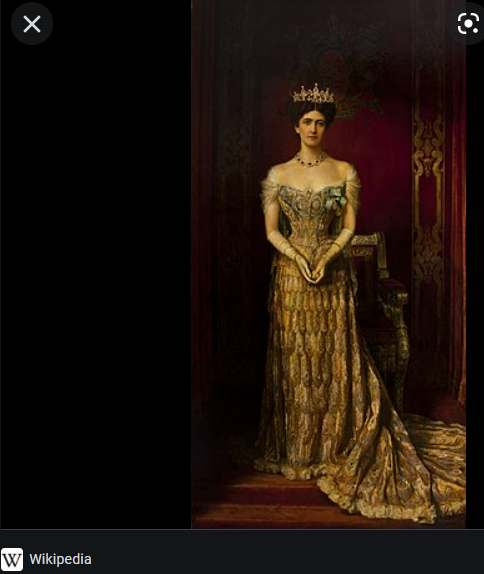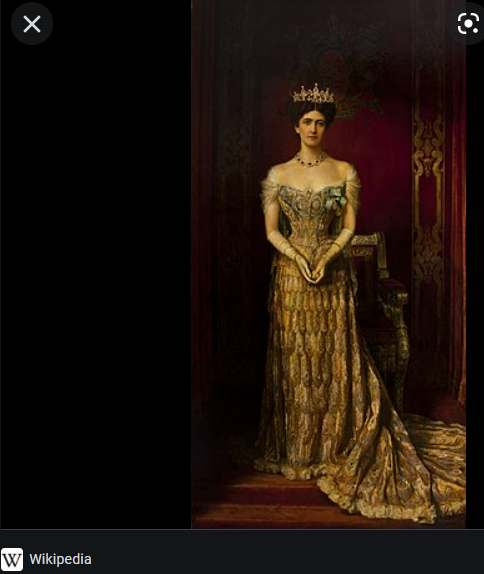 "I will have him, because I believe he needs me. I have no shame."
Mary writing to a friend after meeting her future husband for the first time
1125: Mary Curzon
Vicereine of India
Born: 27 May 1870, Chicago, Illinois, United States of America
Died: 18 July 1906, London, United Kingdom
Full Name: Mary Victoria Leiter Curzon, Baroness Curzon of Kedleston
Though she was born in America, thanks to her marriage into the British Aristocracy, Mary held the highest political rank of any American woman for part of her life.
Mary's father was a part owner of Marshall Fields Company and one of the largest landowners in Washington DC in the late nineteenth century. Mary herself was friends with then-First Lady Frances Folsom Cleveland.
According to The Crown Chronicles (article linked below), "As a young girl, Mary was taught dancing, singing, music, and art, as well as French, by her governess. A professor from Columbia University was brought in taught her history, arithmetic, and chemistry, too, the harder, less 'feminine' subjects lacking in many girls' educations."
The Leiter family was very wealthy, and so when Mary married her husband, she became one of the "Million Dollar American Princesses." Together, Mary and her husband had three daughters.
Mary's husband was a member of parliament and, in 1898, was named Viceroy of British-Controlled India and also received the title Baron of Kedleston. Mary became Vicereine and a Baroness consequently.
Mary was her husband's biggest supporter, despite his early failings at his post. She performed various ceremonial duties in her role as Vicereine, but her health quickly turned poor, despite the fact she was a champion of healthcare reform. Mary was an advocate for helping women achieve jobs in the healthcare industry and be able to attend medical school. There is a hospital in Bangalore named in her honor.
Mary was also an early proponent of animal welfare, and she pushed her husband to create a wildlife reserve to protect the rhinoceroses. Today, the site is a national park. Mary and her husband were not without their faults however—they did enjoy big game hunting and at least one photo of them standing alongside a tiger they killed do exist.
In August of 1905, Mary's husband resigned his post and the family returned to England. By then, Mary's poor health was growing worse. The pressures of working to support her husband, the tropical climate of India, and an infection she had developed after suffering a miscarriage all weakened Mary, and she passed away the following year, only thirty-six years old.
One example of Mary's over-the-top attention to detail and ceremony is highlighted in her famous "Peacock Dress," (shown in this article in a posthumous portrait of Mary). Worn by Mary in 1903, the dress weighs over ten pounds and is made with metal embroidery and green beetle shells that sparkle like emeralds. The dress was donated by Mary's daughter in 1997 in order to avoid an inheritance tax. An article with more information on the dress is linked below.
For those who are fans of Downtown Abbey, some believe the character of Cora Crawley, Countess of Grantham, is based on Mary.
Badges Earned:
Find a Grave Marked
Located In My Personal Library:
The Husband Hunters: American Heiresses Who Married into the British Aristocracy by Anne De Courcy
Sources:
https://thecrownchronicles.co.uk/history/history-posts/american-heiresses-saved-british-aristocracy-mary-leiter-baroness-curzon/
https://www.britannica.com/biography/Mary-Victoria-Leiter-Curzon
https://www.encyclopedia.com/women/encyclopedias-almanacs-transcripts-and-maps/curzon-mary-leiter-1870-1906
https://www.nationaltrust.org.uk/kedleston-hall/features/lady-mary-curzons-peacock-dress
https://www.findagrave.com/memorial/11909550/mary-victoria-curzon