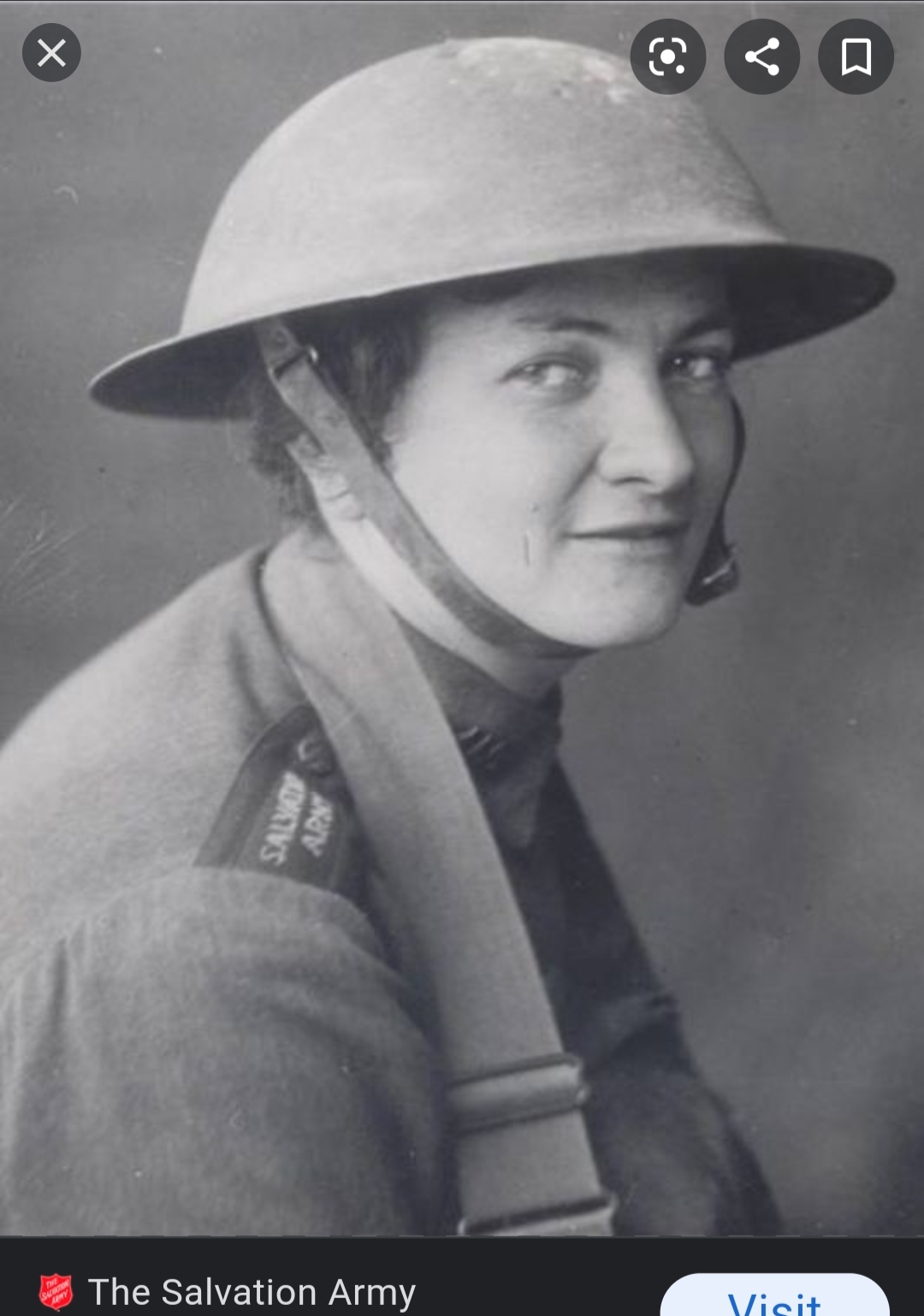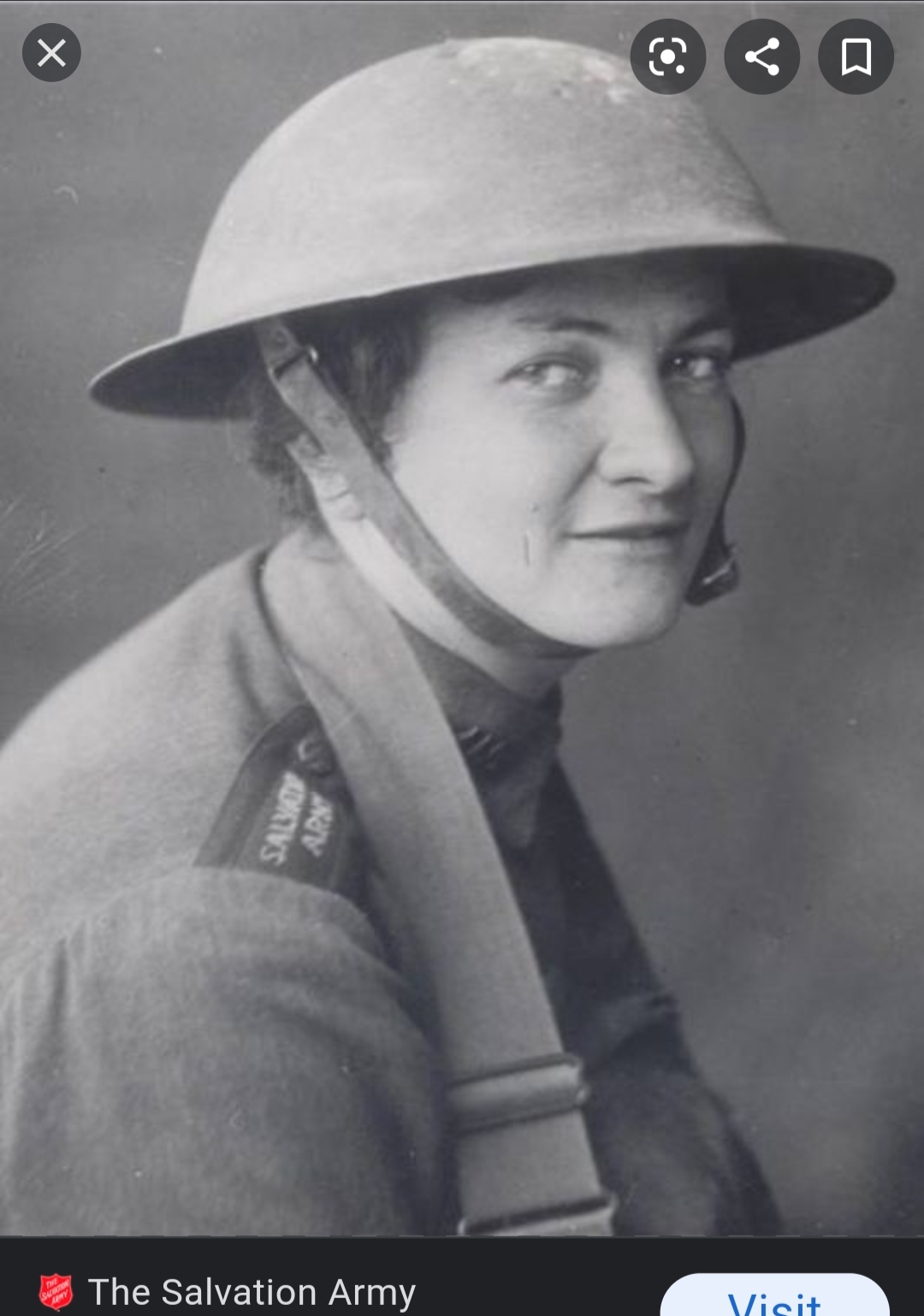 "I was literally on my knees when those first donuts were fried, seven at a time in a small fry pan. There was also a prayer in my heart that somehow this home touch would do more for those who ate the donuts than satisfy a physical hunger."
1085: Helen Purviance
Popularized Donuts in the United States and Around the World
Born: 16 February 1889, Huntington, Indiana, United States of America
Died: 26 February 1984, Wabash County, Indiana, United States of America
Helen is remembered today for handing out donuts to the American troops during World War I.
Helen was one of five children and had a loving family. When Helen was eleven, she moved to New York to attend boarding school. Six years later, she had moved to the Big Apple in order to join the Salvation Army. Helen was given the rank of Captain and became an active officer out of New York.
In August of 1917, the newly commissioned Helen joined the American First Division of the Salvation Army and departed for France. At the time, women were barred from joining the armed forces in most capacities, and so Helen's only chance to serve overseas was through the work of the Salvation Army.
Trapped in the rain-soaked frontline trenches, Helen and fellow Salvationist Margaret Sheldon decided to help perk up the troops with some home cooked meals. The only problem was supplies were limited, so Margaret and Helen would have to get creative. That's when Helen and Margaret settled on donuts, a treat that would not become popular until after the war thanks in large part to Margaret, Helen, and their helpers.
Helen and her fellow ensigns made the donuts by using a wine bottle for a rolling pin and cutting the dough with a knife. They fried the donuts in a wood fired pot belly stove seven or eight at a time; forcing Helen to lean on her knees in front of it for hours out a time.
The first day the ensigns served 150 donuts and the second day 300. By the time they were fully equipped they fried anywhere from 2500 to 9000 every day! Its estimated by war's end Helen and the other girls had made over a million of the treats.
The ensigns were called Donut Girls despite making apple pies and other treats as well. Helen herself was actually dubbed the Donut Queen and continued to be associated with them throughout her life (despite the fact she announced in 1936 she was sick of them—not that I blame her any!).
Helen was only one of the four women to serve on the American Front Lines during World War I. At the beginning of 1918, Helen and three other Salvationists were allowed to travel to the front lines in order to help serve the soldiers in any capacity they could. Helen survived bitter cold snaps and carried mental scars from her ordeal for the rest of her life.
After the war, Helen became dean of the Salvation Army training college in the Bronx, New York. She also helped establish a Salvation Army post in her hometown of Huntington, Indiana, with the help of her younger brother Paul.
During World War II, Helen promoted baking cookies for the troops instead and also helped train the newest generation of Salvationists. She attained the rank of Brigadier by the time she finally retired from the Salvation Army after the war's end.
Badges Earned:
Find a Grave Marked
Sources:
https://www.indianawarmemorials.org/2021/03/08/helen-purviance/
https://syracuseny.salvationarmy.org/SyracuseNY/news/helen
https://www.huntingtoncountyhonors.org/Honorees/Helen-Purviance
https://www.worldwar1centennial.org/index.php/indiana-in-wwi-stories/2433-helen-purviance.html
https://www.findagrave.com/memorial/67623816/helen-gay-purviance