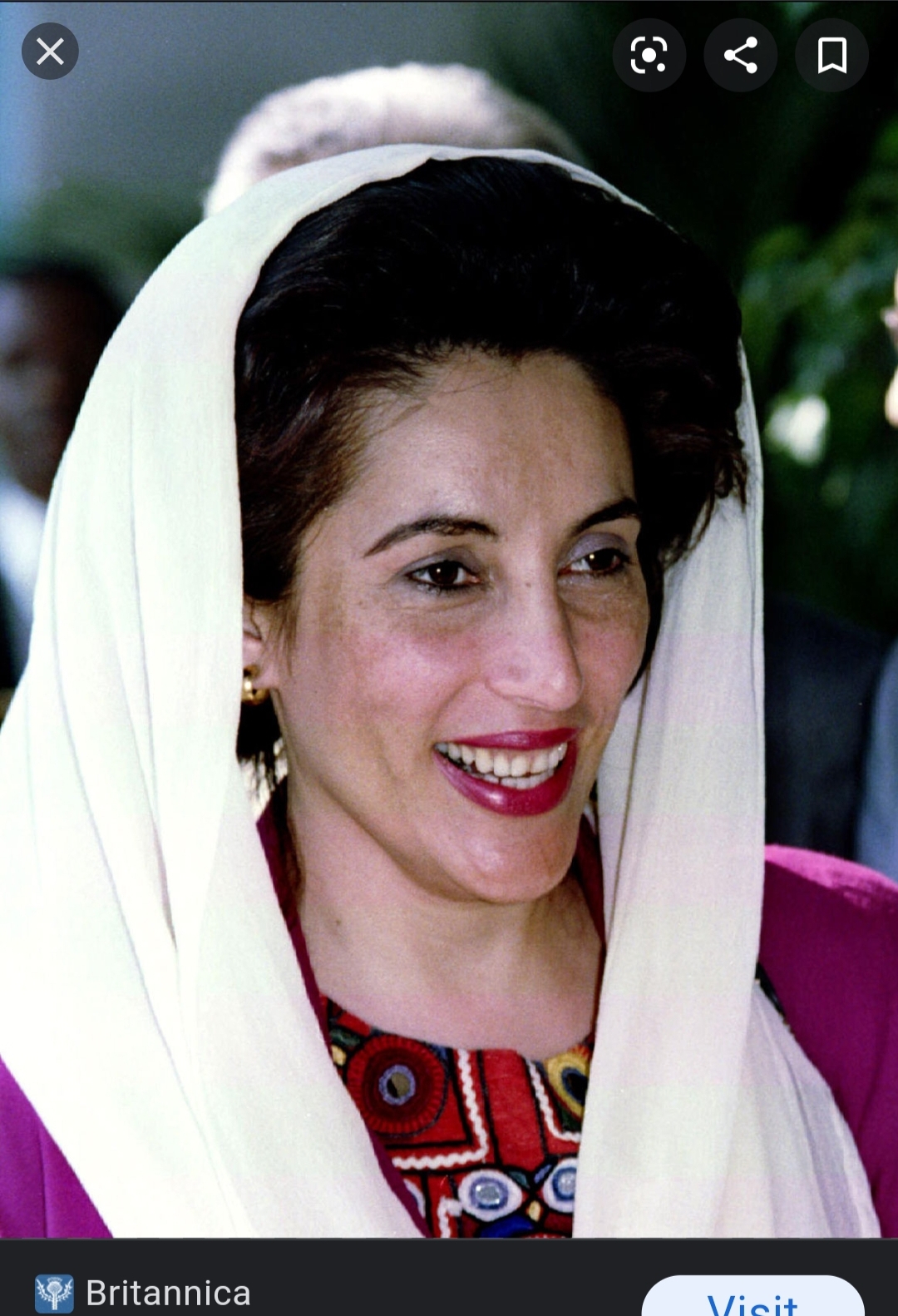 "You can imprison a man, but not an idea. You can exile a man, but not an idea. You can kill a man, but not an idea."
"Democracy is the best revenge."
1065: Benazir Bhutto
Former Prime Minister of Pakistan
Born: 21 June 1953, Karachi, Pakistan
Died: 27 December 2007, Rawalpindi, Pakistan
Benazir was the first woman to head a Muslim Majority Nation in the modern day, and the first woman to ever be democratically elected leader of a Muslim Majority country.
Benazir was educated at both Harvard and Oxford University, earning a bachelors degree at Harvard and completing several courses at Oxford.
She was the daughter of Zulfikar Ali Bhutto, a former Prime Minister himself. He served as the leader of Pakistan for six years. Sadly, in 1979 Benazir's father was hung by the military dictator who had taken control of Pakistan; ironically on charges of authorizing the murder of a rival political leader. After her father's death, Benazir became de facto leader of the party he had once headed, the PPP or Pakistan People's Party (Benazir became the chair of the party in 1982). From 1979 to 1984, Benazir was put under house arrest several times, and beginning in 1984 she was actually exiled from her country for two years.
Tragedy continued to befall Benazir's family. One of her brothers died mysteriously in 1980 (the family insisted he was poisoned but no one was ever charged in his death). A second brother was killed in a gun battle in 1996.
In 1987, Benazir married a wealthy landowner. The couple would eventually have three children: one son and two daughters. Benazir became prime minister three months after her first child was born.
After the death of Pakistan's military dictator in 1988, Benazir became a leading force in Pakistani politics. During the elections that year, Benazir's party won the largest majority of seats in Pakistan's National Assembly, leading to her being selected as Prime Minister as the head of a coalition government.
Benazir served two terms (1988-1990 and 1993-1996). During her first administration, Benazir was forced to resign her position after charges of political corruption were leveled at her. She hadn't managed to effect much change in her country during her time in office, and her party lost large swaths of the election later that year (1990).
Three years later, Benazir was back. The PPP won back a large piece of the government after elections in October, and Benazir was once again Prime Minister. Three years later however, her government was once again forced out of power after being accused of political corruption, decline of law and order, and economic mismanagement.
Things were so bad that Benazir and her husband were both convicted on multiple charges relating to government corruption in 1999. However, the convictions were overturned by the Pakistani Supreme Court in 2001 after it was discovered the rival political party, who was in power at the time, had had a hand in ensuring the couple were convicted. During this time Benazir was in a self-imposed exile, splitting her time between London and Dubai. Though her tenure away was initially indeed self-imposed, arrest warrants for her were eventually sworn out meaning she would be taken into custody if she returned home.
The government decided to take things a step further with Benazir. According to Encyclopedia Britannica (Article linked below): "Because of [the Pakistani president's] 2002 decree banning prime ministers from serving a third term, Bhutto was not permitted to stand for elections that same year. In addition, legislation in 2000 that prohibited a court-convicted individual from holding party office hindered her party, as Bhutto's unanimously elected leadership would have excluded the PPP from participating in elections. In response to these obstacles, the PPP split, registering a new, legally distinct branch called the Pakistan People's Party Parliamentarians (PPPP). Legally separate and free from the restrictions brought upon the PPP by Bhutto's leadership, the PPPP participated in the 2002 elections, in which it proceeded to earn a strong vote. However, Bhutto's terms for cooperation with the military government—that all charges against her and against her husband be withdrawn—continued to be denied."
In 2007, the president of Pakistan finally commuted the charges against Benazir, and granted her amnesty, allowing her to return home—just in time for another round of elections. Sadly, Benazir's return was not welcomed by many in her country. 136 people were killed in a rally welcoming her back to Pakistan, though the plotters of the attack failed to kill Benazir, that day.
The plotters succeeded a few months later, however. In December, Benazir was assassinated and twenty-eight other bystanders were killed in the attack. Around one hundred more were wounded. The suicide bomber who was identified as the culprit behind the attack was fifteen years old.
In the weeks after her death, mass protests and riots broke out across the country, killing twenty-three more. Pakistan's Interior Justice blamed Benazir's death on Al Qaeda, but a spokesperson for the terrorist organization denied being involved.
Badges Earned:
Find a Grave Marked
Rejected Princess
Located In My Personal Library:
Historical Heartthrobs: 50 Timeless Crushes--From Cleopatra to Camus by Kelly Murphy
The Warrior Queens by Antonia Fraser
Tough Mothers by Jason Porath
Sources:
https://www.britannica.com/biography/Benazir-Bhutto
https://www.history.com/topics/womens-history/benazir-bhutto
https://www.bbc.com/news/world-asia-42409374
https://www.goodreads.com/author/quotes/471833.Benazir_Bhutto