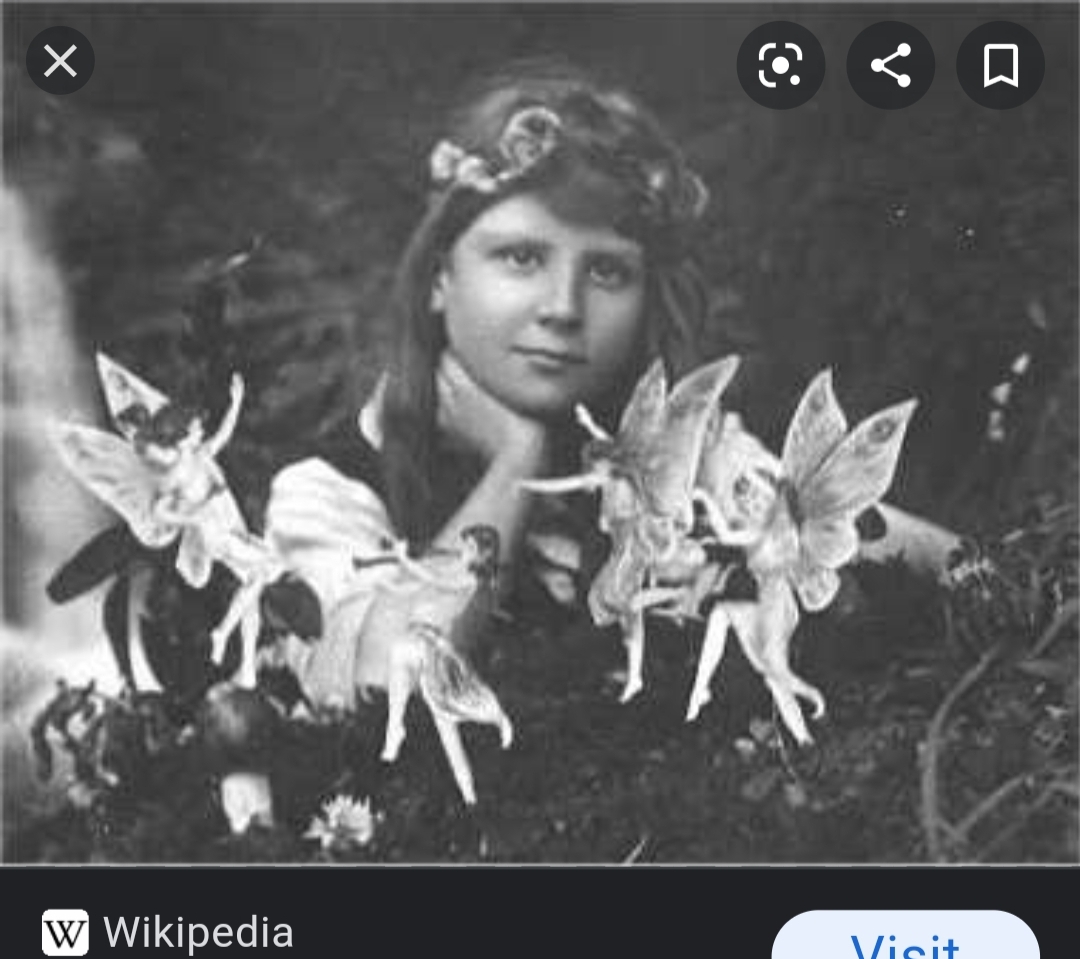 1004: Frances Griffiths
Subject of Some of the Famous Cottingley Fairies Photographs
Born: 4 September 1907, Bradford, England, United Kingdom
Died: 11 July 1986, Belfast, Ireland, United Kingdom
It is hard to believe it now with the advent of photoshop technology, but the Cottingly Photographs were so convincing for their time Sir Arthur Conan Doyle willingly published multiple articles and books in defense of fairies actually existing.
Frances spent several years of her youth living in France while her father served during World War I. As a teenager, Frances and her mother returned to England. It was while living outside Bradford that Frances and her cousin Elsie had their moment of genius strike.
In the first picture, Frances appeared with the fairies, but in the second the girls switched so that Elsie was shown with the magical creatures. In the pictures, Frances and Elsie posed with cutouts of fairies (the fifth shows just the paper fairies with neither girl in it). After the first two were published, someone saw the images and ended up giving the girls a better camera to take more pictures.
Sure enough, three more images were soon taken. All five of the pictures were published and drew wide acclaim and attention. As previously mentioned, Arthur Conan Doyle was fascinated, and eventually three separate books were published about the existence of fairies and used the images as proof. Elsie and Frances remained famous throughout the rest of their lives because of the fairy pictures.
Frances eventually married a soldier and had two children.
In 1983, Elsie and Frances finally admitted the truth; the photos were fake and the fairies in them were cut out pieces of paper held up by hat pins. Apparently though, the girls did continue to claim they had seen actual fairies, only the creatures either could not or would not be photographed.
Frances died three years later. Though the photos are easily seen as fakes today, you still have to give credit where its due. When Elsie and Frances took the five images in the early 1920's, photography was still a lengthy and cumbersome process. They didn't snap a photo on their cell phone and add in a fairy sticker to the image. Instead, they had to use glass plate and dark room technology, and were still able to fool grown adults for sixty years.
In 2018, four of the original colorized prints sold at auction for over $31,000.
Badges Earned:
Find a Grave Marked
Located In My Personal Library:
Bad Days in History by Michael Farquhar
Sources:
https://collection.sciencemuseumgroup.org.uk/people/ap28805/griffiths-frances
https://encyclopedia2.thefreedictionary.com/Frances+Griffiths
https://www.diyphotography.net/these-photos-were-taken-by-two-little-girls-in-1917-and-they-are-gorgeous/
https://www.findagrave.com/memorial/20195129/frances-griffiths