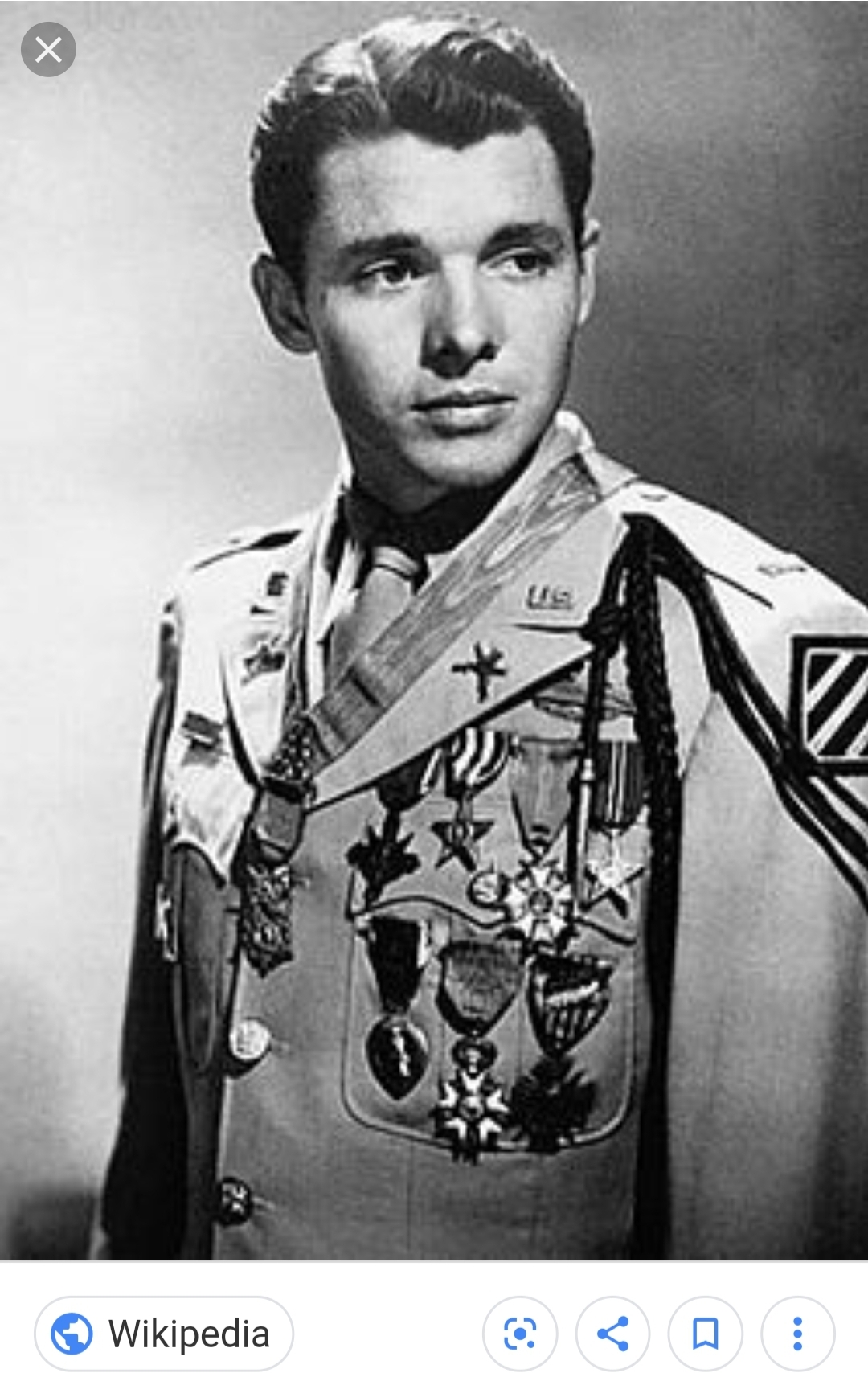 95) Audie Murphy
One of the Most Decorated Combat Soldiers of World War II--receiving every award for valor available to US troops.
Born: 20 June 1925, Kingston, Texas, United States of America
Died: 28 May 1971, Catawba, Virginia, United States of America
Growing up was rough, with Audie being one of twelve siblings despite his father having no means to provide or feed his children. His father left in 1940, and when Audie's mother died a year later, Audie enlisted to honor her ten days after he turned eighteen.
Audie was the most decorated American soldier with Thirty-three medals and awards, ten of which he received from France and Belgium. He had over 240 Confirmed Kills. Oh, and his service ended when he was twenty years old.
Audie went on to star in over forty Hollywood Films, most of which were Westerns or about the war. He also wrote country music, and his songs were later recorded by Dean Martin, Harry Nilsson, Porter Waggoner, and Jerry Wallace.
Audie was traumatized by the war and developed both insomnia and what would later be recognized as Post Traumatic Stress Disorder, both of which led him to becoming addicted to sleeping pills (a habit he was luckily able to kick later on). After dropping the pills, Audie began to speak openly about mental health problems plaguing returning veterans—breaking a longstanding taboo.
When he passed away in a plane crash, he was in financial ruin because of gambling addictions and bad investments. He left behind a wife and two children.
His is the second most Visited Grave site Yearly at Arlington National Cemetery after President John Fitzgerald Kennedy.
In 2002, when Arlington replaced every Medal of Honor Recipient's headstone with a more elaborate version, Audie's family requested his stay the same, inconspicuous stone it always was, in accordance with his wishes.
Today, non-commissioned US Army Officers can be awarded the Sergeant Audie Murphy Award.
Badges Earned:
Find a Grave Marked
Located In My Personal Library:
The Hollywood Book of Death by James Robert Parish
Where Are They Buried? How Did They Die? by Tod Benoit
Sources:
https://www.biography.com/military-figure/audie-murphy
https://www.imdb.com/name/nm0001559/?ref_=nv_sr_1?ref_=nv_sr_1
https://home.army.mil/lee/index.php/about/Garrison/sergeant-audie-murphy-award