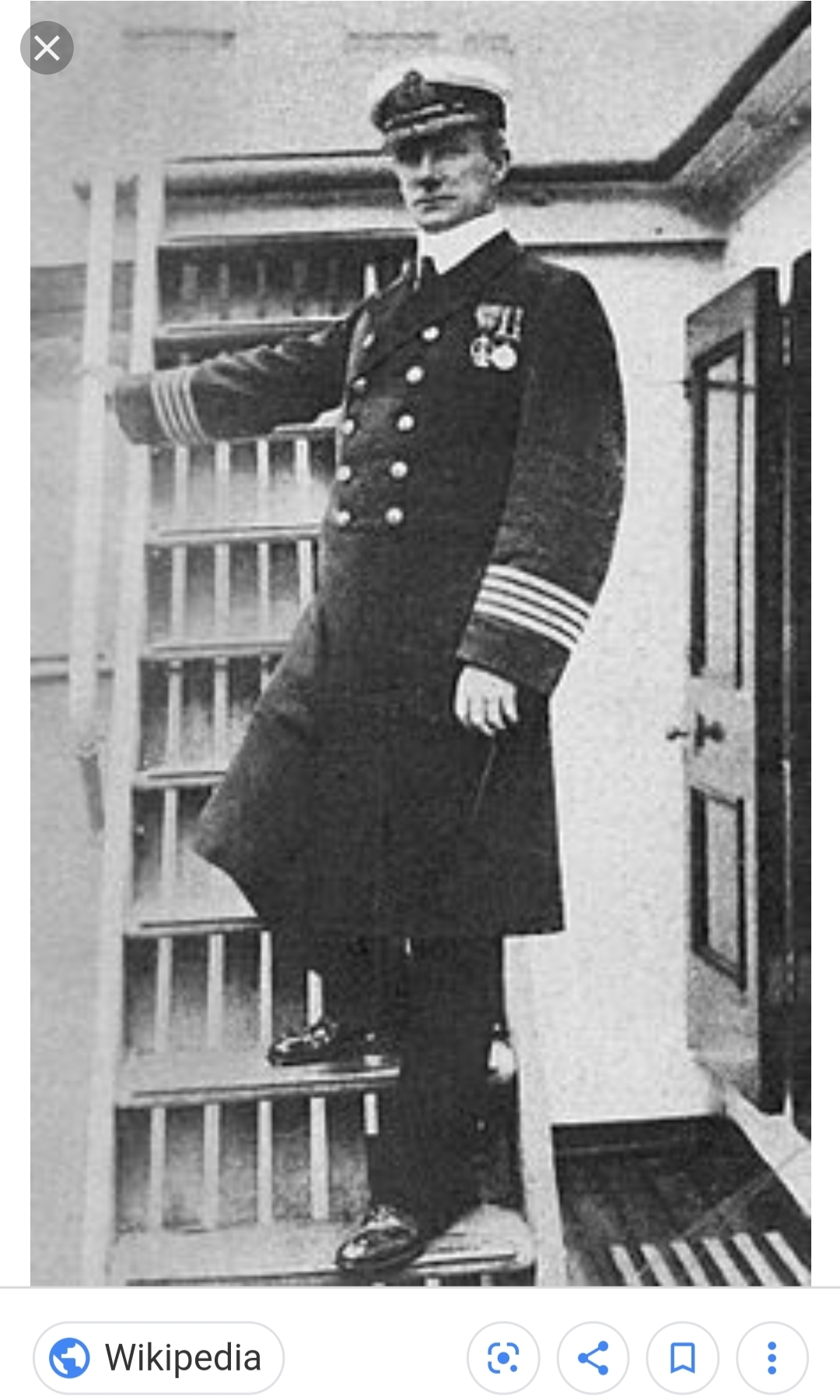 90) Sir Arthur H Rostron KBE, RD, RNR
Captain of the RMS Carpathia on that Fateful April Night
Born: 14 May 1869, Bolton, United Kingdom
Died: 4 November 1940, Southampton, United Kingdom
Commodore for the Cunard Line and Congressional Gold Medal Recipient; Arthur was captaining the Carpathia when Titanic sank. Therefore, he was responsible for rescuing and then delivering the Titanic survivors to New York.
Arthur first went to sea at the age of thirteen and soon saw the Americas, India, and Australia. He joined the Cunard Line in 1895 as a fourth mate on the Umbria.
In 1907, he was made first officer on the Lusitania, but a day before the ship was supposed to leave port he was transferred to the Brescia as captain. By 1911, he'd become captain of his first passenger ship, the Pennonia, which traveled to New York from the Mediterranean.
After a brief stint in the British Navy during the Russo-Japanese War, Arthur was made captain of the Carpathia in January 1912.
On that fateful night of April 14/15, Arthur was asleep when his wireless officer burst into his room to tell him he had heard the Titanic's distress signal. The Carpathia was sixty miles away from their last reported position but the crew leapt into action.
Arthur was a very religious man, and reportedly stepped away after all orders had been given to pray for those aboard Titanic.
Carpathia arrived at the scene of the wreck around 4 AM on April 15th and was able to take 712 out of the water. 1,503 had already perished. Of those 712, four were already dead and one died a few hours later.
At the time, Carpathia had been headed to Europe, but seeing as they didn't have enough supplies to support the new 700+ passengers aboard the ship, Arthur turned back to New York.
Once the US Senate Inquiry had finished, Arthur and the Carpathia returned to their usual service.
A few months after first meeting US President Taft, Arthur was also presented with the Congressional Gold Medal of Honor, the highest award the United States could bestow upon him.
He would later serve aboard various ships during World War I, ferrying Canadian troops to Europe and even traveling to India and serving in the Gallipoli Campaign.
Once the war ended, Arthur returned to working as captain on various ships for passenger carriers. In 1926, he succeeded James Charles (I know—different James Charles) as commander of the Berengaria and Commodore of the Cunard fleet.
He retired from seafaring service in May of 1931 and passed away from complications with pneumonia in 1940.
Badges Earned:
Find a Grave Marked
Located In My Personal Library:
The Band That Played On: The Extraordinary Story of the 8 Musicians Who Went Down With the Titanic by Steve Turner
The Complete Guide to the Titanic by Julia Garstecki
Gilded Lives, Fatal Voyage: The Titanic's First-Class Passengers and Their World by Hugh Brewster
How It Happened: Titanic by Geoff Tibballs
LIFE Presents Titanic: The Tragedy That Shook the World by Kostya Kennedy
Titanic and the Mystery Ship by Senan Molony
Titanic: True Stories of Her Passengers, Crew, and Legacy by Nicola Pierce
The Unsinkable Mrs. Brown by Caroline Bancroft
What was the Titanic? by Stephanie Sabol
Sources:
https://www.encyclopedia-titanica.org/titanic-biography/arthur-henry-rostron.html
https://titanic.fandom.com/wiki/Arthur_Rostron
https://www.findagrave.com/memorial/9550788/arthur-henry-rostron