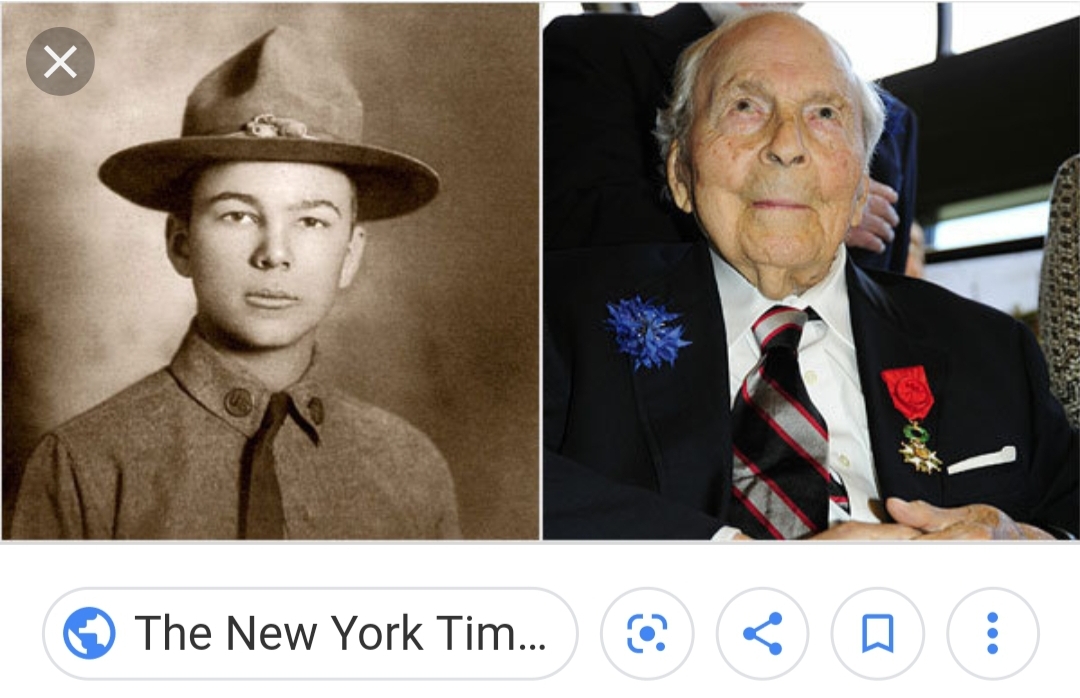 78) Corporal Frank Buckles
Last Surviving American Veteran of World War I
Born: 1 February 1901, Bethany, Missouri, United States of America
Died: 27 February 2011, Charles Town, West Virginia, United States of America
US Army Ambulance and Motorcycle driver near the European Front Lines (but never actually seeing combat).
Frank enlisted at the age of sixteen in 1917 (he lied to the first recruiter [US Marine Corps] and said he was eighteen—that recruiter said you had to be twenty-one. Frank went to the next recruiter [US Navy] who said he couldn't enlist because he had flat feet [he didn't], finally the US Army enlisted him). After the fighting officially ended, Frank worked as an escort for German prisoners—helping shuttle 650 back to Germany. He was honorably discharged in 1920.
When World War II struck, Frank was working for a shipping company in the Philippines. He was taken captive by the Japanese and held for three years, finally being released in 1945. He reportedly said he stopped looking at scales after his weight dropped to below 100 pounds. Because of his confinement, he developed beriberi, which is caused by malnutrition, and the disease had lasting effects on him.
After World War II, Frank became a farmer in West Virginia, and was very active in Veterans Affairs. He also married and became a father.
He was the recipient of the World War I Victory medal, the Occupation of Germany Medal, and the French Legion of Honor.
Frank was buried in Arlington National Cemetery after a special dispensation was granted to him (non-combat duty veterans are not normally granted permission to be buried there).
Badges Earned:
Find a Grave Marked
Sources:
https://www.smithsonianmag.com/history/the-last-doughboy-of-world-war-i-11880886/
https://www.findagrave.com/memorial/27677330/frank-woodruff-buckles