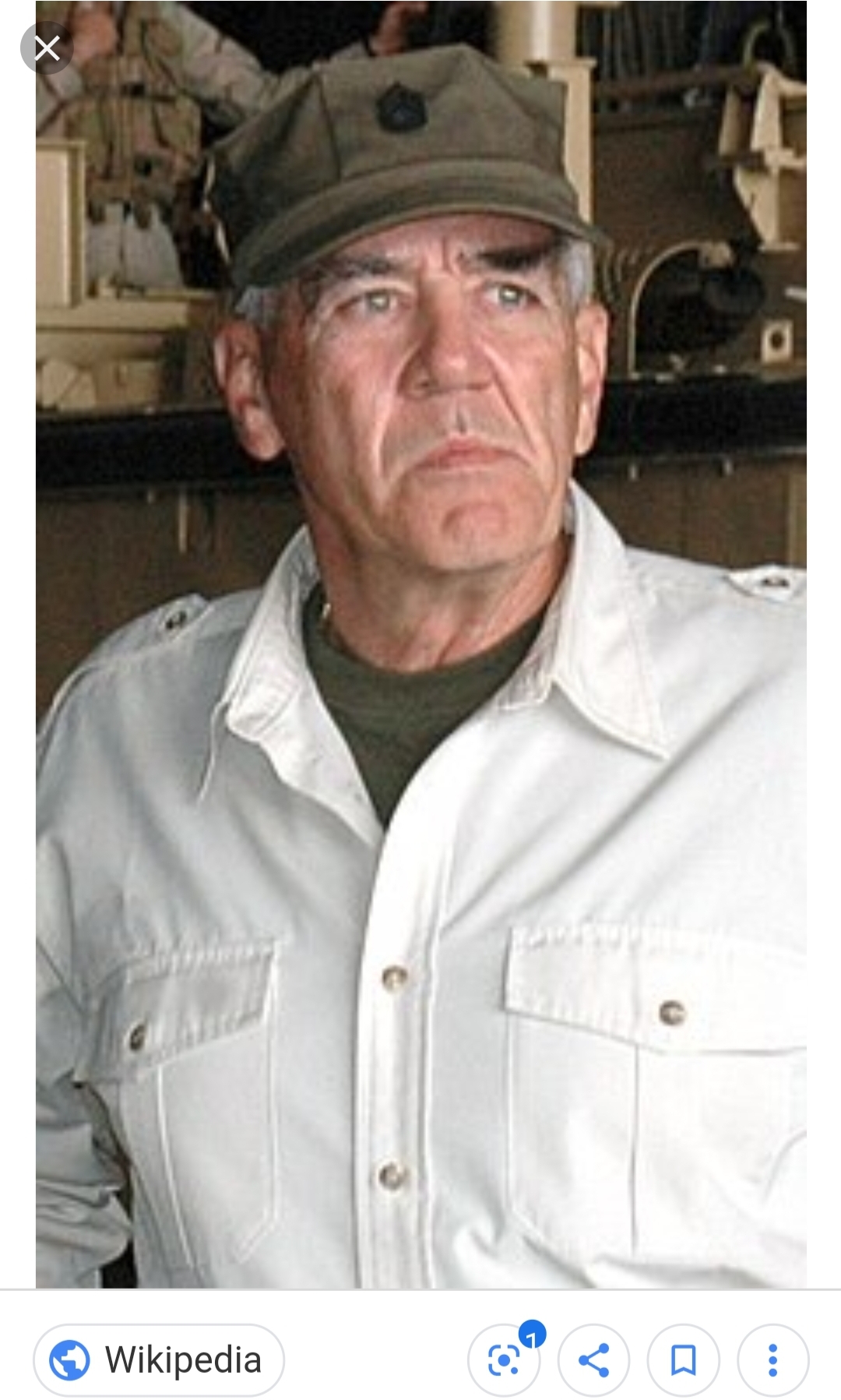 73) R Lee Ermey
Actor and Staff Sergeant in the US Marine Corps
Born: 24 March 1944, Emporia, Kansas, United States of America
Died: 15 April 2018, Santa Monica, California, United States of America
Original Name: Ronald Lee Ermey
His most Famous Role came in Full Metal Jacket. I've linked his now iconic scene in this article, but I warn you, here comes your foul language warning! Wear headphones if you watch it in public...or near small children...or older people...or church moms, you get what I mean.
R Lee enlisted in the Marine Corps in 1961. According to IMDb (none of the other sources I've checked said this), he enlisted after being given the choice—enlist or face a jail sentence for criminal mischief. From 1965 to 1967 he served as a Drill Instructor in San Diego. R Lee would then serve a fourteen-month tour in Okinawa, Japan and later Vietnam. In 1972, he was medically discharged from service due to injuries sustained.
In 1979, R Lee entered Hollywood with a bit part in Apocalypse Now. He next worked as Drill Instructor in The Boys in Company C. He worked as a technical advisor on Apocalypse Now and was originally going to only do technical work on Full Metal Jacket, however after director Stanley Kubrick reviewed a fifteen-minute audition tape that proved R Lee had what it took to act as a Drill Sergeant he got the role of Sergeant Hartman.
He would do over sixty films total, including voice acting as Sarge—the plastic army figuring in Toy Story. He also had a program on the History Channel called Mail Call, where he answered fan questions about the US Armed Forces.
He is buried in Arlington National Cemetery.
Fun Fact, my father and brother met R Lee at a gun show when my brother was little. He doesn't remember it, but Dad sure does!
Badges Earned:
Find a Grave Marked
Sources:
https://www.imdb.com/name/nm0000388/bio
https://www.stripes.com/news/us/marine-vet-full-metal-jacket-actor-r-lee-ermey-is-buried-at-arlington-1.564982