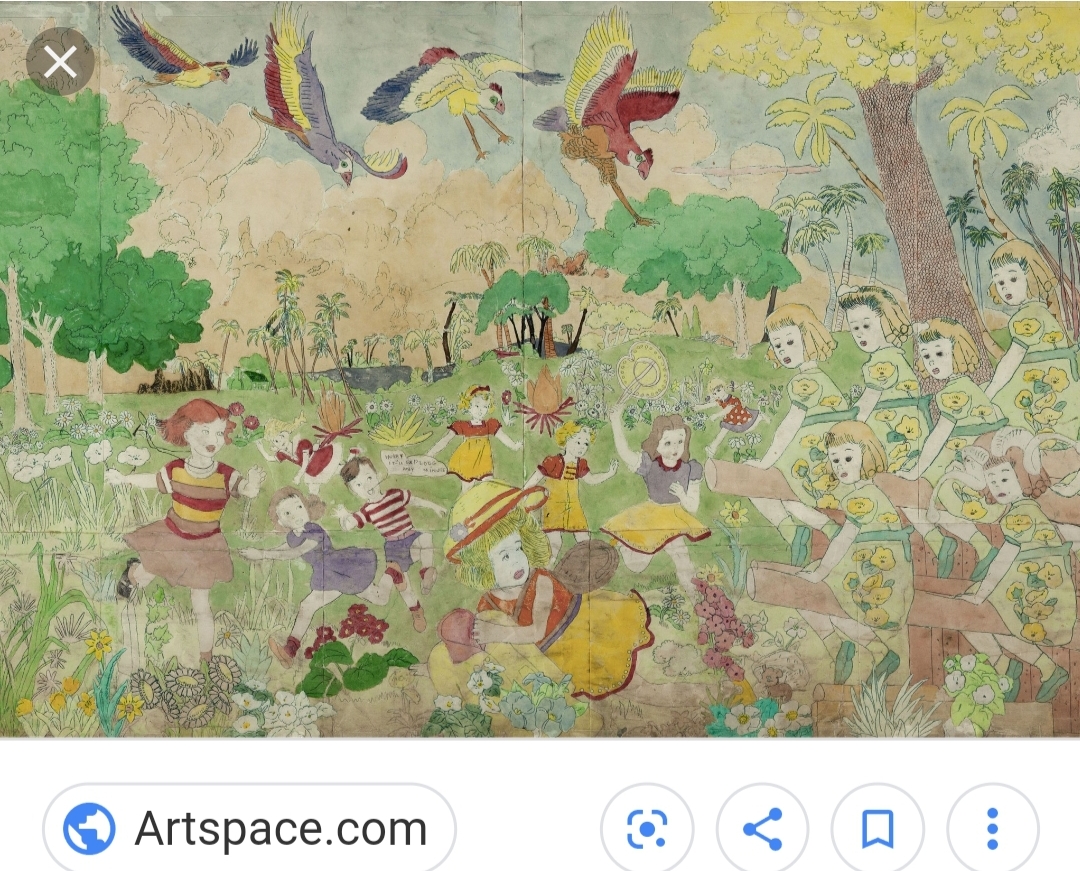 55) Henry Darger
Don't Judge a Book By Its Cover
Born: 12 April 1892, Chicago, Illinois, United States of America
Died: 13 April 1973, Chicago, Illinois, United States of America
Henry was a reclusive hospital janitor and dishwasher; shortly before his death it was discovered that he was a wonderful artist and novelist.
His apartment was cleared out just before he died. When the men got in there, they found over 350 paintings and sketches in a variety of mediums, seven typed and bound novels, and untold numbers of journals, scrapbooks, and loose typed pages.
He began writing his epic 15,000-page novel sometimes between 1910 and 1912, and began typing it in the 1930's. Many of his illustrations were of characters in his novels. He even wrote himself into the novel, as a tragic figure similar to his own life story.
Henry's mother died when he was four, in childbirth to his baby sister, who was put up for adoption. His father taught him to the read the newspaper from an early age, and so instead of starting the first grade he was promoted to the third because of his excellent reading abilities.
When Henry was eight, his father was admitted to an asylum, and Henry was placed in an orphanage. It is reported that here he achieved the nickname "Crazy." When he was twelve, Henry was moved to a home for feeble-minded children at the request of his father and a doctor. His father admitted he knew Henry was extremely intelligent, but also "peculiar."
At the age of seventeen, Henry's father died, and he began attempting to try and flee the asylum he was still trapped in. His third escape attempt was successful, and he became a janitor soon afterward in 1909.
Because of World War I, Henry was drafted in 1917 and transported to Camp Logan in Texas. However, he was soon honorably discharged, with the official reason being eye trouble.
In the 1930's, Henry lived in a boarding house with several other residents. And while he himself never had any visitors, other visitors in the building often thought he did. In fact, it was just Henry talking to himself in a variety of voices. Sometimes he was recounting conversations he'd had or overheard with others, and sometimes he was just talking to himself.
He was "peculiar" in other ways too. For one thing, he attended Catholic Mass three or four times a day and avoided conversations with other people whenever possible. Henry was also a hoarder of various things, rarely bathed, and kept bricks under his bed in case someone ever tried to attack him.
For ten straight years, 1957 to 1967, he made daily recollections of the weather in a stack of journals.
In 1963, he retired and began writing his autobiography and other stories. Henry was hit by a car in 1969, which made walking up and down his stairs a nightmare. In 1972, he asked his landlord to help move him into a nursing home. He ended up in the same one his father had died in.
It was another tenant in Henry's building that was tasked with clearing out his things. After two truckloads of trash were removed, the man came upon Henry's art and writings.
For the last year of his life, when Henry was in the nursing home, he refused to even speak. The one time he did, when the fellow tenant who discovered his work mentioned it to him, Henry simply muttered, "Too late now."
Badges Earned:
Find a Grave Marked
Sources:
http://officialhenrydarger.com/about/