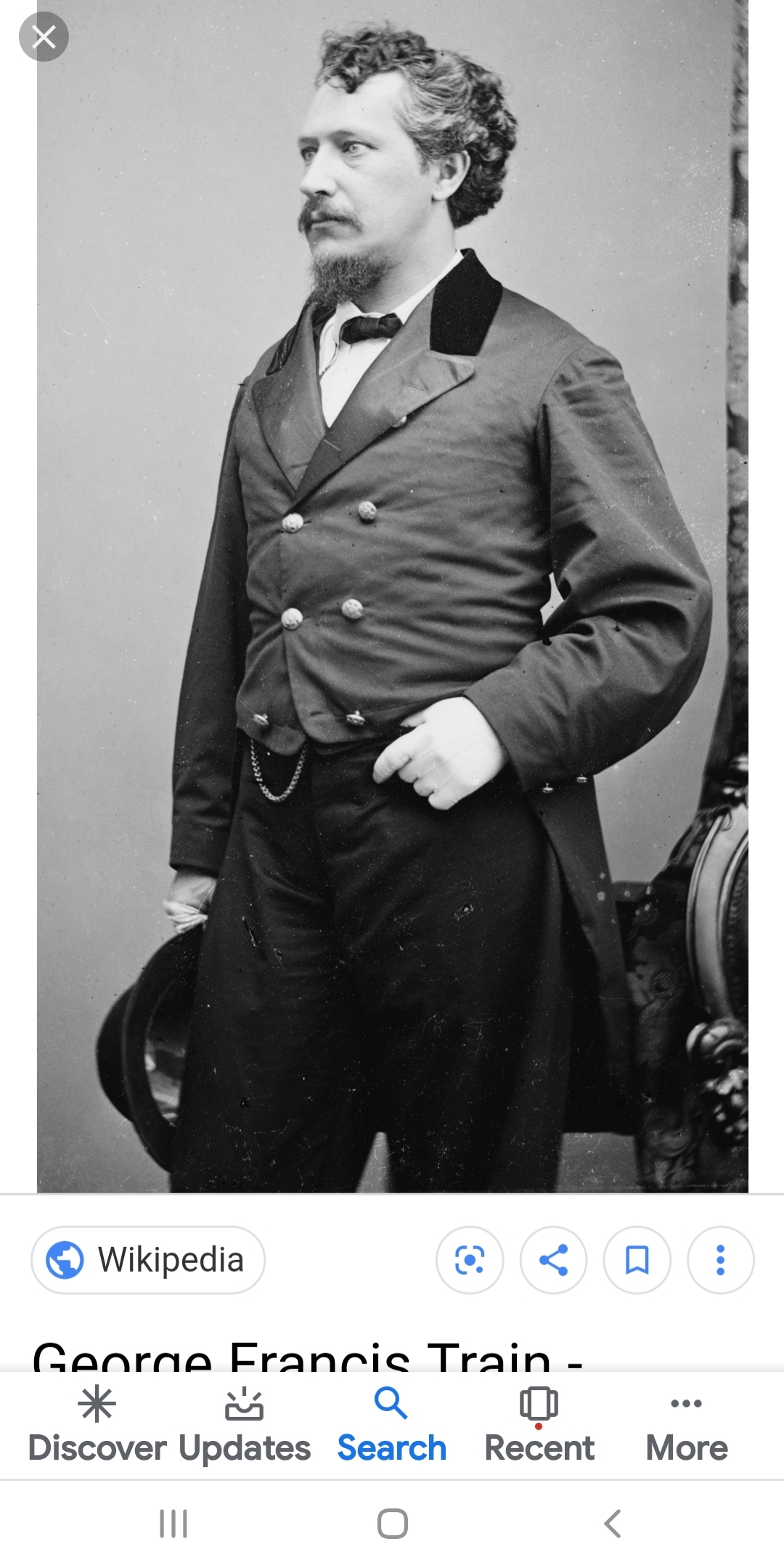 51) George Francis Train
He "Literally" Traveled Around The World in 80 Days
Born: 24 March 1829, Boston, Massachusetts, United States of America
Died: 5 January 1904, New York City, New York, United States of America
Besides circumnavigating the globe, George also organized the Clipper Ship Line that ran from Cape Horn, South Africa to San Francisco, California. George also helped organize the Union Pacific Railroad.
When George was four, he lost his three sisters and mother to a yellow plague epidemic. After George moved in with his maternal grandparents to escape the sickness, his father died as well.
He was a brilliant businessman but frenetic and scattered in a million directions as well. George was reportedly imprisoned fifteen times for different slights.
George was married and three of their children survived infancy.
During the War Between the States, George was an ardent supporter of the Union and advocated their cause in the United Kingdom. He eventually returned to the states with the brilliant idea that he could end the war by talking to Jefferson Davis, who was related to his wife.
In either 1868 or 1872 (sources differ), he attempted to run for president, but failed to secure the Republican Nomination. By this point in his life, his behavior was becoming increasingly erratic and no one voted for him.
George was also a financial backer of the Women's Suffrage Movement in the United States. He funded Susan B Anthony's newspaper, which she used to relaunch the Suffrage movement after the end of the War Between the States.
Among other causes he supported were the Fenian Movement, the greenback monetary movement, the ending of whipping and beating prisoners, lowering the voting age to eighteen, and a temperance advocate.
He actually made three trips around the world in his lifetime. The first was the eighty days trip (see note below for more detail), then after Nellie Bly beat his record, he went again and did it in sixty-seven days, and the third time in sixty days.
George reportedly passed away from Bright's Disease.
Note:
About his around the world trip…It was technically eighty days, minus the two months he was sedentary in France helping the Revolutionary cause. And yes, he was the inspiration for Jules Verne's classic novel; but George was not happy about it.
Badges Earned:
Find a Grave Marked
Located In My Personal Library:
Victoria Woodhull's Sexual Revolution: Political Theatre and the Popular Press in Nineteenth Century America by Amanda Frisken
Sources:
http://www.newenglandhistoricalsociety.com/george-francis-train-goes-around-world-in-80-days/
https://www.smithsonianmag.com/smithsonian-institution/susan-anthony-getting-support-revolution-taking-on-an-unusual-ally-180958480/
https://www.findagrave.com/memorial/9462330/george-francis-train