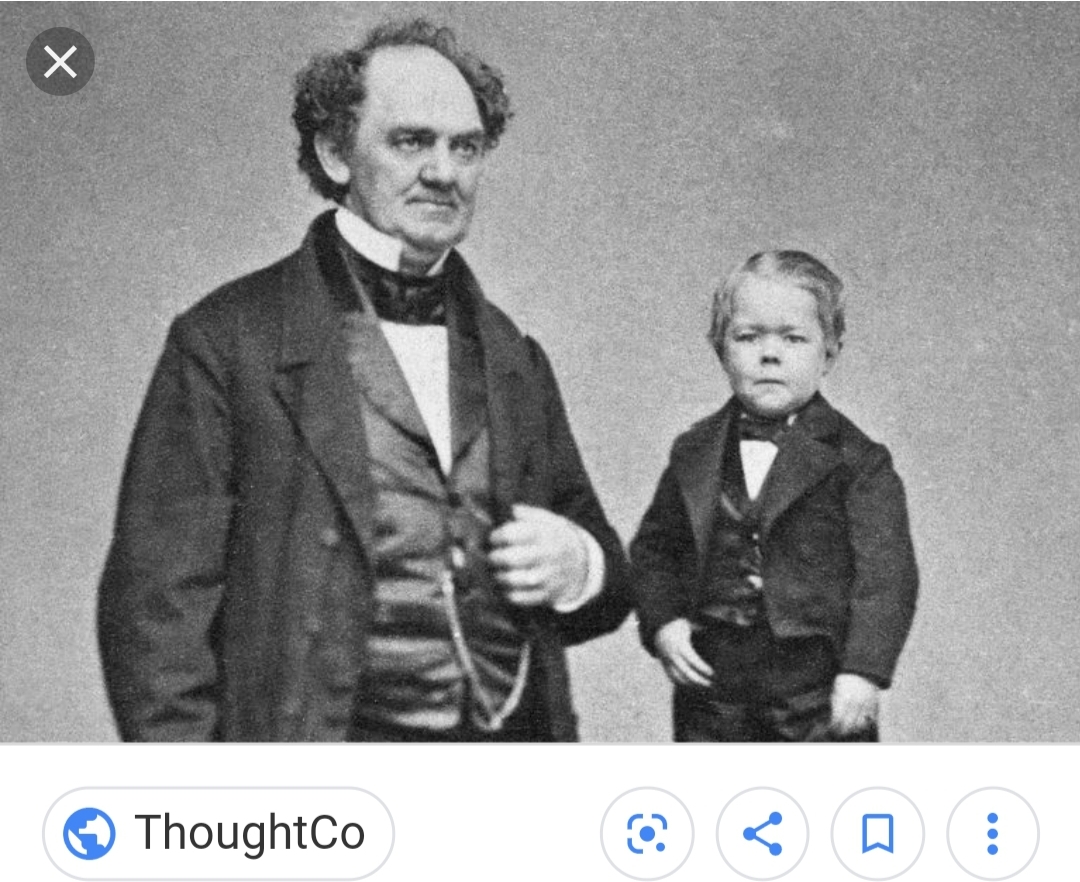 37) Charles Stratton
But He's Better Known as General Tom Thumb
Born: 4 January 1838, Bridgeport, Connecticut, United States of America
Died: 15 July 1883, Bridgeport, Connecticut, United States of America
Charles is considered to be one of the most famous dwarves in history, and the first internationally known superstar.
Charles was discovered by PT Barnum at the age of four and quickly began to perform (although Barnum would claim he was eleven). Charles stopped growing at the age of six months for a time before achieving his full height of 40 inches tall later in life—only weighing fifteen pounds as a teenager. His parents were of normal stature.
Charles performed for many people and various countries and appeared for Queen Victoria herself three times. Over the course of his career, it is estimated fifty million people turned out to see Charles and his companions.
In 1863, he married another dwarf from PT Barnum's troupe Lavinia Warren (The Little Queen of Beauty).
Charles would eventually become PT Barnum's business partner after bailing him out of his financial troubles.
Charles and Lavinia would eventually build their dream home in Middleborough, Massachusetts. Known today as the General Tom Thumb House, it was added to the National Historic Register in 1993. Though most of the miniature interior has gone missing over the years, Lavinia's wood burning stove does survive.
Notes:
While researching Charles's wife Lavinia I realized something was amiss with their story. According to the Victoria and Albert Museum and Find a Grave, Lavinia and Charles had one daughter who died around the age of two years old. However, every other source I've consulted stated they had no children at all, and instead posed with various orphan babies wherever they stopped. According to the documentary I've linked here, Lavinia claimed in her autobiography the child was fake, a stage hoax to attract more attention, but after the child in question died, Charles and Lavinia canceled all their events going on at the time. On both the death certificate and burial records, Charles is listed as the father, and 1000 people turned out for the funeral. If the child was an orphan and not actually the Stratton's child, they obviously grew to love her anyway.
Whatever the truth is, I doubt we'll uncover it in this lifetime.
Badges Earned:
Find a Grave Marked
Located in My Personal Library:
He is briefly mentioned in Victoria the Queen by Julia Baird
Sources:
https://www.britannica.com/biography/Charles-Stratton
https://lostmuseum.cuny.edu/archive/exhibit/thumb/
http://www.vam.ac.uk/content/articles/t/tom-thumb/
https://www.findagrave.com/memorial/1032/charles-sherwood-stratton
https://www.penguinrandomhouse.com/books/209795/victoria-the-queen-by-julia-baird/9780812982282/