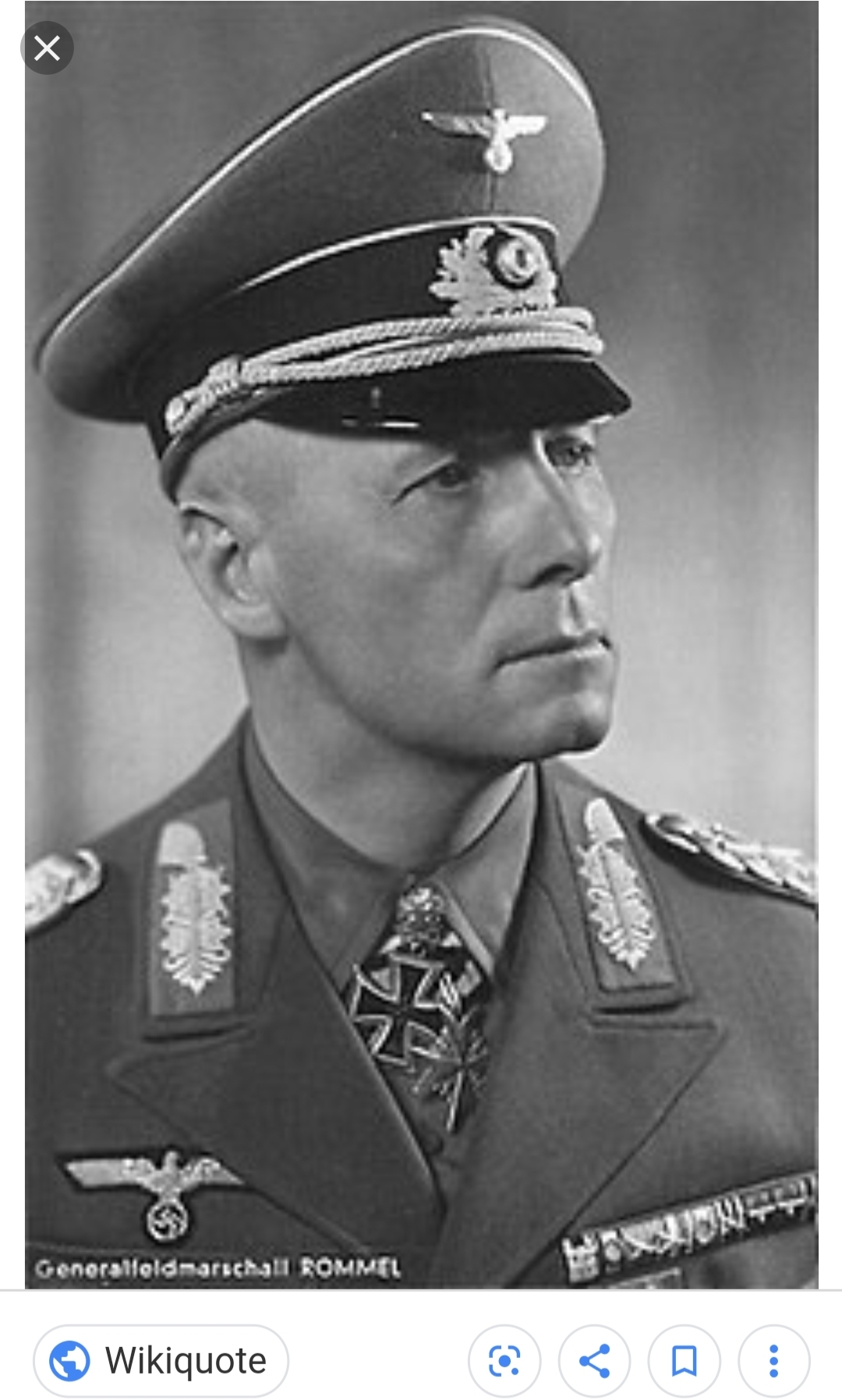 28) Field Marshal Erwin Rommel
Remember how I said not all Nazis were Horrible People?
Born: 15 November 1891, Heidenheim, Imperial Germany (Present-day Heidenheim, Germany)
Died: 14 October 1944, Herrlingen, Blaustein, Nazi Controlled Germany (Present-day Herrlingen, Germany)
He has been given the nickname the Desert Fox for his prowess on the battlefield in North Africa during World War II.
During the war he was incredibly popular at home in Germany and also respected by the military elite serving the Allied Forces.
Though his family had been civilians, Erwin joined the German officer cadet program in 1910, just in time for him to serve as a lieutenant in World War I. His service would take him to Romania, Italy, and France.
In 1937, he would publish a textbook which translated title is Infantry Attacks and a year later he was put in charge of the officers' school in Vienna.
Erwin would continue to climb the ranks through the military, at one point serving as the officer in charge of the troops guarding the Fuhrer's headquarters to then being placed in charge of the 7th Panzer Division where he would begin to make his international claim to fame.
In 1941, Erwin was placed in charge of the German troops headed to Libya to try and shore up what was left of the Italian Army there. This is where he would earn his Desert Fox nickname. Hitler and the other Nazi elite were so pleased by his progress there he was promoted to Field Marshal.
However, success did not last long, and he was defeated in Egypt in 1942 after his troops were overdrawn and left with inadequate supplies. He was ordered back to Germany the following year.
Throughout 1944, Erwin became more and more disenfranchised with Nazi Hierarchy and his belief in the Fuhrer. Unfortunately for him, he did not reject his friends who wanted to depose Hitler. They even told Erwin that he would be placed in charge once the Fuhrer was gone. However, they neglected to mention to Erwin that they would rid themselves of Hitler by assassinating him. They did this on purpose. Erwin had long let everyone know he did not believe in murder for political gain and had refused orders to execute anyone that he'd been ordered to.
During the Invasion of Normandy, Erwin tried again and again to get Hitler to admit defeat, but his urging fell on deaf ears. In July of that year, his car was bombed by British fighter pilots and he was hospitalized with major head injuries. However, by August he was released from the hospital and able to return home.
It was during this time that Erwin's communications with the men who'd tried (and failed) to assassinate the Fuhrer in July came to light. Hitler, knowing the damage it would do to him if Erwin was put on trial, sent two German officers to the Rommel home.
Erwin was reassured that if he took his own life, his name and rank would stay within the army and his treason would basically be covered up.
Erwin committed suicide later that day with the poison brought to him.
Just as promised, he was buried with full military honors.
Badges Earned:
Find a Grave Marked
Located In My Personal Library:
Inferno: The World at War 1939-1945 by Max Hastings
Killing the Mob: The Fight Against Organized Crime in America by Bill O'Reilly and Martin Dugard
The Atlas of World War II by John Pimlott
Sources:
https://www.britannica.com/biography/Erwin-Rommel