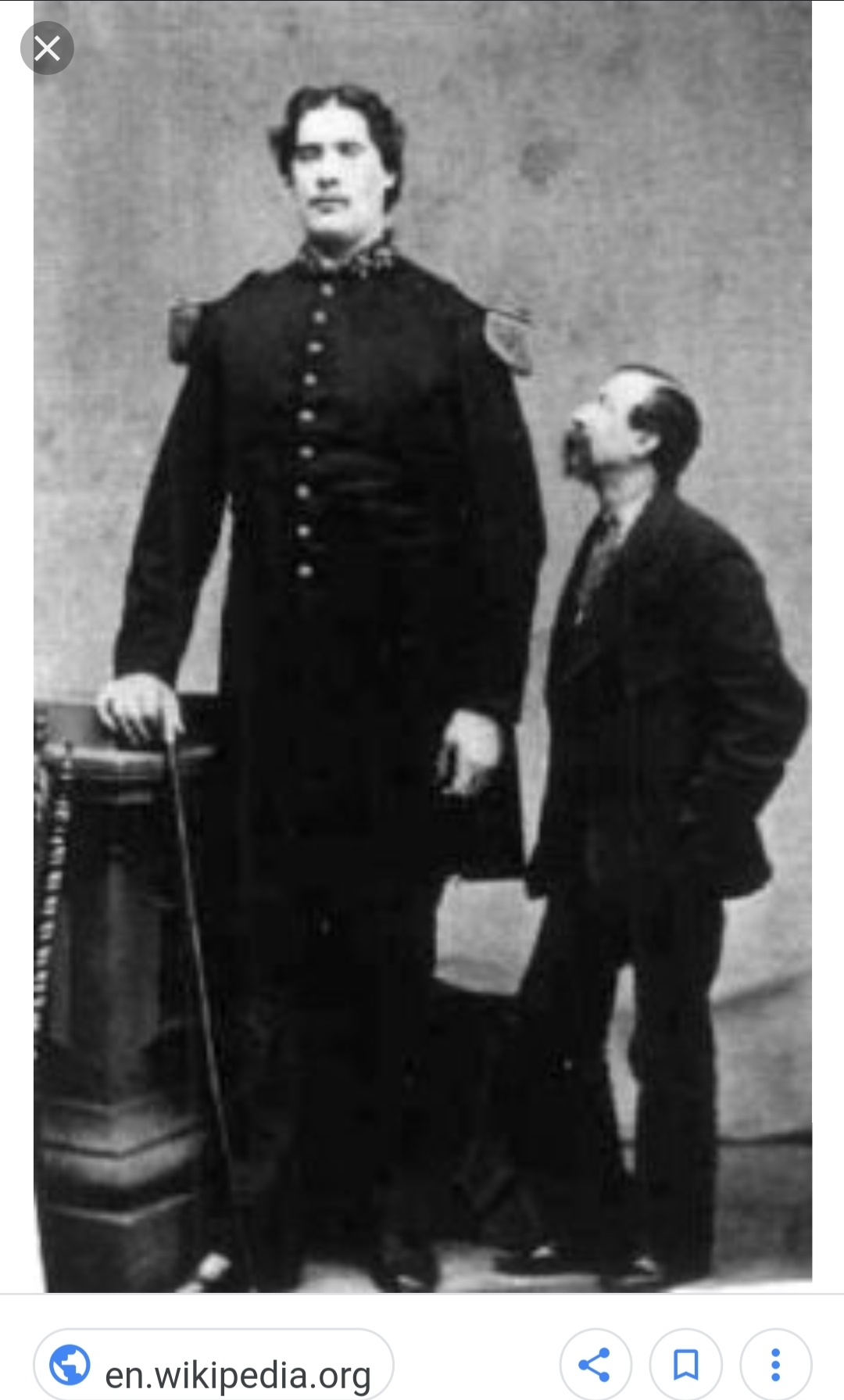 176) Captain Martin Van Buren Bates
Known as the Kentucky River Giant
Born: 9 November 1837, Letcher County, Kentucky, United States of America
Died: 19 January 1919, Seville, Ohio, United States of America
Martin stood at Seven Feet Eleven and one-half inches tall and weighed 478 pounds. He was one of twelve siblings. His father was just over six feet, but his mother barely crossed the five foot marker.
He served as a Captain in the War Between the States. At the end of the war Martin left Kentucky after his brother (who also served) was murdered by Union soldiers. Martin joined the circus, alongside his nephew.
Martin was the tallest man in the world at the time and he married the tallest woman—Anna Swan, the Giantess of Nova Scotia (she was actually taller than Martin, but he apparently didn't like to admit it).
They traveled the world as celebrities, even meeting Queen Victoria.
Martin and Anna's first child was a stillborn baby girl. According to Martin, she was eighteen pounds and twenty-seven inches tall. Martin reportedly donated her body to science.
After their travels, Martin and Anna settled in Ohio and built a home, which was later called The House the Giants Built.
Their second child was a boy. He lived only a few hours and was over twenty-pounds and supposedly twenty-eight inches tall.
When Anna died in August of 1889, her funeral had to be delayed because the wrong size casket was shipped to them. The unfortunate incident scarred Martin, and he had one for him specially built and stored for when his own time came.
Martin later remarried to a presumably regular sized woman but didn't have any children with her. He is buried with his first wife.
Badges Earned:
Find a Grave Marked
Sources:
https://medium.com/martin-van-buren-bates-the-kentucky-river-giant/i-discovered-my-great-uncle-was-a-giant-21714713272d
https://www.findagrave.com/memorial/6194083/martin-van_buren-bates