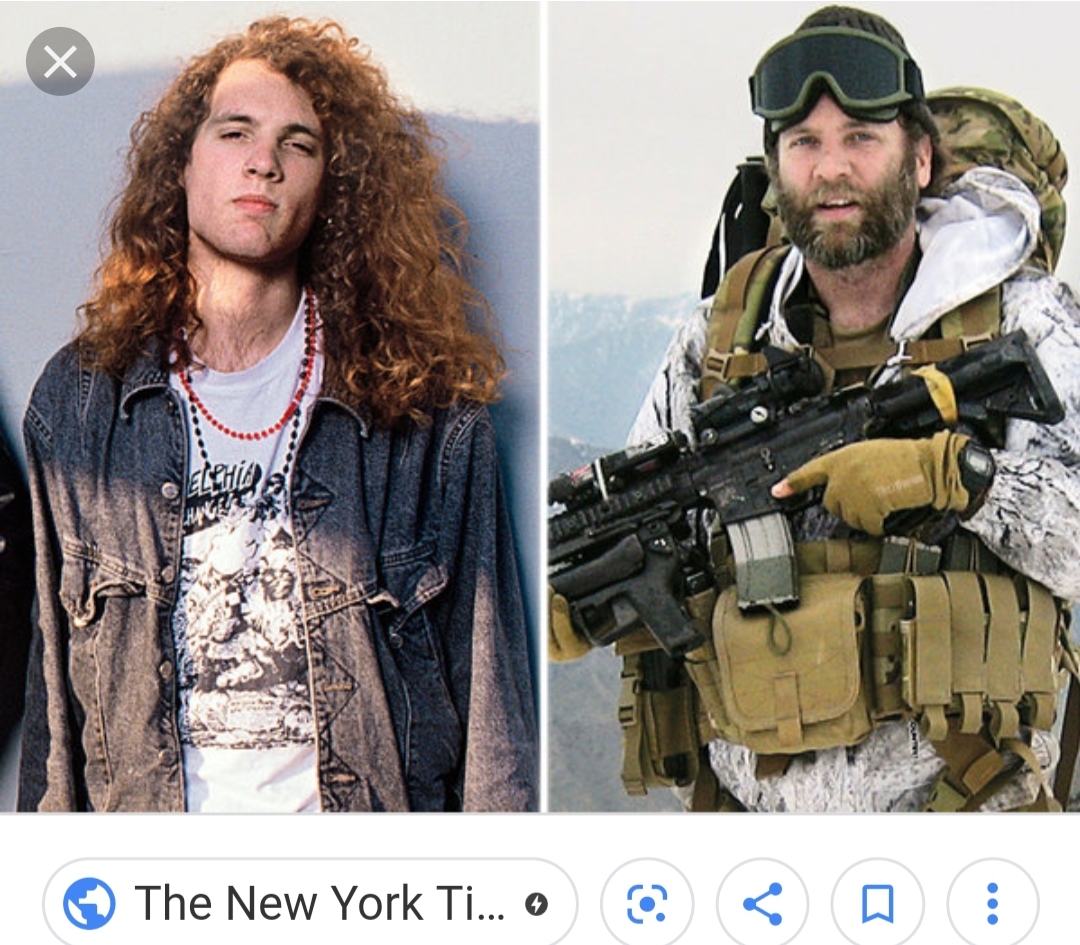 166) Jason Everman
Musician who turned from Rock and Roll to Special Forces Training
Born: 16 October 1967, Ouzinkie, Alaska, United States of America
Jason performed for Nirvana, Soundgarden, Mindfunk, OLD, and several others. He holds the distinction of being the only person kicked out of both Nirvana and Soundgarden.
Before leaving Nirvana, he paid the debt on recording their album Bleach, just over $600 out of his own pocket. And Kurt and Krist didn't actually fire Jason, per se, they just canceled the tour they were on and drove home (Fifty hours from New York to Washington State) in silence. The meaning was clear enough. Kurt would later brag that he never paid back Jason (The album eventually sold over two million copies). And the reason why Jason was "removed" from the band? He was too moody and "Mental" (Cue Ironic by Alanis Morrissette).
Only months later, Jason was working for Soundgarden, who at that point were a much bigger deal than Nirvana. However, after only a few months, Chris Cornell fired Jason. It was for the same reason as why he left Nirvana; Jason was too moody.
Jason moved to New York, worked in a record warehouse, and played for a few smaller bands, but he still wasn't happy. It was while he was playing with Mindfunk and living in San Francisco that he realized he wanted something different, and in 1993 he met with Army Recruiters. They offered him a fast track to Ranger school, and eventually the Special Forces.
After training himself for a few months, waking up early, working out, getting in shape, Jason took the plunge. He quit the band, put his stuff in storage, and flew to New York, where he signed his contract. A few weeks later, he was in Georgia.
Jason entered basic training with his hair cut, his nose ring gone. He was twenty-six years old and just another recruit.
Until a month later. Just after Kurt Cobain committed suicide; one of his drill sergeants found out about Jason's past after reading an article in a magazine about Kurt, and spotting Jason in a photo of Nirvana.
The drill sergeants had a lot of fun with that. Suddenly it was, "Okay Rock Star, give me fifty."
Luckily, Jason says he was fully prepared and expected it. He finished out his first enlistment as a Ranger but was still hoping to get to the coveted title of Special Forces.
He was in his last month of Special Forces training on 9/11. After, he served as a Green Beret in both Afghanistan and Iraq.
After leaving the military in 2006, he used his GI Bill and was accepted into Columbia University. He received his bachelor's degree in philosophy at the age of forty-five.
In the interview he gave for Rolling Stone (Linked Below) he said he'd probably become a bartender somewhere—something anonymous, just the way he likes it.
Sources:
https://www.nytimes.com/2013/07/02/magazine/evermans-war.html