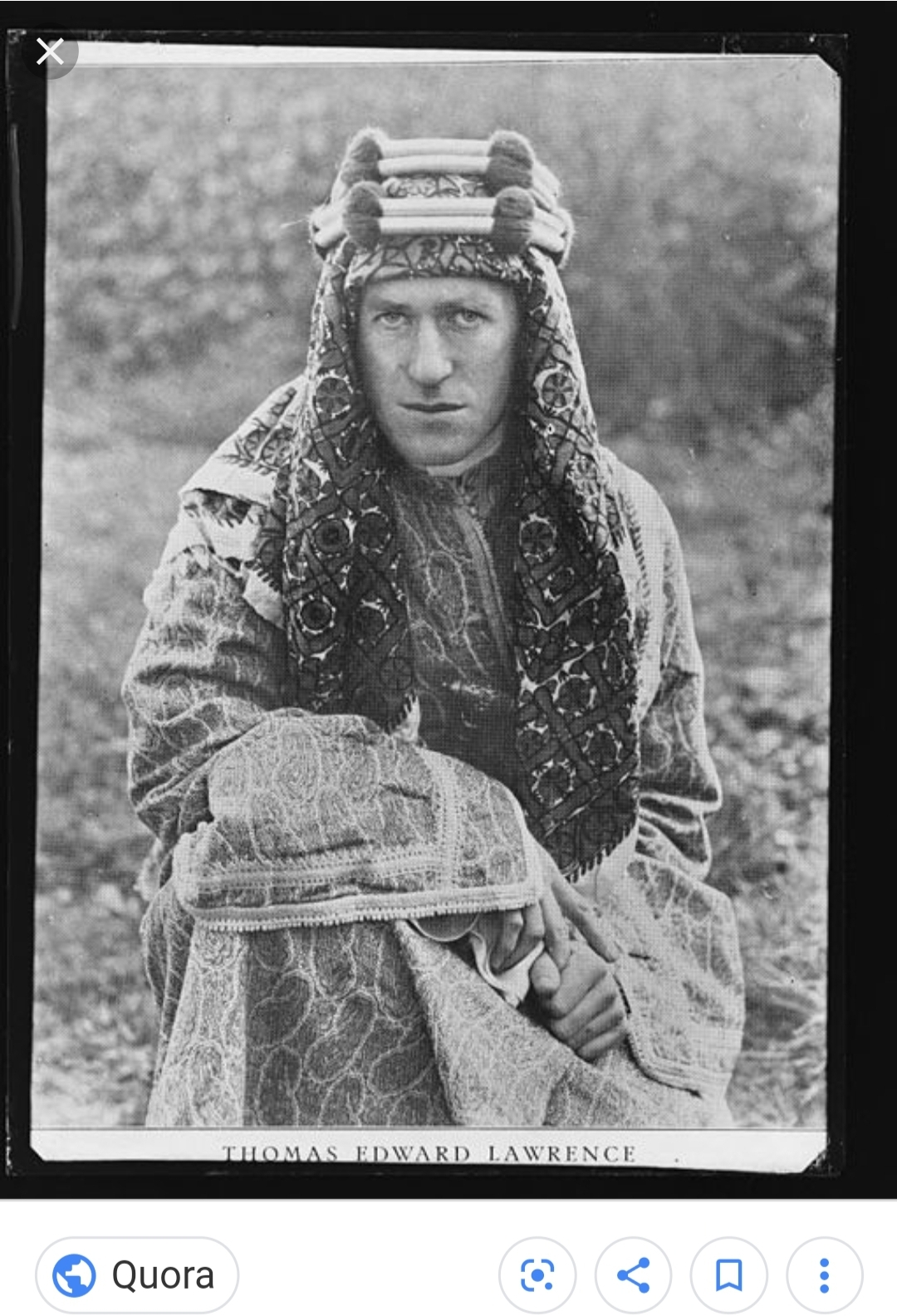 151) T.E. Lawrence
The Real Lawrence of Arabia
Born: 16 August 1888, Tremadog, Wales, United Kingdom
Died: 19 May 1935, Dorset, United Kingdom
Original Name: Thomas Edward Lawrence
He was an Archaeologist, military officer, writer, and diplomat.
Thomas was the second of five illegitimate sons born of his parents. Apparently, his father had fallen in love with the family governess and ran off with her despite being already married. Thomas's parents assumed the surname of Lawrence and all their children carried it.
Thomas studied history in school, and after traveling to Syria and reported walking a thousand miles to explore distant castles, he graduated with honors and decided to become an archaeologist.
From 1910 to 1914, he worked in Syria and became friends with Dahoum, a Syrian man who would be his assistant and travel companion for many years to come.
During World War I, he served with the British Army in Cairo interviewing Turkish prisoners and building a knowledge base of what the Turkish Army was doing and where they were doing it.
In 1916, Thomas was sent to bolster the Great Arab Revolt, and with his money and supplies he was able to keep it going. However, by 1917, Thomas was helping the rebellion without permission from London. He traveled hundreds of miles without London's knowledge. Luckily, the battle ended in victory, and Thomas informed his superiors in Cairo.
However, with victory came British involvement in the Middle East. Now Thomas traveled to London, where he made it known he supported Arab independence from the crown, and even refused to accept medals or accommodation from the king to make his voice heard.
In 1919, France was given control of Syria, despite fierce protests from Lawrence and the people living in the Middle East.
From 1922 to 1935, Thomas worked in both the Royal Air Force and the British Army under assumed names, trying to escape his celebrity.
Once his service ended in 1935, he decided to retire to his home in Dorset.
One day in May, when Thomas was returning from the post office on his motorcycle, he crashed. After several days in intensive care, Thomas passed away.
Ever since rumors have abounded. Was it an accident or suicide? Whatever the case, the great Lawrence of Arabia had passed.
Badges Earned:
Find a Grave Marked
Located In My Personal Library:
Princesses Behaving Badly by Linda Rodriguez McRobbie
Sources:
https://www.pbs.org/lawrenceofarabia/players/lawrence2.html
https://www.britannica.com/biography/T-E-Lawrence
https://www.findagrave.com/memorial/108404141/thomas-edward-lawrence