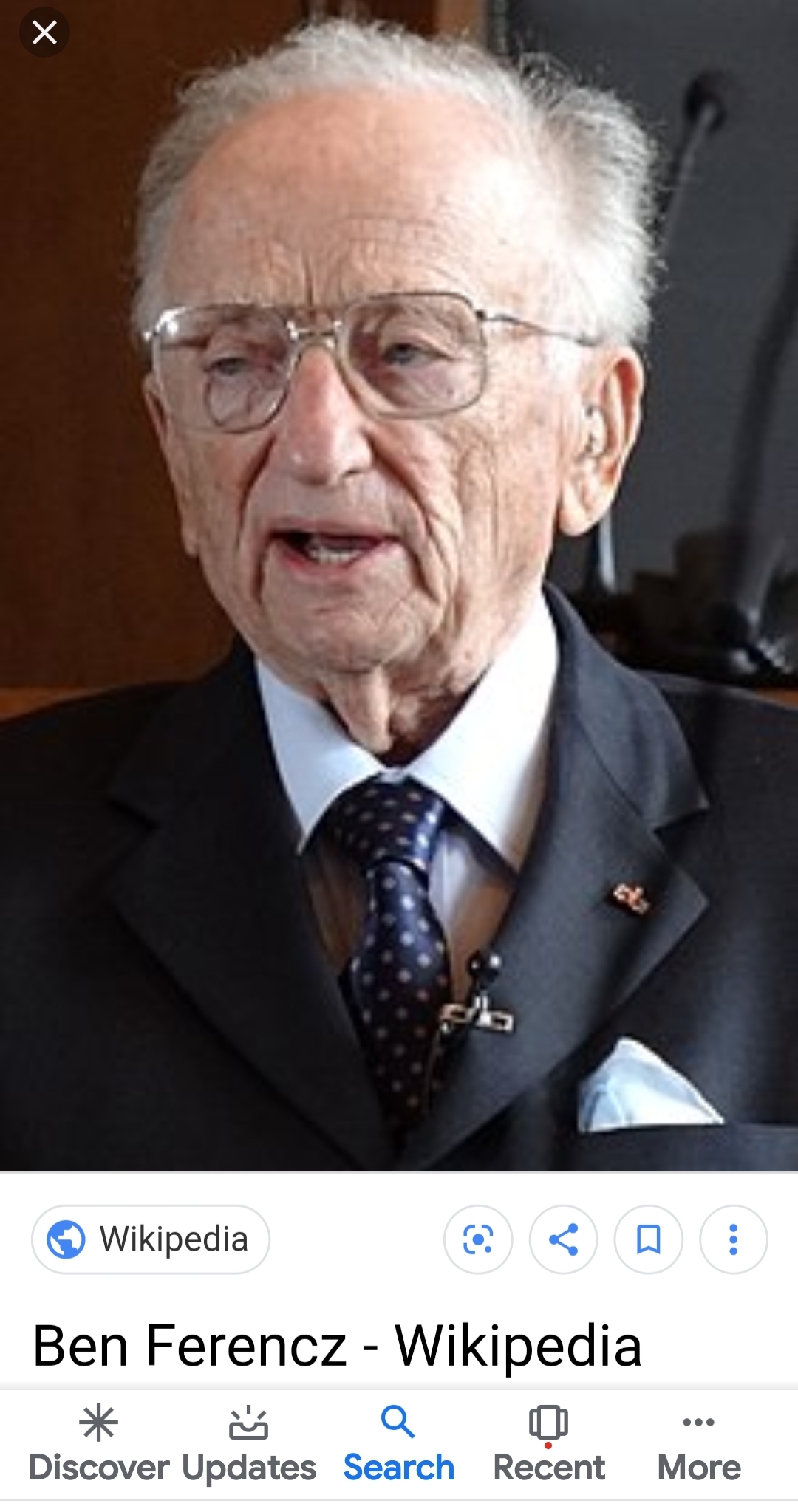 "There is no doubt that I was indelibly traumatized by my experiences as a war crimes investigator of Nazi extermination centers. I still try not to talk or think about the details."
145) Ben Ferencz
The Last Living Prosecutor From the Nuremburg Trials at the time of his death
Born: 11 March 1920, Present-day Transylvania, Romania
Died: 7 April 2023, Boynton Beach, Florida, United States of America
When Ben was ten months old, his family moved to the United States, and settled in Manhattan, New York. He graduated from Harvard Law School in 1943 and joined the Armed Forces soon after.
Near the end of the war, he was invited to be a part of a special branch of the US Army to investigate Nazi War Crimes. Ben was tasked with gathering evidence from recently liberated Concentration Camps. The goal? To use the evidence in a court of law to officially prosecute the worst Nazi Germany had to offer.
He received an Honorable Discharge from the Army in 1945, and returned home to New York. Soon after though, the United States government reached out to Ben again, and he was recruited to join the prosecutorial team headed to Nuremburg.
Ben and fifty other researchers headed to Berlin, where they gathered and collected more evidence to use in the upcoming trials.
At the age of only Twenty-Seven, Ben was appointed lead prosecutor of the Einsatzgruppen Trial. At the end, all twenty-two defendants received a guilty verdict, charged with murdering over one million people.
Once the trial ended, Ben continued to work for compensation, return of stolen assets, and anything else he could do for survivors of the Shoah.
Until the end of his life, he worked with the United States Holocaust Memorial Museum. He had established the Ferencz International Justice Initiative, which works to demand justice for victims of atrocious crimes.
In 2002, one of Ben's lifelong dreams was realized with the establishment of the International Criminal Court, located in the Hague. Unfortunately, the court's effectiveness is limited severely because of certain countries refusing to participate in the court, notably the United States.
In 2019, Ben was interviewed by 60 Minutes. One of the links I've provided is to the interview.
Ben lived with his wife in Florida until she passed away in 2019. They had four children.
Badges Earned:
Find a Grave Marked
Sources:
http://www.benferencz.org/
https://www.ushmm.org/confront-genocide/ferencz-international-justice-initiative/about/about-ben-ferencz
https://www.cbsnews.com/news/what-the-last-nuremberg-prosecutor-alive-ben-ferencz-wants-the-world-to-know-60-minutes-2019-06-30/
https://www.npr.org/2023/04/09/1168832384/ben-ferencz-last-living-nuremberg-prosecutor-nazis-dies 
https://www.findagrave.com/memorial/252802086/benjamin-berell-ferencz