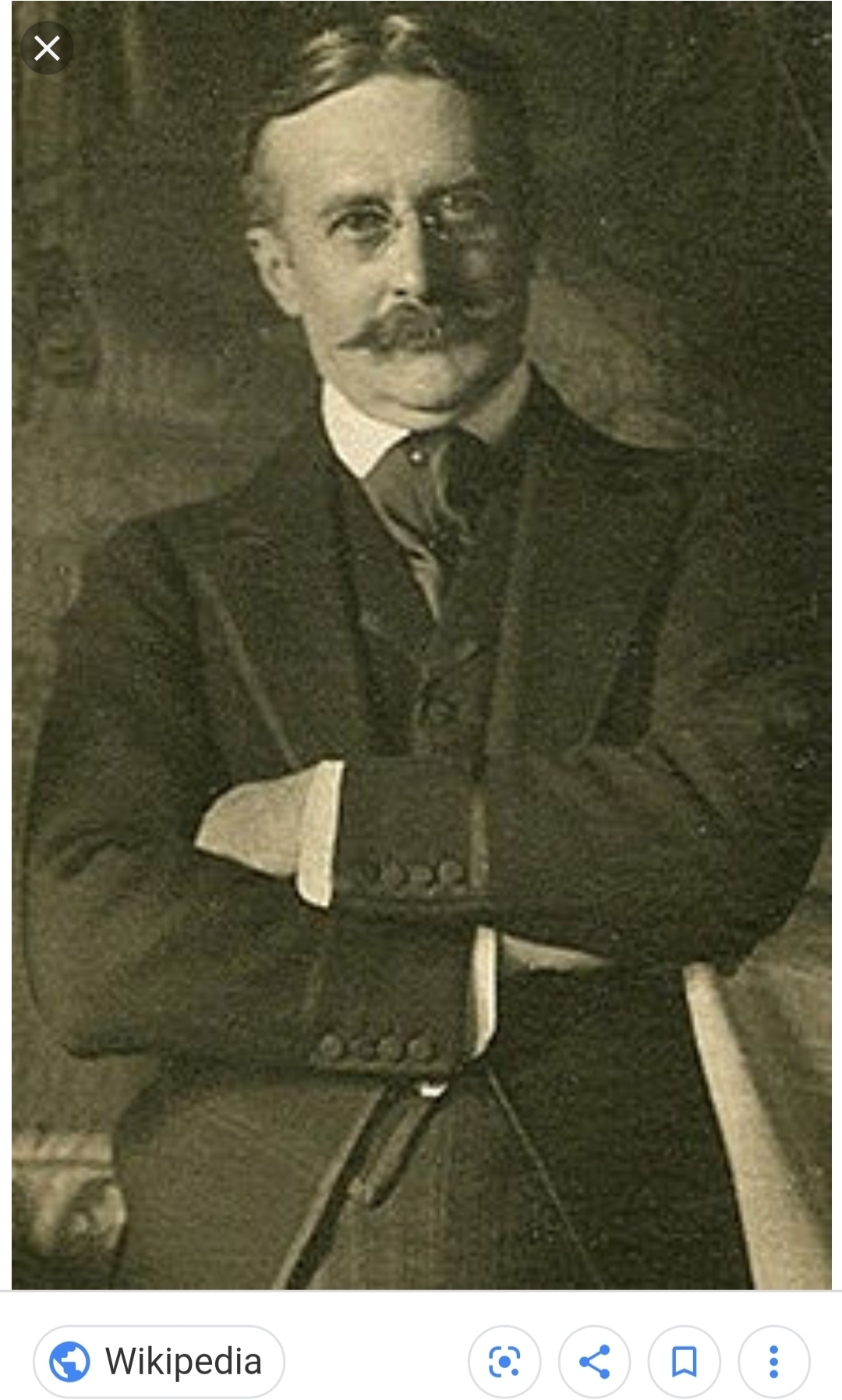 "Life is what you make it."
"Excite the mind and the hand will reach for the pocket."
138) Harry Gordon Selfridge
Founder of Selfridges, a London Based Department Store
Born: 11 January 1858, Ripon, Wisconsin, United States of America
Died: 8 May 1947, London, United Kingdom
Harry became known as the Earl of Oxford Street.
Harry grew up an only child. His mother was his sole parent, as his father had chosen to leave the family to fight in The War Between the States, however, after the war, Harry's father chose to not return to his family. Harry's lonely childhood with his mother led to his close relationship with her, and his need to protect women.
When he was twenty-one, Harry joined the company that later became Marshall Fields and Company. He stayed there for twenty-five years and became a junior partner.
In 1906, he headed for London with his fortunes in tow, determined to build his own department store. The store opened in 1909 with a floor space of 42,000 square feet (that later doubled). Before the store even had a chance to open, Harry spent over two million dollars on advertising, attracting future customers to his store.
Selfridges soon became a household name across England, and Harry became a British Citizen in 1937.
Harry was also a Supporter of the Suffragette Movement. He wrote articles defending the cause of suffragettes, flew their flag above the store, and carried goods in the colors of the suffrage movement. Harry's support for the suffragettes also meant his store was one of the few to escape being ransacked and tarnished by the Suffragettes later on.
Eventually, Harry's son, Harry Jr, began working at Selfridges. However, Harry Jr began having an affair with a woman working in the toy department. For all of his egalitarian views, Harry Sr could not stand the thought of his children marrying anyone not in the upper class. Harry Jr actually sequestered his pregnant girlfriend away to hide the relationship from his father. Harry Jr went on to have four children with his wife but was so afraid of revealing his relationship to his father, Harry Sr passed away having no idea he had grandchildren through his son. Harry Jr would not live openly will his family until after Harry Sr's death.
When Harry's wife died in 1918, he began showing up in nightclubs and having a grand old time with the younger generations. Sure, he was in his sixties, but Harry had money and knew how to have a good time. Around this time, Harry began to make friends with celebrities of the day. Some of them would sign the corner of Harry's office window with a diamond tipped pen. Harry was so obsessed with trying to make it into the British social circles, he nearly bankrupted his company. Harry used the store's income as a personal pocketbook, desperate to do anything to make the upper class accept him. He had a huge yacht, rented expensive lands, and did everything he possibly could to make it as a respectable gentleman. Unfortunately for him, Harry also became obsessed with the racy Dolly Sisters around this time. He was already spending buckets of money on his attempts to become a gentleman; but Harry also funded every habit the Dolly sisters picked up...including gambling. If the sisters lost at the gambling table, Harry fronted the money. If they won, they kept the winnings. This added up to thousands of pounds a night. Adjusted for inflation around 2013, it was believed the Dolly sisters cost Harry Selfridge around $200 Million.
By the 1930's, the store had fallen into debt and was struggling to survive. When Harry was eighty years old, the board of Selfridges told him to pay his debts or go. Harry was given a pension and a demotion, but he was out. As the months wore on, Harry became more and more of an embarrassment to the store he had worked so hard to build. By 1940, he was informed he was no longer welcome in the store. Every day, Harry would travel to Oxford Street to stand outside the store and look in, but by then his clothes were shabby and worn. He counted his pennies every day to ride the bus to and from the store, and in 1943 he was arrested for being a public vagrant. He passed away completely penniless.
But why did Selfridges Department Store become such a sensation? Well, there were many reasons. Here are just a few of the highlights:
At Selfridges, Harry was determined to ensure potential buyers felt no pressure to buy anything. At the time of the store's opening, stores employed men to wander around and remove people who weren't actually interested in buying anything. Harry ensured that not only were these men not employed in Selfridges, but that there was also no feeling of pressure or a rush to get people in and out. Selfridges also brought in new innovations like, wait for it, the ability for customers to actually look at and touch individual items for sale rather than looking at them from behind glass cabinets. That seems shockingly dull today, but in 1909, this was unheard of.
Selfridges was also the first department store in Europe with public bathrooms for women. This innovation allowed for much more freedom for upper class women in England. These women no longer had to be sequestered in the home, nor did they have to wait for an escort to go out in public. At Selfridges, women were allowed to shop to their heart's content, and gain new freedoms as they did so.
Selfridges also came up with the idea of debuting makeup and perfume at the front of the store. Before Selfridges, makeup and perfume were hidden away. Harry wanted makeup and perfume to be respectable true, but this innovation also brought fresh scents and bright colors to the front of the store. Selfridges made brightly colored cosmetics popular for girls, and today, vividly colored makeup is a several billion dollar a year business, and popular with both women and men.
Selfridges was also the first store in London in which every social class shopped together. No longer would upper-class and lower-class folk be divided. When Selfridges opened the Bargain Basement in 1910, they did so in the hopes of attracting the middle class. The store also introduced the first bi-annual sale, something retailers the world over do now.
The staff at Selfridge's was also treated much better than any other store. Instead of treating his staff like domestic servants, Harry saw them as members of the team. He refused to fine his employees, and ensured none lived on site, a first for London department stores. Harry also urged his workers to improve their customer service and not push making a sale on anyone. Every morning, he would write notes to the staff on how to better improve the store's operations.
During World War I, Harry earned a contract to make underwear for the French Army. And in 1915, the store pharmacist staged a demonstration by creating Mustard Gas on the roof. By 1919, the size of the store doubled to the size it remains today.
In the 1920's, Selfridges made another leap forward. For the first time, the store was stocking dresses available off the rack. No longer did dresses have to be specially made for each woman; now one could walk in, pick a dress, and walk out with it the same day. The dresses available in this style were also much shorter than what had been seen before. That's right, the flappers were in.
Also, during this time, Selfridges had the largest viewing windows in the world. Selfridges was the first store to have their display windows lit at night. And to this day, Selfridges store windows attract attention for thousands of visitors a year. The store was even the first to use mass electricity, was one of the first to broadcast radio, used television, and had nine elevators, more than any other store. Selfridges was also one of the first to employ women to operate the elevators.
Today, Selfridges dedicates more space to fashion and accessories for younger generations, helping bring in a new generation of customers constantly.
After decades of declining sales, the store was bought in 2003 by a millionaire Canadian family, and today the store is once again posting record profits. It's really no surprise Selfridges has dominated not just Oxford Street but shopping the world round for over a hundred years.
PBS Released a Documentary called Secrets of Selfridges in 2013. You can watch it in the video linked here in this article.
Badges Earned:
Find a Grave Marked
Sources:
https://www.britannica.com/biography/Harry-Gordon-Selfridge
https://www.selfridges.com/US/en/features/articles/selfridges-loves/selfridges-in-bloom/
https://www.selfridges.com/US/en/features/info/our-heritage/?cm_sp=feature-_-TheSelfridgesStory12345ThereAreGreatThingsToCome-_-CT-HarrysTopFiveFirstsmakingBeautyBigBusinessmakingASpectaclechampioningWomensRightstheTheatreOfRetailtuningIn-US
https://www.findagrave.com/memorial/13731901/harry-gordon-selfridge