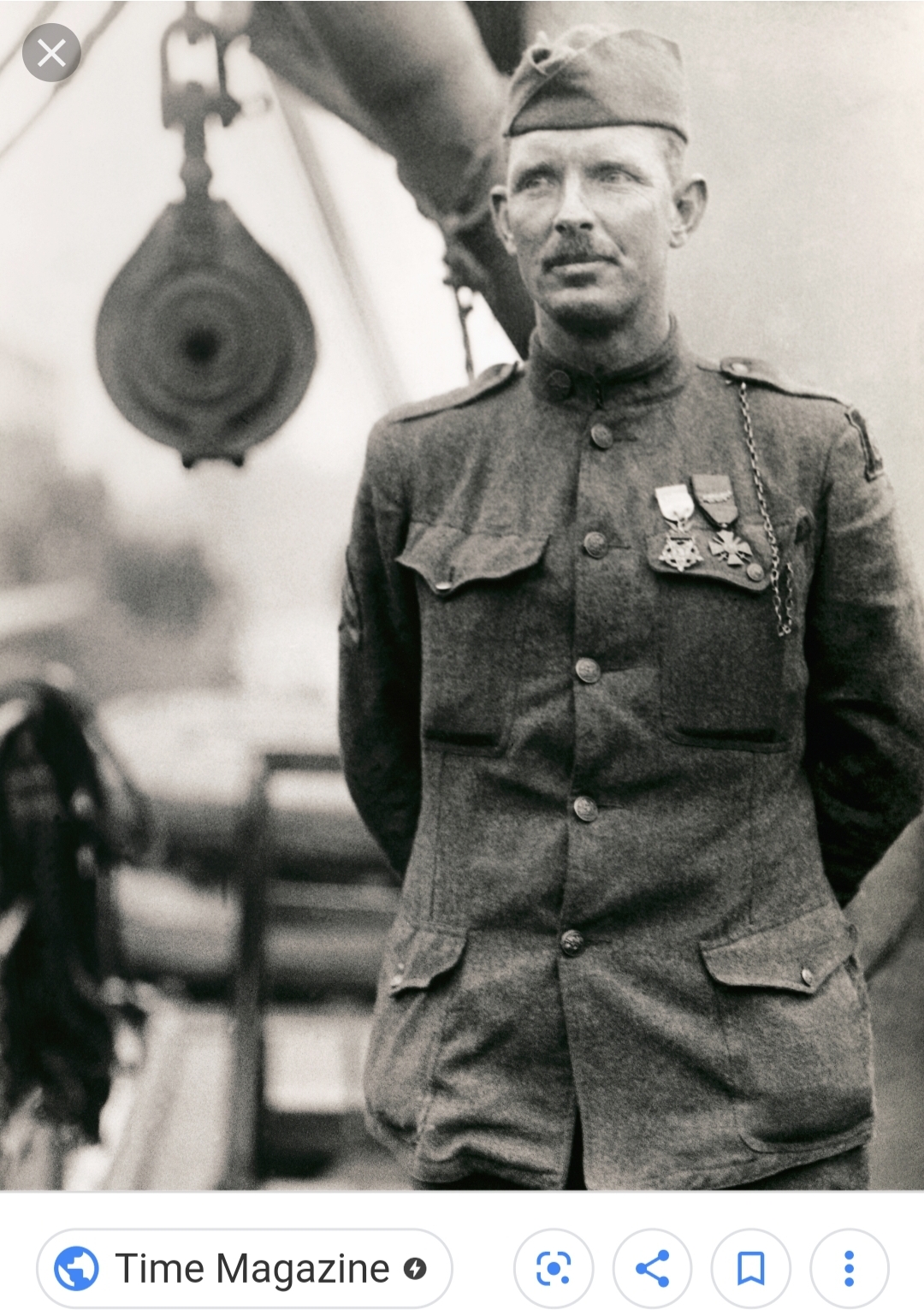 129: Sergeant Alvin York
One of the Most Decorated United States Soldiers of World War I
Born: 13 December 1887, Pall Mall, Tennessee, United States of America
Died: 2 September 1964, Nashville, Tennessee, United States of America
It is said when he first received his draft notice in 1917, he wrote on the back "Don't Want to Fight" and sent it back.
The draft board rejected his status as a Conscientious Objector and sent him off to basic training.
In October of 1918, Alvin and sixteen other men were sent off to hold a railroad, but the map they were given was written in French, so they unsurprisingly got lost and ended up behind enemy lines. It was there that Alvin received his Medal of Honor citation. He reportedly led a group of seven to charge and capture a machinegun nest. They also captured four officers, 128 men, and several weapons.
Alvin received the Medal of Honor from the United States, and similar awards from France, Montenegro, and Italy.
Once he returned home, Alvin became a staunch pacifist. He had already been a deeply religious man, and now home, married, and with eight children of his own, he could see the tensions building once again in Europe, and tried to stop World War II from happening. However, once the war broke out he still attempted to reenlist, but was denied for being too old. He enlisted in the Signal Corps instead, traveling the country to raise money for war bonds and other support work to that effect.
But he didn't just raise money for the war. Alvin also helped found the Alvin C York Institute in Tennessee, where people were taught industrial job skills to prepare the next generation. The school remains open to this day.
In 1941, a biographical film titled Sergeant York was released, starring Gary Cooper, and went on to receive two Academy Awards. I've included the trailer to the film in this article; the audio track is off but you can still get the point.
Badges Earned:
Find a Grave Marked
Sources:
https://www.britannica.com/biography/Alvin-Cullum-York
https://time.com/5417006/alvin-york-anniversary/
https://www.findagrave.com/memorial/1135/alvin-york