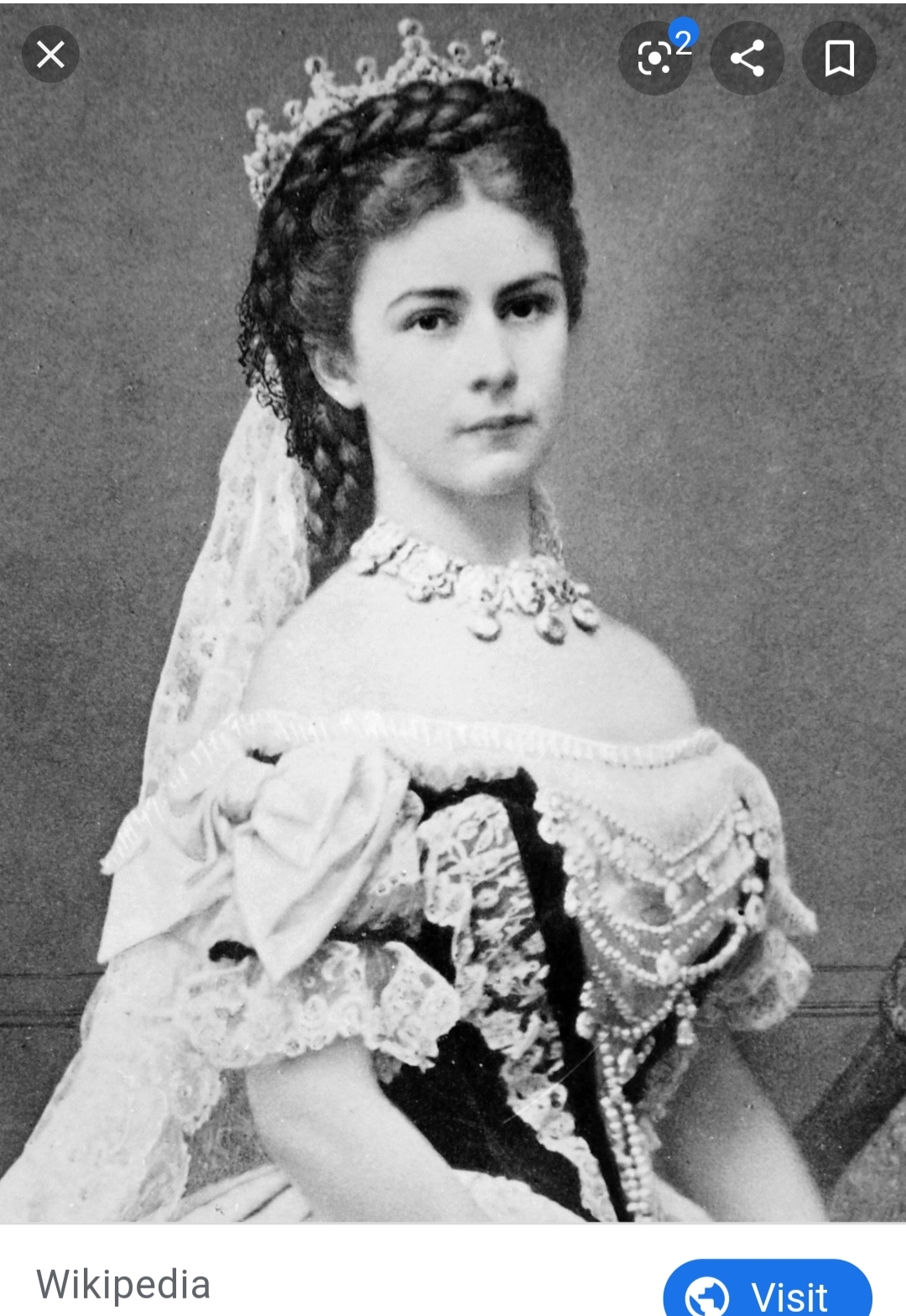 "Every ship I see sailing away fills me with the greatest desire to be on it."
939: Elisabeth of Austria
Empress of Austria, Queen of Hungary, and Duchess of Bavaria
Born: 24 December 1837, Munich, Bavaria (Present-day Munich, Germany)
Died: 10 September 1898, Geneva, Switzerland
Also Known As: Sisi or Sissi
Elisabeth's husband was her cousin (their mothers were sisters). When they married, Elisabeth was sixteen and her husband Franz Josef was twenty-three. Originally, Franz Josef was supposed to marry Elisabeth's older sister; however, he fell in love at the sight of Elisabeth and so she became the "lucky" bride instead. Elisabeth for her part was so nervous and ill-at-ease about the match she was unable to eat for much of their courtship.
Elisabeth was one of seven siblings and was raised in the forests of Bavaria; a duchess from the Royal House of Wittelsbach. From her father she learned to respect and believe in the ideals of pacifism and even some forms of democracy. This would make her unpopular among European royals later on. From her mother, Elisabeth learned to hate publicity and any role in the public eye; something that would also harm her in later life.
After becoming empress, Elisabeth was never out of the public eye. She endured the same invasion of privacy from the press and public alike that Princess Diana would endure one hundred years later. Elisabeth shunned publicity as much as possible, but the public couldn't get enough of her drop-dead beauty and brown hair that grew to her ankles.
In the first four years of their marriage, Elisabeth gave birth to three children; two of whom would survive infancy. She also learned just how icy court life could become after conflict arose with her mother-in-life, the Archduchess Sophia.
As per Hapsburg Court custom, Elisabeth was unable to control any major aspect of her children's upbringing (something Elisabeth was not happy about). She spent long periods trapped in the palace, suffering through episodes of mental illness and instability. Elisabeth may have married into royalty, but she was ill equipped for her role as Empress of the second largest empire in Europe.
Elisabeth's symptoms today may have been diagnosed as anorexia nervosa. She spent three hours a day getting her hair done, and spent another hour being cinched into her corset (reportedly her waist was 19.5 inches). Elisabeth was also a fanatic about exercising (spending four hours each day doing some kind of physical activity) and spent much of her adult life surviving on raw milk, eggs, and oranges. Before that her diet had been almost exclusively a thin broth.
After the birth of her third child, Elisabeth decided she needed to get away from the Hofburg Palace in Vienna, which she considered a prison. Her favorite vacation spots were England, Switzerland, Hungary, Ireland, and Greece. At the time, Hungary was a part of the Austro-Hungarian Empire, meaning Elisabeth's husband ruled over the Hungarian people (though they weren't happy about it). Elisabeth believed the Hungarian people deserved greater freedoms and even became friends with a Hungarian statesmen. All of this made Elisabeth very unpopular within the Viennese society.
In 1867, Hungary became an equal partner within the empire, and Franz Josef was crowned king of Hungary. Elisabeth was crowned alongside him as queen; the Compromise (as it became known) coming about in large part due to pressure from Elisabeth. Franz Josef and his wife had spent many years apart, but after the Compromise came about the couple came back together. Ten years after their third child was born, their fourth and final was welcomed in 1868.
After becoming queen of Hungary, Elisabeth adapted to her public role more. She spent much of her time traveling to hospitals and charity wards with only a lady-in-waiting with her. Elisabeth became the royal who represented and loved the common people within the empire. She would hold the hands of the dying and comfort their family members.
Elisabeth was also interested in treatments for various mental illnesses. She pondered opening her own mental institution and followed advances within the field. Elisabeth's interest in the field may have been linked to her own mental decline. By the 1880's, Elisabeth's fourth child—on whom she doted endlessly, was noting she would find Elisabeth laughing hysterically in the bathtub. The empress would also talk of suicide often with her husband, making his own concern for hew grow. Things got so bad Elisabeth began to turn to psychic mediums for help in alleviating her mental decline.
In 1889, Elisabeth's mental health was tested anew when she learned of the death of her beloved son Prince Rudolf. Rudolf had committed suicide, after murdering his seventeen-year-old mistress Mary Vetsera in what became known as The Mayerling Incident. Rudolf had been the natural heir to the throne of Austria-Hungary, and politically had leaned to the left. Elisabeth knew with his death the empire would not last. The next heir in line was Franz Josef's brother, Archduke Karl Ludwig. Karl's son Archduke Franz Ferdinand would be assassinated alongside his wife Sophie in 1914, kicking off World War I and bringing the Austro-Hungarian empire to an end—Elisabeth's prediction had come true.
After Rudolf's death, Elisabeth determined she would spend the rest of her days wandering the earth until death greeted her. She dressed in black and traveled across Europe and North Africa, without any sort of police protection. When she was fifty-one, she got a tattoo of an anchor on her arm.
Elisabeth was assassinated by an Italian anarchist who had been trying to kill a member of the House of Orleans. At the time, Elisabeth had been visiting Geneva under an assumed name. When the anarchist learned his true target would not actually be visiting Geneva, and he discovered Elisabeth's true identity, the anarchist's plan changed. He approached Elisabeth when she was on the docks heading to board a ship. The man stabbed Elisabeth in the chest with a triangular shaped file.
Initially, Elisabeth had thought she had only been punched. She continued on and boarded the ship, only to collapse on the deck of the ship. Elisabeth would pass away soon after from internal bleeding. Elisabeth had finally found the end she had been yearning for for so many years.
Badges Earned:
Find a Grave Marked
Located In My Personal Library:
National Geographic History Magazine Article "Beauty Queen, Empress Elisabeth of Austria" (May/June 2019 Edition)
Sources:
https://www.history.com/news/the-tragic-austrian-empress-who-was-murdered-by-anarchists
https://www.britannica.com/biography/Elizabeth-empress-consort-of-Austria
https://metropole.at/5-things-about-elisabeth-sissi/
https://www.findagrave.com/memorial/7176/elisabeth_of_austria