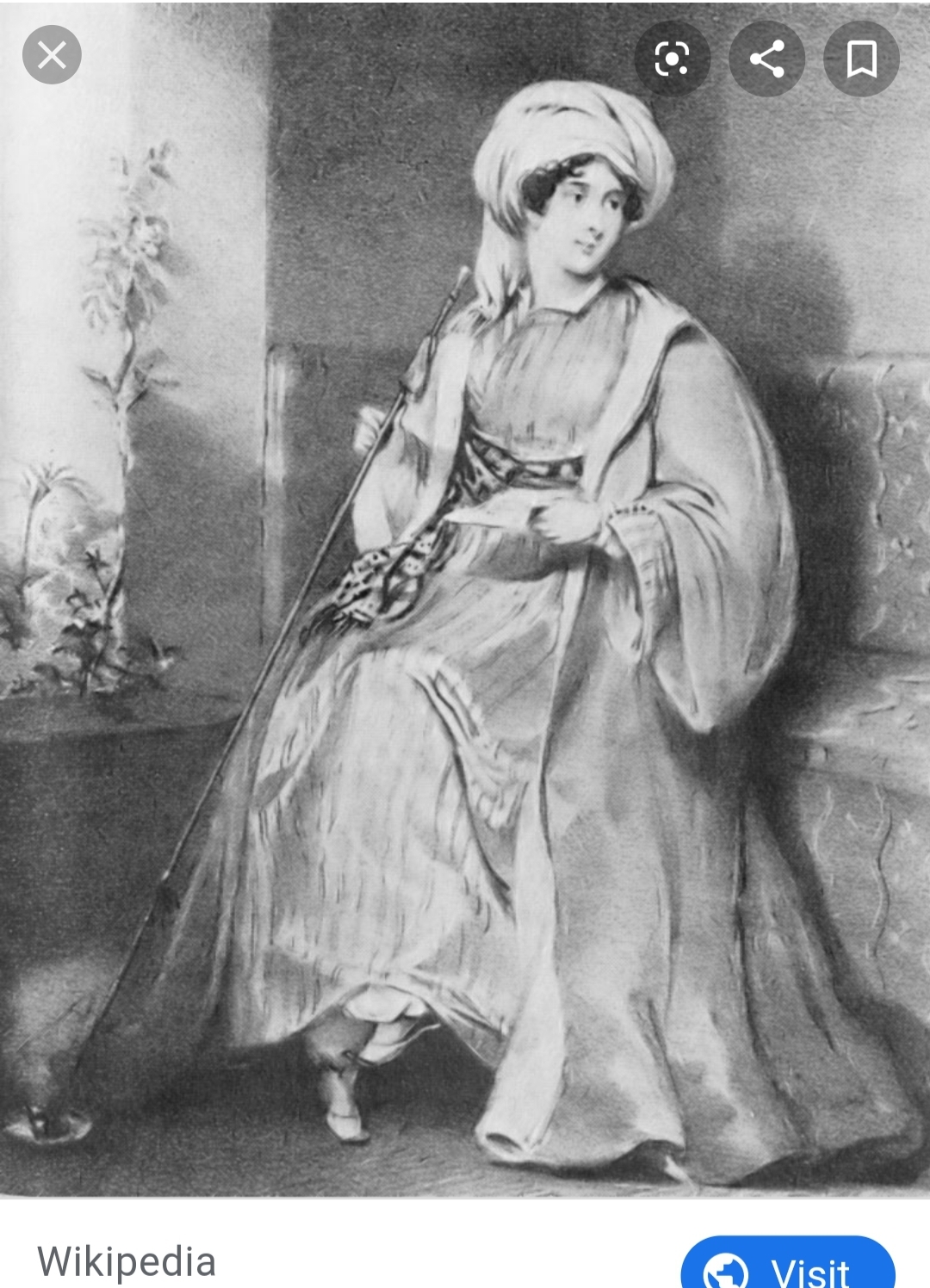 "I have been thought mad—ridiculed and abused; but it is out of the power of man to change my way of thinking upon any subject."
820: Hester Stanhope
The Queen of the East
Born: 12 March 1776, Chevening, Kent, England (Present-day United Kingdom)
Died: 13 June 1839, Djoun, Ottoman Empire (Present-day Joun, Lebanon)
Hester became her uncle's hostess after he (a bachelor) was made Prime Minister of Great Britain. She also became his private secretary.
After her uncle's death Hester started traveling extensively. After being shipwrecked in Rhodes, she and the crew (and her boyfriend who happened to be twelve years younger than her) had to purchase all new (Turkish) clothing. Hester refused to wear a veil and dressed as a man instead of the typical conservative feminine attire of the day.
Hester became the first Christian/European Woman to travel to Palmyra (despite the sixty-mile road to the inaccessible city being covered by Bedouins who loved to rob rich people). Palmyra was the capitol of Zenobia's once great empire; so, it was a meeting of two badass women from history in a way. She continued to refuse to wear a veil even in Islamic controlled Damascus.
Hester was even given a special tour of the Church of the Holy Sepulchre in Jerusalem. She was also a part of the first modern excavation of the Holy Land in 1815. This came after Hester found an Italian manual in which the city of Ashkelon was supposedly the site of where some treasure was buried. Hester didn't find the treasure, but she did become one of the first to excavate the Holy Land with a textual source as her reason for excavating.
Hester was far from the conventional Englishwoman. She was headstrong, spoke her mind, and lived life to the fullest. When the famed poet Lord Byron met her, he described Hester as "that dangerous thing, a female whit." Oh, and she was six feet tall.
She ended up settling in modern-day Lebanon with a thriving household living well beyond her means. Hester continued to live well with thirty servants she couldn't afford. Meanwhile her mental faculties also declined. Hester decided she didn't approve of the way Queen Victoria was governing Great Britain and wrote her various letters telling her off. Her finances were so bad Hester died absolutely alone with nothing but her oddly organized compound/estate to her name. The ruins of her home can still be seen in Lebanon today.
When it came time for Hester to be eulogized, writers were at a loss on how to sum up her life. They finally decided on, "She was wholly and magnificently unique."
Badges Earned:
Find a Grave Marked
Rejected Princess
Located In My Personal Library:
Uppity Women Speak Their Minds by Vicki Leon
Scandalous Women: The Lives and Loves of History's Most Notorious Women by Elizabeth Kerri Mahon
Sources:
https://www.theguardian.com/travel/2020/may/17/lady-hester-stanhope-middle-east-explorer-queen-of-the-desert
https://trowelblazers.com/lady-hester-stanhope-queen-of-the-east/
https://www.brooklynmuseum.org/eascfa/dinner_party/heritage_floor/hester_stanhope
https://www.rejectedprincesses.com/princesses/hester-stanhope
https://www.encyclopedia.com/women/encyclopedias-almanacs-transcripts-and-maps/stanhope-hester-1776-1839
https://www.findagrave.com/memorial/1202/hester-lucy-stanhope