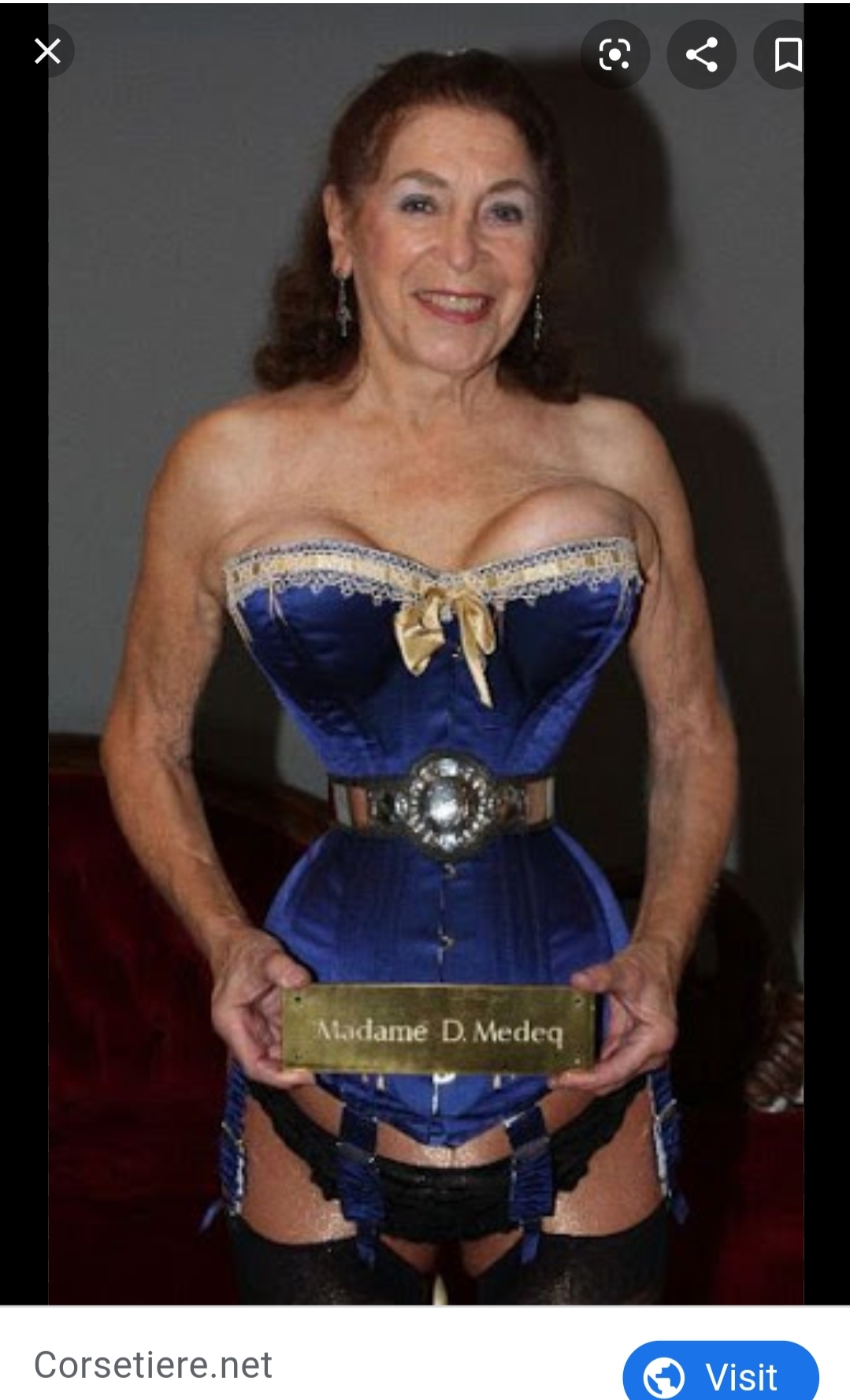 811: Cathie Jung
The Real Queen of Hearts
Born: 1937, United States of America
Also Spelled: Cathy Jung
Cathie holds the Record (courtesy of the Guinness Book) for having the world's smallest waist on a living person. Her waist is fifteen inches when corseted and twenty-one without. Her bust and hips both measure thirty-nine inches, so she's an incredible sight to say the least!
She started seriously waist training when she was thirty-eight. Since 1983, Cathie has lived in her corset, only removing it to take a shower once a day or when she goes out in hot weather.
Cathie first wore a corset for her wedding, back in 1959. To me, it's a little disconcerting reading her official biography on her website. According to the site, Cathie only began seriously waist training after her husband talked her into it. Hopefully Cathie was also just as serious about it and not just doing what he wanted. I wanted to put this little PSA in here in case anyone was wondering.
Cathie and her husband have three children together. Their daughter actually left home after Cathie began tight lacing. Evidently the daughter didn't want her mother showing up to school or other functions dressed in the tight-fitting corsets.
Cathie has never had surgery or used a special diet to reduce her waist. She managed to "naturally" slim her waist from her starting size, twenty-six inches, to her new natural size of twenty-one. She has done this through waist training (using corsets that gradually get smaller and smaller). I find Cathie's story interesting but also misconceiving. Story's like Cathie's are why so many people today view corsets as dangerous, even deadly.
In truth, corsets were used by women for hundreds of years to provide support before the invention of the modern brassiere (to learn more about that, read up on Caresse Crosby). A normal corset, when laced appropriately, will not cause discomfort or harm to a person's internal organs. Even a reduction like Cathie's, though far from the "normal" result, is not dangerous.
For more information on proper corsetry, I recommend clicking the video in this article from fashion historian Karolina Zebrowska.
Sources:
https://www.cathiejung.com/History.htm
https://www.guinnessworldrecords.com/world-records/smallest-waist-living-person
https://medium.com/@fabiosanews/cathie-jung-and-her-wasp-waist-6832ffbadda3