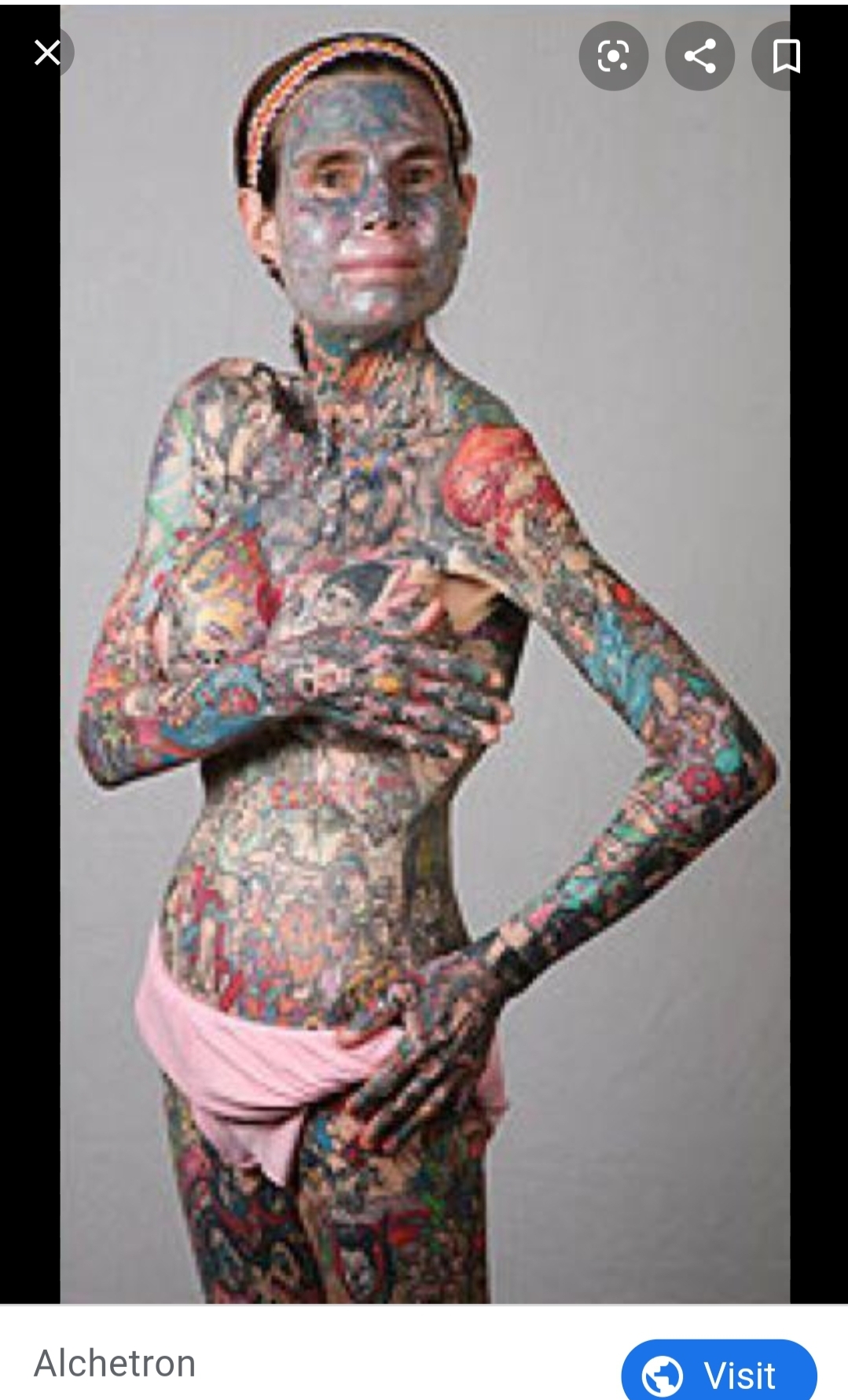 809: Julia Gnuse
The Most Tattooed Lady in the World
Born: 18 January 1955, Flint, Michigan, United States of America
Died: 10 August 2016, Overland Park, Kansas, United States of America
Julia had 95% of her body tattooed and held the Guinness Book of World Records for the most skin area covered in tattoos at the time of her death. This earned her the nickname "The Illustrated Lady."
Julia had another nickname as well, "The Irvine Walker" thanks to her zest for walking around the Irvine, California area; sometimes as much as twenty miles a day. For ten years, Julia also operated a bakery called Sweet Temptations.
Julia developed porphyria in her 30's which left scars from horrible blisters all over her skin. So, Julia started tattooing them to cover the scars up. Hers were images of cartoon characters, pictures, and famous people; not necessarily the style or genre you might assume.
The tattoos actually helped with her porphyria. The ink on her skin acted as a natural barrier from the sun, allowing Julia to spend more time outdoors. The tattoos helped her in her walking career, previously mentioned, and she eventually got a sponsorship from Nike as well (according to one source).
The year she died; Julia had started trying to laser them all off. You can find photos of her attempts to remove the tattoos on the website of the removal office she was making appointments with at the time of her death (linked below).
According to one of the tattoo artists who tattooed Julia for seven years, he learned after her death Julia passed away from complications of an eating disorder. Her cause of death is not listed on her official obituary, but that is not surprising if an eating disorder was the cause. In all the photos of Julia, she is very thin. If she did die from an eating disorder, then I hope her story, like Karen Carpenter's, can help other people suffering learn to battle and hopefully overcome their demons.
Badges Earned:
Find a Grave Marked
Sources:
https://www.legacy.com/obituaries/name/julia-gnuse-obituary?pid=181087041
http://www.inkoffmd.com/tattoo-removal/before-and-after/
https://funhousetattooing.blogspot.com/2019/12/julia-gnuse-january-18-1955-august-11.html
https://www.findagrave.com/memorial/169378260/julia-ann-gnuse