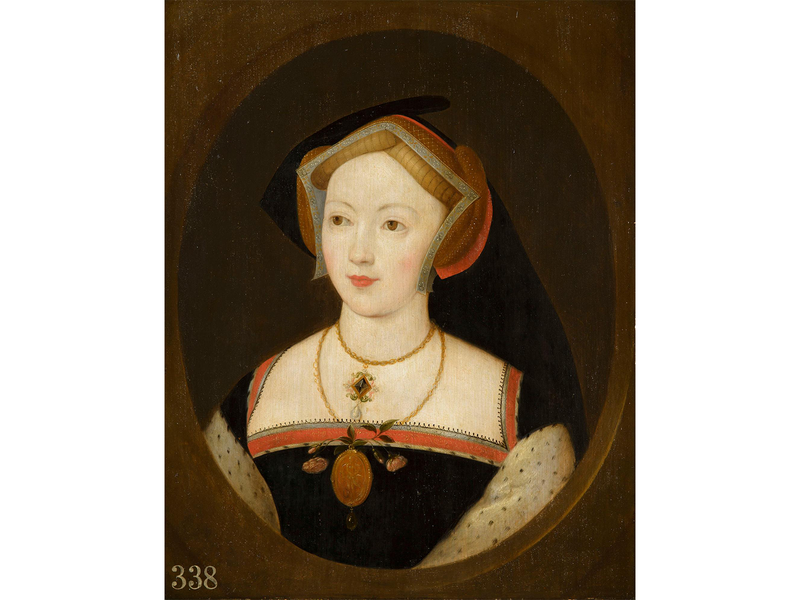 667: Mary Boleyn Carey Stafford
Mistress of Henry VIII of England
Born: c.1508, Norfolk, England (Present-day Norfolk, United Kingdom)
Died: June or July 1543, Presumably England (Present-day England, United Kingdom)
Mary was the king's mistress before her sister Anne married him.
Historians cannot exactly pinpoint which sister was elder, but if one believes Anne was born in 1507 it would make her the elder and Mary the younger. The main discrepancy stems from the fact that Mary married before Anne; usually the elder sister would wed first. However, Anne was given the prestigious opportunity to be educated at the French court, and usually a privilege such as that would be given to the elder sister. See the confusion? In any case, please note that the ages I state Mary was at various times in this article are based on if she was born in 1508. If she was born earlier, closer to 1500, then obviously she would have been eight years older during each of these occasions.
In any case, what is known is that Mary married her husband when he was twenty-four and she was presumably around twelve. Gross, I know. Her first child Catherine was born when Mary was around sixteen years old. Mary's husband wasn't the best match in terms of her gaining lands and titles from the get-go, however, over time, the couple slowly gained manors, money, and places at court.
Mary became Henry's mistress less than a year after Catherine's birth. The evidence to support the time frame of their affair is short but sweet. When Henry tried to get permission to marry Anne in 1527, he listed that he had had a sexual affair with her sister. Anne only had one sister, Mary. On another occasion, someone accused the king of having an affair with both Anne's mother and sister. An incensed Henry is said to have replied, "Never the mother." Nice guy, right?
However, the affair ended quickly with the birth of Mary's son Henry who may have been the King's son. The only male royal bastard Henry acknowledged was named Henry Fitzroy, so no one knows for certain, but accounts say Mary's son physically resembled the king (other sources say her daughter Catherine did as well; and it is true Mary was seeing Henry during the time both of her children were conceived, but again, nothing was ever confirmed).
In 1528, Mary's husband died, and Henry granted Anne guardianship over Mary's son, leading more to believe the boy was his. Henry and Anne exchanged letters over the period noting they were worried Mary would make an embarrassment of herself and them now that her husband was dead, but she was still allowed at court. Anne paid off what could be seen as gambling debts and allowed Mary to accompany Anne and the king to France. When Anne and Henry finally married in 1533, Anne made her sister a lady-in-waiting.
However, trouble brewed the following year. Mary secretly married a commoner and was banished from court. Her relatives were outraged, and Mary lost everything, but she most likely loved her husband, so it wasn't all bad. Mary's son was still living with Anne and being educated by fine tutors at this time, so that wasn't horrible either.
When Anne and their brother George were arrested and sentenced to death, Mary didn't visit them in prison. There is also no surviving evidence that she attempted to write to them either. Mary probably figured it was safer for her own well being to steer clear.
After Anne's death, Mary's children were able to succeed socially. Her daughter Catherine was named a maid to Henry's fourth wife, Anne of Cleves. She also married well, and become a close friend to her cousin, the future Queen Elizabeth I. Catherine's daughter would eventually marry Robert Dudley (Elizabeth's proposed great love), and Catherine's son would become a favorite at court (before he was executed for treason…yeah).
One of Mary's descendants was Diana, Princess of Wales, meaning the princes William and Harry, and their children, are also descended from "The Surviving Boleyn" as Mary's been dubbed by some.
Mary Boleyn's story has recently grown in the public spotlight thanks to the book and later movie The Other Boleyn Girl. Both are historical fiction.
It should be noted that there are no portraits of either Anne or Mary from when the sisters were alive, so the portraits typically attributed to them are often swapped or interchanged. Until 2020, no portrait had definitively been identified as Mary, but that all changed in June. According to Smithsonian, the painted portrait shown here in this article has finally been proven, or as close as a painting can be in any case, to show Mary. The painting was created years after Mary's death, but is believed to be a copy of an earlier portrait that may have been made while Mary was still alive.
Badges Earned:
Find a Grave Marked
Located In My Personal Library:
The Creation of Anne Boleyn: A New Look at England's Most Notorious Queen by Susan Bordo
Sources:
https://englishhistory.net/tudor/citizens/mary-boleyn/
https://schoolhistory.co.uk/notes/mary-boleyn/
https://www.factinate.com/people/facts-mary-boleyn/
https://www.smithsonianmag.com/smart-news/after-hundreds-years-unknown-woman-tudor-painting-was-identified-180975071/