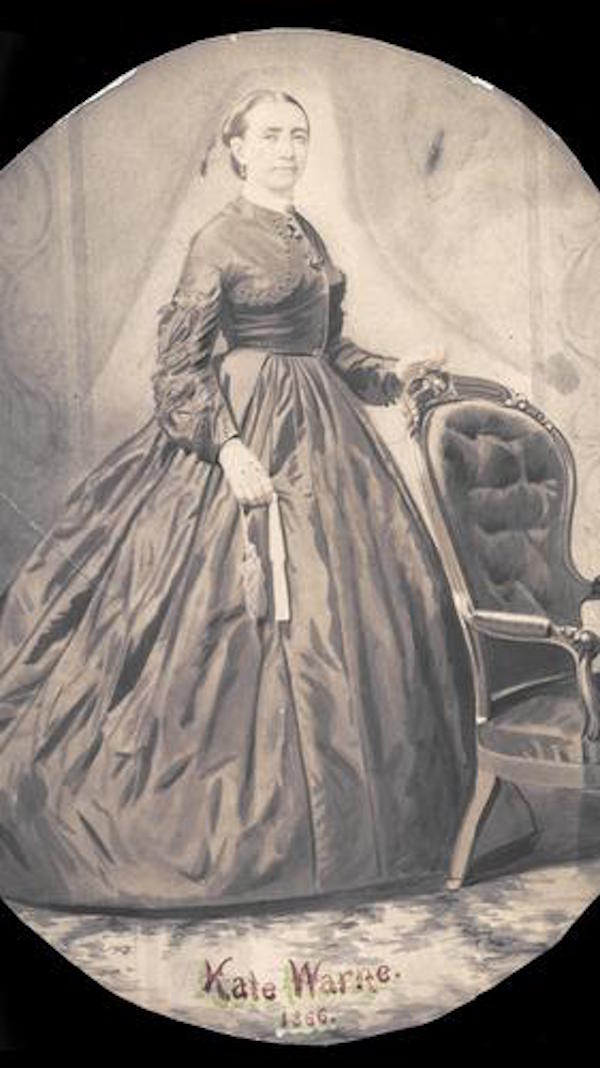 643: Kate Warne
The First Female Detective in the United States
Born: c.1833, Erin, New York, United States of America
Died: 28 January 1868, Chicago, Illinois, United States of America
Kate worked for the Pinkerton Detective Agency for twelve years, from 1856 until her death. When she arrived at the Pinkerton office, she told Allan Pinkerton she was applying for the new detective job, not to work as a secretary. As a recently widowed woman, Kate was looking for a job to support herself, and evidently also wanted some adventure in her life.
Only two years after starting to work for Pinkerton, Kate was able to catch a thief. The man had stolen around $50,000 from an equity fund, and with Kate becoming friends with the thief's wife, she was able to catch him in the act. The man would later return around $30,000 worth of the stolen cash and was sentenced to ten years in prison.
Kate was also one of the operatives who protected President Lincoln in 1861 as he traveled from Illinois to Washington DC to assume the presidency. The most important part of her job for the president came in Baltimore, when Kate uncovered an assassination plot against the president-elect. Kate posed as the president's sister, while he posed as an invalid in disguise on the train, potentially saving his life. Kate was one of two detectives traveling with the president that day; the other was Allan Pinkerton.
Kate also helped break the Rose O'Neal Greenhow spy ring during the War Between the States.
After the war, Kate investigated the murder of a bank-teller. By making friends with the suspected murderer's wife, Kate was not only able to catch the killer, but also account for the $130,000 taken during the course of the crime.
Then she became superintendent of the Female Detective Bureau in the Chicago office, overseeing the training and operation of several other female detectives.
Kate fell ill with pneumonia and died with Pinkerton himself by her side. Kate was buried in the Pinkerton family plot alongside several other fallen detectives. Kate was so important to Allan Pinkerton he personally thanked her in his memoirs.
In 1871, the majority of the Pinkerton Case files in Chicago were destroyed in a fire, so the already elusive life of Kate Warne became even more so.
Badges Earned:
Find a Grave Marked
Located In My Personal Library:
Who Knew? Women in History by Sarah Herman
The Pinks: The First Women Detectives, Operatives, and Spies with the Pinkerton National Detective Agency by Chris Enss
Sources:
https://www.asisonline.org/security-management-magazine/latest-news/today-in-security/2019/august/detective-kate-warne/
https://allthatsinteresting.com/kate-warne
https://blogs.loc.gov/loc/2015/03/celebrating-womens-history-americas-first-female-p-i/