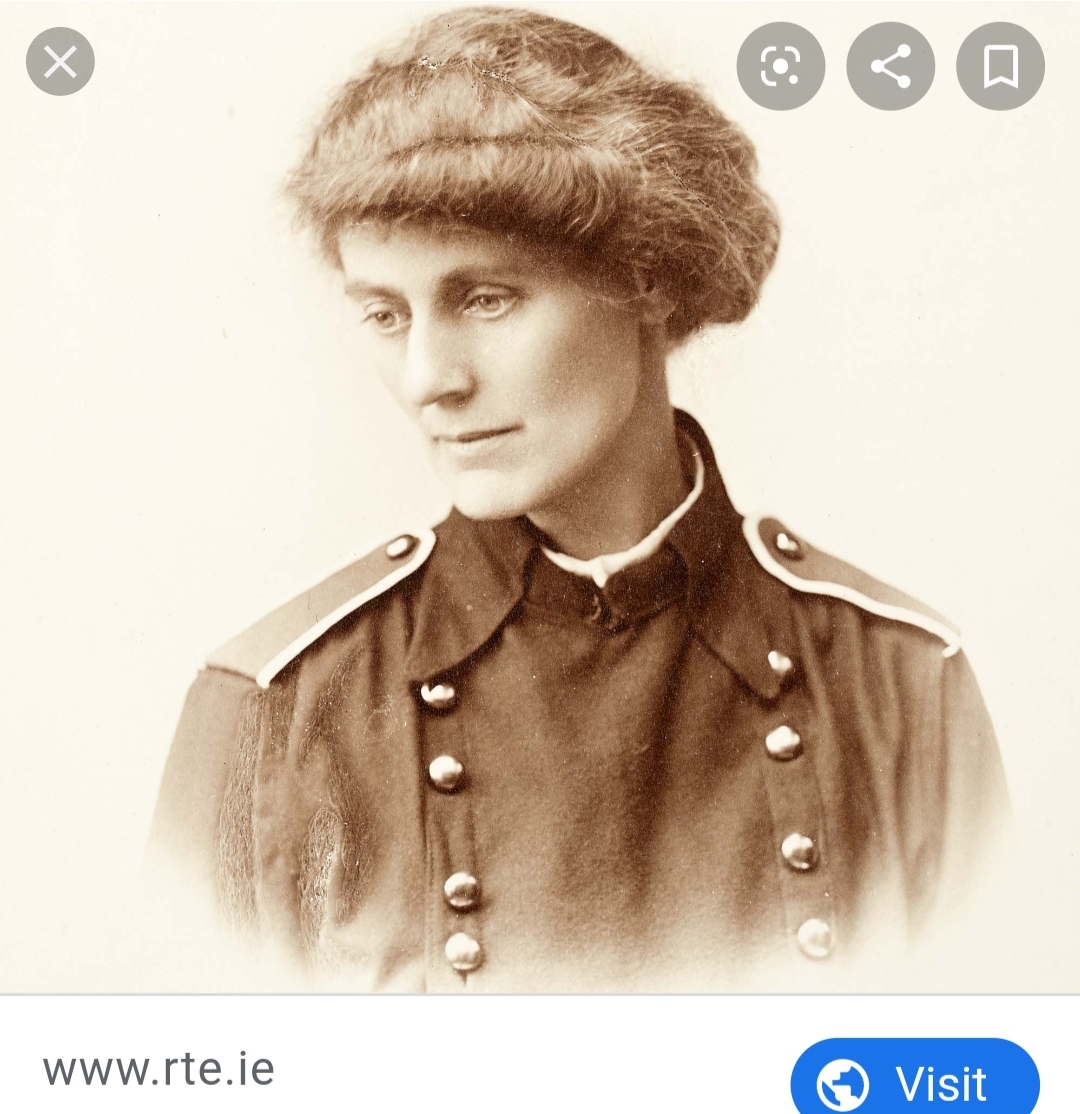 Constance's advice to women interesting in joining the revolution?
"Dress suitably in short skirts and strong boots, leave your jewels in the bank, and buy a revolver."
440: Constance Markievicz
The First Woman Elected to Britain's Parliament But She Refused to Take Her Seat
Born: 4 February 1868, Westminster, London, United Kingdom (Though she was raised in County Sligo, Ireland)
Died: 15 July 1927, Dublin, Ireland (Present-day Dublin, Republic of Ireland)
She was the first Irish female elected politician. Constance was also the only woman to ever serve in the First Irish Assembly (Dáil Éireann); where she would serve as Minister of Labor for three years.
She was from the Irish Nobility and was presented at Queen Victoria's Court in 1887. Constance would later marry a Polish Count but wasn't the typical doting housewife and mother. Her daughter Maeve and she wouldn't even recognize each other as adults when meeting in public.
As a younger woman, Constance's social aspirations were entrenched in Women's Suffrage. Then, when she was forty, she joined the Daughters of Ireland political party which believed in Irish Nationalism. She then created the Soldiers of Ireland which was basically the boy scouts if they were Irish Nationalist Soldiers, trained to shoot the British.
From 1911 on she would be in and out of jail for her political activism. After the Easter Rising (an Irish insurrection against the English crown where Constance fought as a sniper) she was arrested alongside other rebels but was the only woman to be court-martialed. After having her death sentence reduced to servitude for life, she got lucky and was released from imprisonment a year later—and then promptly went back to jail for starting her process all over again.
She was elected to the British parliament in the general election in 1918, while still in prison, but refused to take her seat because she would not swear an oath of allegiance to the English king. Constance was one of the many members of the Sinn Fein Party who were elected that year, all of whom agreed to not sit in parliament.
In later years, she became an accomplished car mechanic, often fixing her own when it would break down on the sides of the roads. She did what she could to care for older citizens around her and reconnected with her family. Constance passed away from complications stemming from appendicitis and years of neglect and abuse her body had survived.
Constance would not live to see a free Ireland established. Despite the December 1921 treaty signed between the Irish Nationals and the British, the free state of Ireland, today recognized as the Republic of Ireland, would not be proclaimed until Easter Monday in 1949. Today, The Republic of Ireland represents the twenty-six southern and western counties on the island of Ireland. Six northern counties remained a part of the United Kingdom and are today known as Northern Ireland.
Badges Earned:
Find a Grave Marked
Rejected Princess
Sources:
https://www.britannica.com/biography/Constance-Markievicz
https://www.rejectedprincesses.com/princesses/constance-markievicz
https://www.irishtimes.com/culture/heritage/constance-markievicz-the-divisive-revolutionary-heroine-1.3710763
https://www.findagrave.com/memorial/5746940/constance-georgine-markievicz