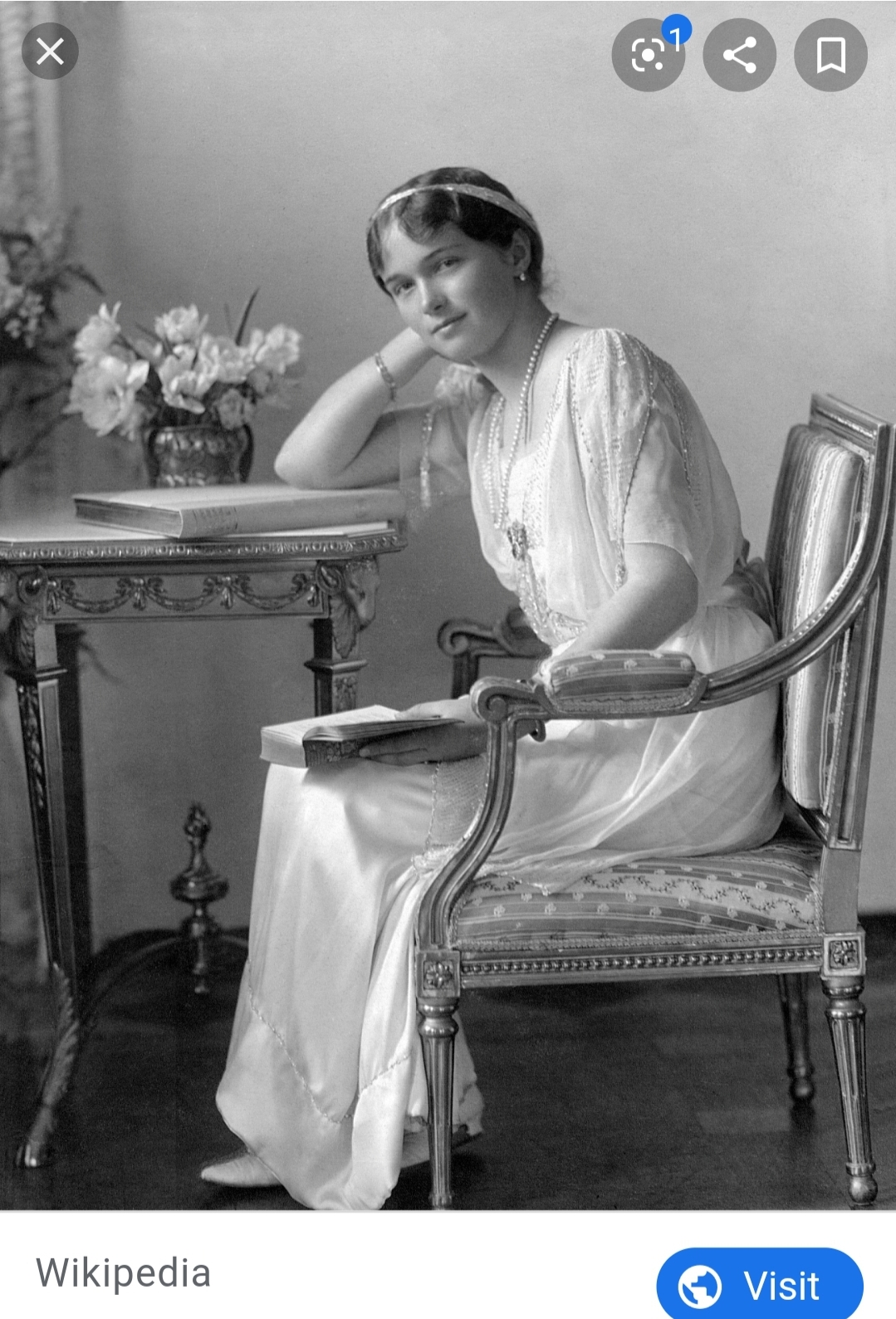 208: Olga Nikolaevna Romanova
Russian Grand Duchess and the Oldest Child in Her Family
Born: 15 November 1895, St. Petersburg, Imperial Russia, (Present-day St. Petersburg, Russia)
Died: 17 July 1918, Yekaterinburg, Bolshevik Controlled Russia (Present-day Yekaterinburg, Russia)
Upon her birth the military fired off the 101 rounds indicating a girl—not the hoped for 300 to indicate a boy.
Because she was a girl, Olga was not a legal heir to the throne of Imperial Russia.
One person witnessing the birth wrote that Olga weighed ten pounds and had to be removed with forceps. In a letter her father wrote to Queen Victoria—Olga's great-grandmother through her mother, he thanked her for her good wishes but also told her that Alexandra had chosen to breast feed Olga herself instead of using a wet nurse—something Victoria vastly disapproved of.
When she was only a few months old her parents took Olga across Europe to visit neighboring countries and meet all her relatives.
From a young age Olga was devoted to her father, loved the outside world, and was very stubborn and compassionate.
She was seven years old when her favorite cousin Ella died from typhoid while they were all staying together—a tragedy that would stay with Olga the rest of her life.
Olga was also a devoted reader, and as a child liked researching Medieval Times. According to the longtime governess of all the Romanov Children, when Olga learned the story of Prince Llewellyn of Wales, who was beheaded by the English, Olga reportedly told her governess, "I really think people are much better now than they used to be. I'm very glad I live now when people are so kind."
In 1909 Olga was made the commander-in-chief of the third Elizabetgradsky Hussars Regiment; her duties included the design of her men's uniform—in 1911 her men were given short white fur lined coats—which they were extremely thankful for. Also, in 1911—after Olga had her coming of age party—she, her father, and sister Tatiana were at a play when the prime minister was assassinated on the floor of the theatre beneath the royal box.
Olga was also put in charge of trying to fix her brother's bad behavior and manners (evidently, she wasn't entirely successful, Alexei was remembered for being stubborn till the end).
Olga fell in love when she was seventeen, but he ended up marrying someone else once it was established that—as a soldier—he wasn't good enough for the daughter of the Tsar.
She trained as a nurse in World War I but was quickly relieved of work on actual patients and given administrative duties instead.
It is said that near the end only Olga realized the danger their parents and themselves were in.
In 1916, the entire imperial family became political prisoners to the new Bolshevik Regime after Nicholas II (Olga's father and the Tsar) abdicated the throne amid political and social upheaval and turmoil. In July of 1918, the Bolsheviks determined it was too dangerous to let the family live, and ordered the executions of them all.
She reportedly died while clinging to her sister Tatiana. The four sisters, Alexei, their parents, and several servants were all shot and bayoneted to death in the basement of the house they were staying in.
Note:
Olga's Actual Title in Russian Was Velikaya Knyazhna—a more accurate English Translation would be The Grand Princess. Her title also made her an Imperial Princess, which made her higher ranking than all other European Princesses who were "only" Royal Highnesses.
Badges Earned:
Find a Grave Marked
Located In My Personal Library:
Alexandra: The Last Tsarina by Carolly Erickson
Caught in the Revolution: Petrograd, Russia, 1917--A World On the Edge by Helen Rappaport
Lost Bodies by Jenni Davis
National Geographic History Magazine Article "Death of a Dynasty" sub-article "Michael the First Romanov" (July/August 2018 Edition)
The Race to Save the Romanovs: The Truth Behind the Secret Plans to Save the Russian Royal Family by Helen Rappaport
Risked by Margaret Peterson Haddix (Historical Fiction)
The Romanov Sisters by Helen Rappaport
Sources:
https://www.theromanovfamily.com/grand-duchess-olga-nikolaevna/
https://www.findagrave.com/memorial/6611102/olga-nikolaevna-romanova