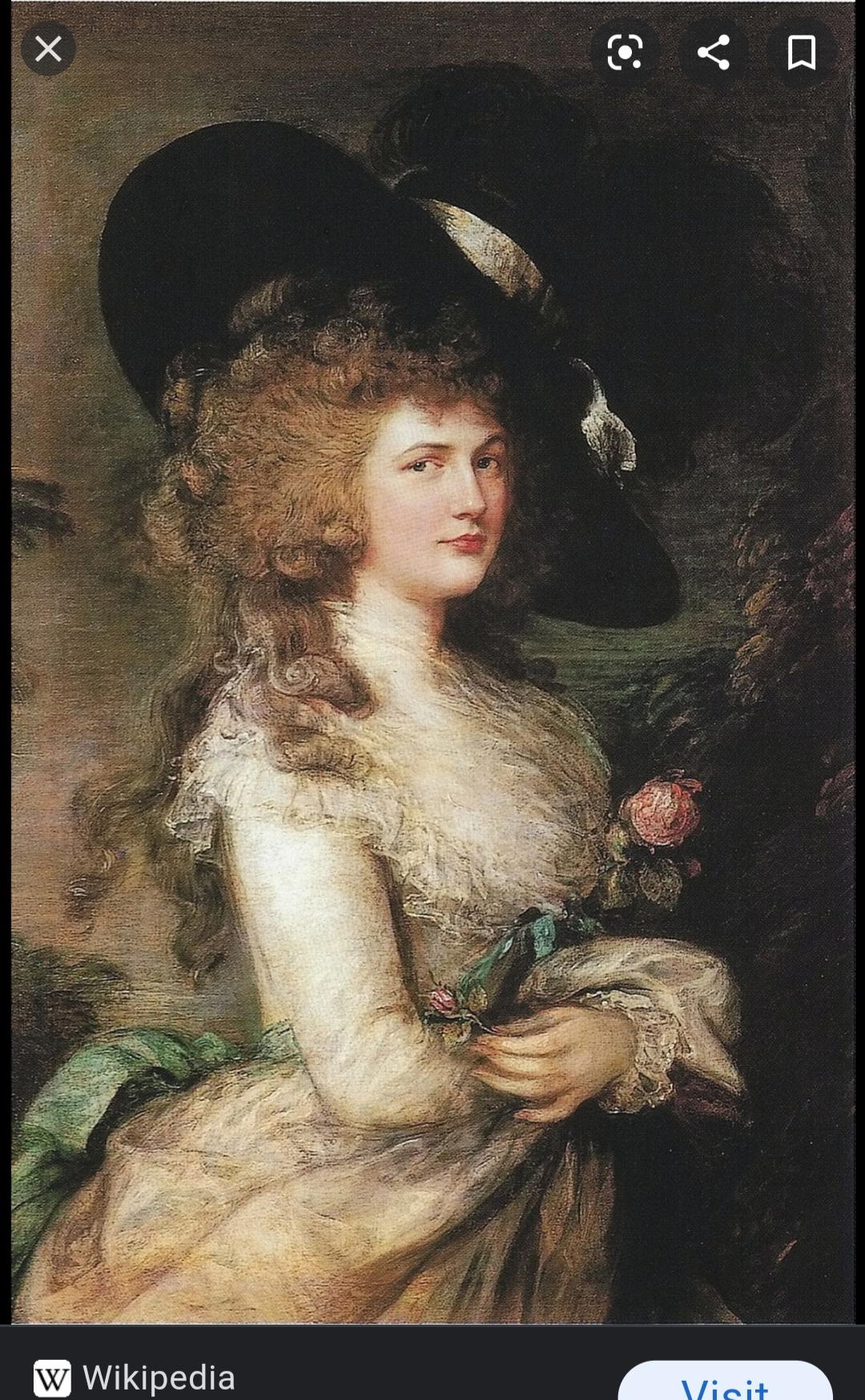 1031: Georgiana Cavendish
Duchess of Devonshire
Born: 7 June 1757, Althorp, Northamptonshire, England (Present-day Althorp Estate, England, United Kingdom)
Died: 30 March 1806, Devonshire House, Greater London, United Kingdom (Present-day Piccadilly, London, United Kingdom)
Georgiana was born to the affluent Spencer family and held the titles of Honorable and later Lady growing up. One of her more famous descendants was Diana, Princess of Wales.
As a child, Georgiana's family pronounced her name Jor-jee-ah-nah, but after she married, she changed the pronunciation to her husband and his family's pronunciation of Jor-jay-nuh.
Georgiana, or Gee to her close friends, is best remembered for her incredible fashion sense and her keen mind for politics. Living in the Georgian era of English history meant Georgiana, as well as the rest of women among the aristocracy and peasant classes both, were just starting to become involved in politics and had to figure out how to navigate these new waters while still retaining their place in society. Women were not able to vote at the time, but Georgiana became the central advocate for the Whig Party, bringing attention and new votes to the party.
Georgiana was the oldest child in her family. Her father went on to become the 1st Earl Spencer, while her mother became Countess Spencer. Georgianna had two younger siblings, Henrietta and George.
On her seventeenth birthday, Georgiana married William Cavendish, the fifth Duke of Devonshire, who was eight years older than her. It was an arranged marriage and was a largely unhappy one. Though they would have three children together (along with multiple heartbreaking miscarriages), both William and Georgiana were unfaithful and spent years living in the same house but leading separate lives.
Georgiana and William had two daughters and a son. Their daughters, born first, were named Georgiana Dorothy (Little G) and Harriet Elizabeth (Harryo). Finally, in 1790, after sixteen years of marriage, Georgiana gave birth to a son (and heir to the dukedom), William George Spencer Cavendish. The family also cared for William's illegitimate daughter Charlotte, who was older than his legitimate children. Before the birth of her son, Georgiana was not permitted to take a lover for fear of who the legitimate father of the child would be. However, after giving birth to her son, Georgiana was finally free to embark on a great love affair of her own. In 1791, the duchess began having an affair with Charles Grey, an earl and later the Prime Minister. Within a few months of their romance blossoming, Georgiana discovered she was pregnant.
Georgiana's husband told her she had a decision to make. Either give up her unborn child and her lover or never see her three already living children again. Georgiana went to France to secretly give birth. Her daughter Eliza was given away to Charles Grey's family, and Georgiana's husband refused to allow his wife to return home for two long years to punish her for her indiscretion. Meanwhile, his own lovechild Charlotte was still living at home! Eliza grew up believing Georgiana was simply a kind woman who took an interest in her as an aunt-figure, while Charles was her much older brother. Eliza was a grown woman before she knew the truth, and only then after Georgiana herself had died. Eliza named her own daughter Georgiana in tribute to her biological mother.
The duchy Georgiana found herself tied to through her marriage meant she had access to considerable sums of money. With that money, Georgiana brought a new sense of fashion to the English aristocracy, including the tall hairstyles better known in the French courts. She spent her evenings hosting large social events, while her husband was usually off playing cards at a private club far from home. Georgiana also was a known gambling addict, and spent much of her life racking up considerable debt with no way of ever repaying the money she spent (after one of her more heartbreaking miscarriages, Georgiana finally broken down and admitted to her husband she was around $300,000 in debt in today's money). She was also prone to drinking copious amounts of alcohol, which led to other mental health crisis episodes including rounds of either starving herself or binging on large quantities of food.
After her two years abroad in France, Georgiana returned to England in 1793 a changed woman. She gave up partying and switched to other pursuits, like collecting crystals, spending time with her children, and nursing her useless (in this author's opinion) husband through his struggles with gout. In her late thirties, Georgiana came down with an eye infection that left her half-blind and with a scarred face. No longer held back by society viewing her as the most beautiful woman in the land, Georgiana was able to be taken more seriously for her mind rather than her face.
Georgiana also spent her time writing. She wrote several works of poetry, but also dipped her quill in fictional works as well. Georgiana wrote several novels, most of which inspired scandal in their day. One work in particular, The Sylph, opened the doors to the general public on what really went on in the aristocracy, in all its unabashed and debauched glory (the novel was published anonymously under the name 'A Young Lady'). Today, some historians believe the main character in The Sylph, is actually a reflection of Georgiana herself, while the other characters are caricatures of her so-called friends. While most of high society openly admonished the book, they couldn't help buying it either. Soon enough Georgiana had a best-seller on her hands.
Sadly, for Georgiana, she was never able to drop her one true addiction: gambling. Throughout her entire adult life, Georgiana continued to gamble and rack up debts that she could never repay. In her forties by then, Georgiana had to ask her mother for money to help pay back her creditors. Only a few years later, Georgiana died from a liver abscess at only forty-eight years old.
In Georgiana's time, many aristocratic women took part in "Romantic Female Friendships." This meant a woman, such as Georgiana, grew incredibly close with another woman. For many viewers today, these relationships can be construed as lesbian relationships, but whether or not there was ever a true sexual nature in Georgiana's friendships with women is unknown.
In 1782, Georgiana embarked on her closest relationship with another woman. Known as Bess to her friends, Lady Elizabeth Foster was, at the time, estranged from her husband and had no funds with which to support herself. Georgiana invited Bess to live with herself and her husband, and Bess readily agreed. Over the course of the next twenty-five years, Bess and William, Georgiana's husband, lived together and conducted an affair that resulted in two illegitimate children together (and yes, this does make William's attitude towards Georgiana's own illegitimate child hypocritical in this author's opinion). This fact, coupled with Georgiana and Bess's close relationship as well, has led to some historians to question whether or not the three of them were actually in a sort of polyamorous relationship, but once again, this will never be known for certain.
In 1806, after Georgiana died, Bess married William Cavendish and became the next Duchess of Devonshire. Georgiana had bequeathed her personal papers to Bess, who went on to destroy most of them, leading to the mysteries of Georgiana's personal life that pervade to today.
The 2008 film The Duchess is inspired by Georgiana's life and is sort-of based on the biography of her listed below, written by Amanda Foreman.
Badges Earned:
Find a Grave Marked
Located In My Personal Library:
Who Knew? Women in History by Sarah Herman
Georgiana, Duchess of Devonshire by Amanda Foreman
Jefferson's Daughters by Catherine Kerrison
Sources:
Georgiana, Duchess of Devonshire by Amanda Foreman
https://www.tatler.com/article/who-was-georgiana-spencer-duchess-of-devonshire
https://www.english-heritage.org.uk/learn/histories/lgbtq-history/romantic-female-friendship/
https://www.factinate.com/people/facts-georgiana-cavendish/
https://www.findagrave.com/memorial/10126610/georgiana-cavendish