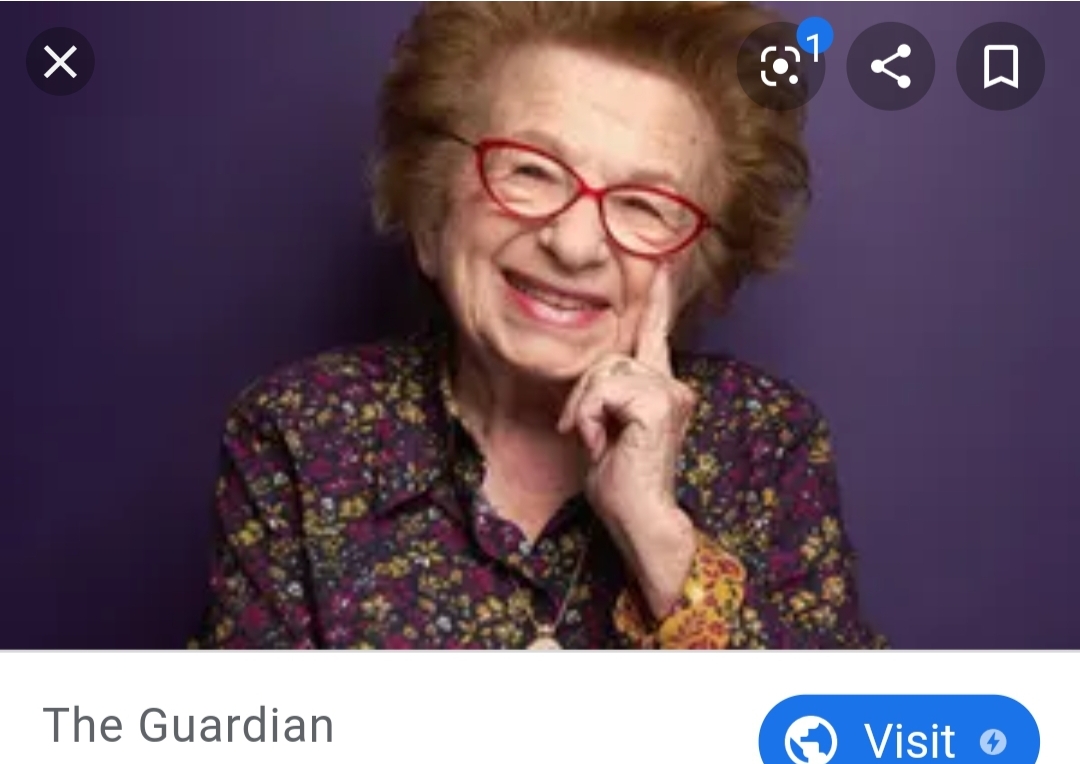 "Nobody is going to want me because I'm short and ugly."
638: Ruth Westheimer
Sexologist Known Affectionately as Dr. Ruth
Born: 4 June 1928, Frankfurt, Germany
Original Name: Karola Ruth Siegel
Ruth is a media personality in radio and TV and a published author.
When Ruth was a child, her parents sent her to an orphanage in Switzerland to escape the rise of the Nazis. Both of her parents would be killed in Nazi death camps. Ruth's upbringing in the orphanage was extremely hard. She was treated as a maid, and after letters from members of her family stopped coming, she could only fear the worst. Ruth was also targeted because of her already increasing knowledge on taboo subjects such as human sexuality and menstruation. It was while living at this school that Ruth also met her first boyfriend. They remain friends to this day.
Once World War II came to an end, Ruth and some of her other friends immigrated to then-Palestine (today Israel), where they became Zionists. Ruth officially changed her name from Karola to Ruth and was trained as a sniper with the Haganah. She was wounded by a bomb during The 1948 War, and the recovery was slow and arduous.
After the war, Ruth married an Israeli soldier. They moved to Paris and Ruth began studying medicine at the Sorbonne. After five years, the marriage came to an end and her husband returned to Israel. Soon after, Ruth received her restitution check from the West German Government. These checks, which were sadly for pitiful amounts (Ruth's was 5,000 Marks or about $1,500 dollars), were paid to survivors of The Shoah. After receiving the money, Ruth and her new French boyfriend moved to New York City.
Upon arrival, Ruth and her boyfriend married after realizing Ruth was pregnant. She gave birth to a baby girl named Miriam and went back to school thanks to a scholarship. However, the marriage didn't last long, and as Ruth recounts in a documentary about herself, she got custody of their daughter while hubby #2 got to keep the car.
In 1959, after struggling as a single mother while still attending school, Ruth graduated with her master's degree in sociology and began working as a research assistant at Columbia University. In 1961, Ruth was on a ski vacation when she met Manfred Westheimer, a fellow Jewish immigrant who soon became the love of her life. They married nine months later and had a son named Joel. Around this time, Ruth also became an American citizen.
Another interesting fact about Ruth is that she stands at only 4 feet seven inches tall. Her husband Manfred stood at five feet five inches, so he was really the perfect size for her. Her height difference initially worried her, and Ruth wrote in her diary that she was scared she would never find love. Ruth's beloved third husband Manfred passed away in 1997, but Ruth still lives in the same apartment in which they lived when he was alive.
In the 1960's Ruth found herself working at Planned Parenthood in Harlem, New York. This job would launch her career in the sexology industry. In the early 1970's, Ruth was able to become an associate professor of sex counseling at Lehman College in the Bronx. She was also continuing to work on her doctorate at this time.
Soon after, Ruth got her "big break" when she was offered $25 a week to participate in a fifteen-minute radio program entitled Sexually Speaking, which initially ran on just after midnight on Sundays. Surprisingly, the show was a huge hit. Her show was extended to an hour and Ruth was allowed to take calls from people listening live on the air. By 1983 the show was regularly taking a quarter of a million callers each week. The following year, her show was nationally syndicated.
Ruth soon earned her own television programs and was able to publish numerous books. In fact, her forty-fifth was released in 2019, entitled Sex For Dummies. Ruth also released a documentary on Hulu that same year, and I will tell you right now, as someone who has watched it, I highly recommend it. I've linked the trailer to the program, appropriately entitled Ask Dr. Ruth, here in this article.
Sources:
https://www.biography.com/personality/dr-ruth-westheimer
https://www.timesofisrael.com/at-90-spunky-dr-ruth-westheimer-now-focuses-on-what-comes-before-foreplay/