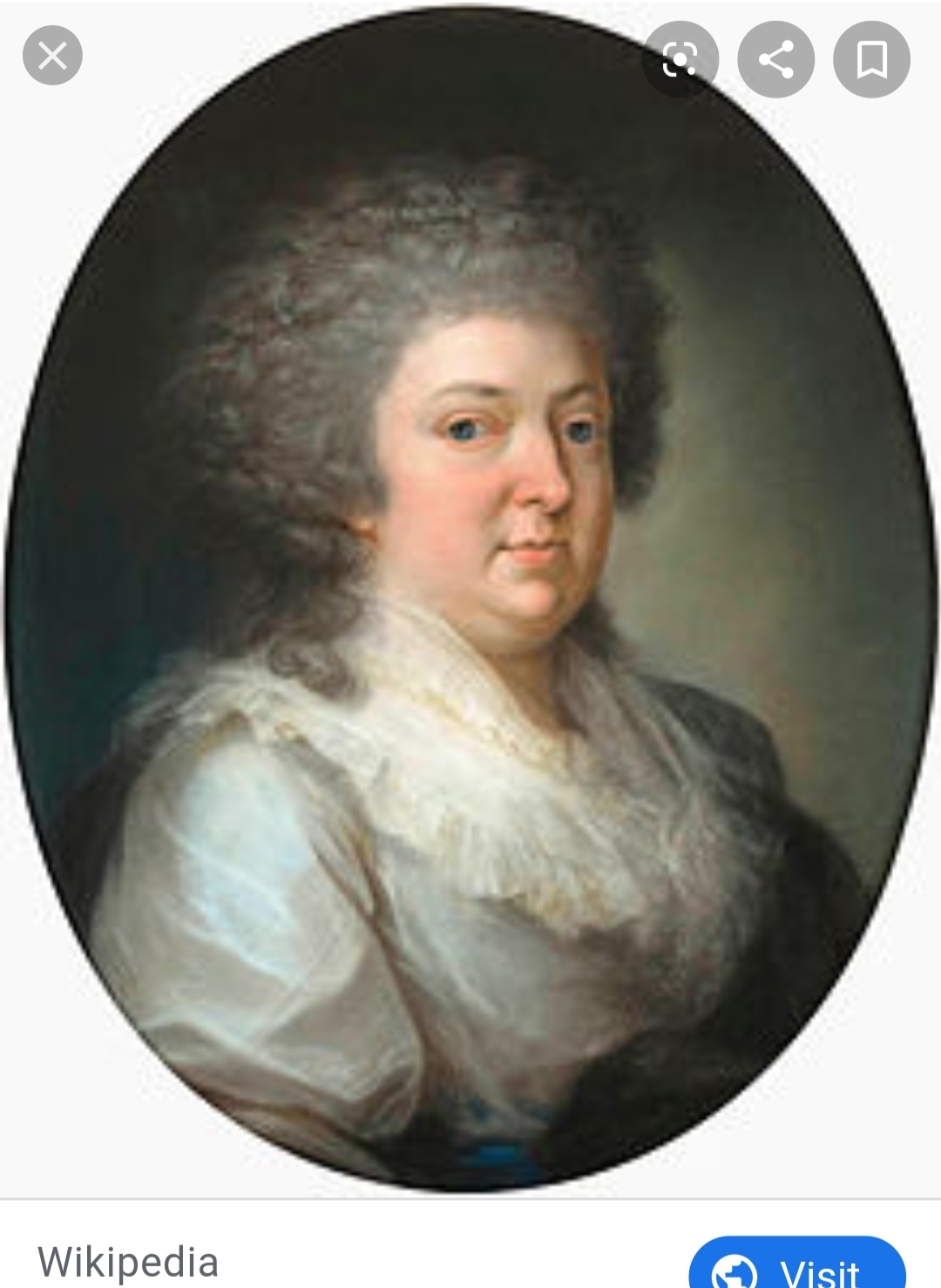 "I was an eyewitness of the whole affair [the Battle of Saratoga]…. I knew my husband was in the midst of it…. I shivered at every shot."
988: Baroness Frederika von Riedesel
Accompanied Her Husband During the Revolutionary War and Later Wrote a Book of Her Recollections
Born: 11 July 1746, Brandenberg, Kingdom of Prussia (Present-day Brandenberg an der Havel, Germany)
Died: 29 March 1808, Berlin, Kingdom of Prussia (Present-day Berlin, Germany)
Full Name: Frederika Charlotte Louise von Massow, Baroness Riedesel zu Eisenbach
Better Known As: The Baroness
Frederika was a member of the German aristocracy. Her husband was one of the many Germans who fought during the American Revolutionary War, and as a camp follower, Frederika spent six years in the Americas viewing the war from her own unique perspective.
During the course of her stay, Frederika was taken prisoner, nursed her children through several health scares, and worried every time her husband left to fight. To say her experience was fraught with danger and suspense would be an understatement.
Frederika's father was a count and served as head of an army for the Prussian King Frederick William II. During her childhood, Frederika and her family would travel around, following her father on his various campaigns. This would better equip Frederika for her future with her husband.
When Frederika was either sixteen or seventeen (sources differ), she married the twenty-one-year-old (or twenty-four, again sources differ) Freidrich Adolphus von Riedesel (their last name is pronounced Ree-day-zel). Friedrich was a captain in a German cavalry unit. Sadly, their first two children would both die in infancy while the couple were living in their own home in Berlin.
Fourteen years after they wed, Frederika's husband was one of four thousand (or six-thousand, again, sources differ) troops from the German state of Brunswick commissioned to fight for the English king in the American Colonies. Friedrich was promoted to the rank of General and placed in charge of the first group of German soldiers sent to quell the revolution brewing in the colonies. The year was 1776, and though hostilities had been brewing for several years, 1776 was the year when the actual war between the Americans and the English broke out.
Frederika did not immediately leave with her husband when he and his men headed to Canada (the plan was for the German soldiers to join up with English General John Burgoyne, who would be invading the colonies from Canada). Frederika was pregnant when her husband left, so she stayed in Germany for a year to have her baby and care for the other children they had.
The journey from Germany to the ship waiting to take her across the Atlantic in France took seventy-five days, according to one source. Imagine that, besides the fact you know you're about to be stuck on a perilous ocean journey for months, you also have to spend seventy-five days in a carriage traveling over land with your possessions and children before you even get to the boat. Two sources also state that while they were traveling, Frederika was disturbed on the journey after she was struck by the hanging body of a criminal who had been strung up a few days before along the carriage path. Yikes!
Finally, Frederika and her three daughters arrived in Quebec safe and sound. The baroness was thirty-one years old and in the prime of her life. From Frederika's writings we know her main concern with coming to North America was her lack of understanding the English language. Though their initial stay in Canada was safe and secure, the family's situation was soon to change.
Between June and October 1777, General Burgoyne and his soldiers traveled through New York, determined to reclaim the colony and place it back under the control of the English crown. Frederika traveled with her husband and the other soldiers through the rough wilderness during the campaign. By the time they arrived at Fort Hudson, the English/German army was running low on supplies. General Burgoyne ordered Frederika's husband to travel through the countryside, seizing cattle and other supplies in order to better feed and protect their soldiers. Friedrich tried to get his wife to stay behind at the Fort where it was safe, but she refused and accompanied him anyway.
In August, the crown's forces suffered a humiliating defeat in Vermont, followed up by an even worse loss at the battles of Saratoga—seen by many as the turning point in the war that allowed the rebel Americans to win the war. In October of 1777, General Burgoyne and Frederika's husband formally surrendered to American General Horatio Gates. Before, the surrender, Frederika would help tend the wounded, sometimes in the midst of cannon fire. After the surrender, the Baroness, her family, and her husband's soldiers became prisoners of war to the Americans. Their status as prisoners would stay in place for two years, however, they weren't treated badly. They received food, lodging, and supplies to keep them comfortable. Basically, they lost their freedom, which is horrible in it of itself, but they were under more of a house arrest situation than a prisoner in an actual prison one.
The good times came to an end when the Americans ordered the Baroness and her family south to Virginia. The Americans no longer had the ability to feed and care for the prisoners in the northern states, and they hoped that by sending them south the prisoners would be better equipped to survive and also be further away from the crown's forces to stop any temptation of trying to assist their old comrades-in-arms.
While traveling south, Frederika and her family often went without food or shelter. They were also moving in the middle of winter, and so their travel was hampered by snow, mud, and ice. The Americans who did take pity on the family and gave them food and shelter treated their "guests" with suspicion or overall rudeness—which isn't that surprising considering they were technically enemies on opposite sides of a war.
Frederika did her best to remain optimistic throughout all of this, but her husband couldn't say the same. Friedrich had become depressed after coming to America, and this was only exacerbated by the journey.
Finally, the couple arrived in Virginia in January of 1779. They stayed on an estate outside Charlottesville for around a year, during which time the family could garden or play the piano. While staying there, the von Riedesel family were guests of Thomas Jefferson's on his own plantation. Though they were on opposite sides of the war, the families enjoyed one another's company. Frederika and her family also dined with the Marquis de Lafayette, and she is also said to have met George Washington as well.
After several months of this, the family were ordered back to New York City. They obeyed, as they were obligated to because of their status as prisoners of war. Upon arrival in New York, the Baroness and children were inoculated against smallpox, which was ravaging the city at the time. And then they waited, for months and months, living in an elegant home with many loyalists in the city to keep them company.
Finally, news came through that Frederika's husband was to be exchanged alongside another crown prisoner for an American general that had also been captured. Once free, Frederika's husband was placed in charge of troops on Long Island. During this time, Frederika gave birth to a baby girl whom she christened Amerika.
In the summer of 1781, Friedrich and his family headed back across the border to Canada, where they stayed until the end of hostilities in 1783. Their family had survived intact and were allowed to go home to Germany. Before they made it home, the family stopped in England to meet the royal family. Frederika and her daughters entertained Queen Charlotte and her own daughters with tales of America and the adventures that had unfolded for them there.
Of the four thousand troops that had left Germany at the beginning of the war, only 2,800 made it home (according to one source). For six years, Friedrich remained in the armed forces, serving in the Netherlands, before retiring to a castle in Lauterbach. He went on to become an official for the city of Brunswick.
After Frederika returned home, she compiled the many letters she had written to family during the war. Frederika edited them into a more coherent form and published the book. Frederika's account remains one of the greatest eye-witness accounts from the Revolutionary War period. When the book was published in Germany, the title included her husband's name and the author was noted as being a manuscript the entire family contributed to. This was done so that Frederika would not disgrace her family by being known as a female author; which would have been a minor scandal at the time.
The baroness's husband passed away in 1800, though he left them with a nice financial cushion to care for Frederika and their daughters. Frederika survived eight years longer than her husband, spending her time visiting her children and grandchildren. When she passed away, the Baroness was buried alongside her husband. They had been married for thirty-seven years when he passed away, and in death they are together forever.
The first English translation of Frederika's account was published in 1827, while a translation of the complete work was published in 1867.
Badges Earned:
Located In My Personal Library:
An Echo in The Bone by Diana Gabaldon (One of the fictional Outlander books, the Baroness is a minor character in the novel)
Sources:
https://www.encyclopedia.com/history/educational-magazines/riedesel-frederika-von
https://www.americanheritage.com/baroness-battlefield
https://www.nps.gov/sara/learn/historyculture/frederika-charlotte-riedesel.htm