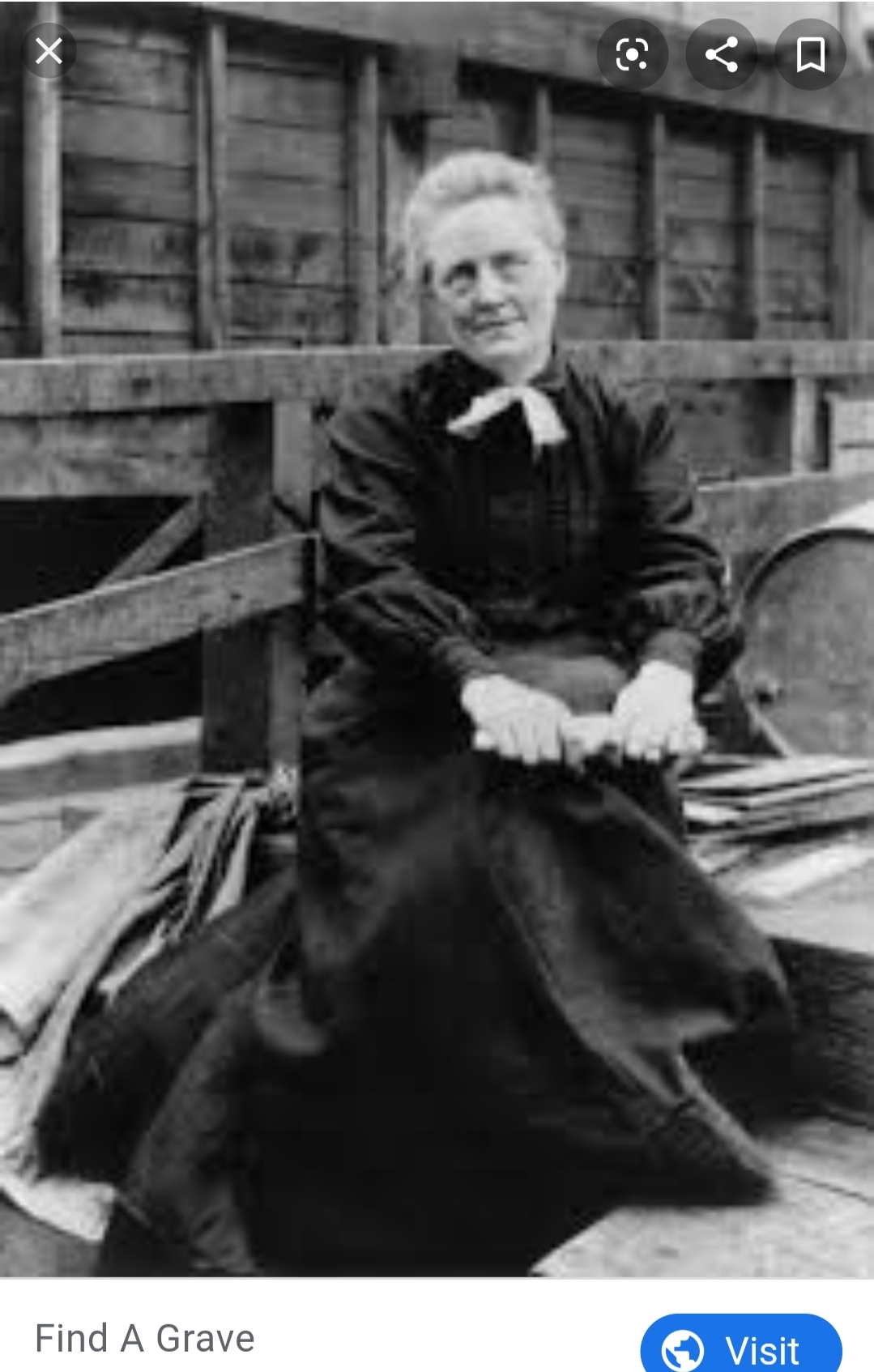 "The law imprinted in all men's hearts is to love one another. I will look to the whole world as my Country and all men as my brothers. We are made for cooperation and to act against one another is to act contrary to nature." 
983: Thea Christiansen Foss
Founder of Foss Launch Company, Arguably the Largest Maritime Business in the Western United States
Born: 8 June 1857, Eidsberg, Norway
Died: 7 June 1927, Tacoma, Washington, United States of America
Original Name: Thea Christiansen Oleson
Thea was one of eight children, and left school when she was fourteen in order to earn a wage to support the family. While working in the city now known as Oslo, Thea met the man she decided she wanted to marry. He went to America and sent money back to Norway for her to come meet him. Instead, Thea gave the money to her fiancé's brother. The next time he sent money, she gave the money to his sister. Thea had decided to earn her own money to pay her own way. Finally, after several years of hard work, Thea arrived in America in 1881.
The couple wed in a Lutheran Church in Saint Paul, Minnesota. They lived in Minnesota for the next eight years, during which time Thea gave birth to four children (one daughter died during this period at the age of four). The family also changed their last name to Fossen and then later Foss, and Thea's husband helped bring over two more of his siblings from Norway. In 1889, Thea and the children followed her husband (who had left the year before), to Tacoma in what was then Washington Territory. The only English Thea knew was what she overheard and learned while on the train headed to Washington. When Thea and the children arrived, her husband brought them to the new home he had established for them—a houseboat.
That's right, not an actual house, but a houseboat. Thea's husband loved the sea, which was part of the reason why they moved to Washington, and he was trained in various seafaring activities. Unfortunately, Thea was actually scared of water! And yet she stuck by her husband, living on the boat, surviving a scary case of typhoid pneumonia on top of things. She was bedridden for two months, but after recovering enough to continue caring for the children, Thea's husband left to build her an actual house, on land, and was gone for two months.
While her husband was gone, Thea launched her company with just one rowboat. A local legend says she bought the boat for $5, repainted it, sold it $10, and bought two more! By the time her husband came home, she had a small fleet of boats and $41. Thea earned the majority of her money from renting the boats out for fifty cents a day. Her husband was happy to pivot from building houses to rowboats, and the company that would become Foss Maritime was born.
By the time Thea's last child was born, her family owned around two hundred rowboats. They built a new storage facility with living space overhead, and for the first time since moving to Washington Thea was treated to running water in her own home. She also coined the company's slogan, "Always Ready" around this time. While Thea's husband and his brothers worked on constructing the boats, Thea ran the household, worked on the paperwork end of things, and thought through new ways of diversifying the business with the ever-expanding waterfront in Tacoma.
As the company grew, the Foss family built a boarding house for their employees next to their own home. Thea and her daughter would cook for around thirty employees every day. In 1893, after a financial panic wracked the city, Thea stepped up even more. One of Thea's friends was left widowed with three small children after her husband committed suicide after losing everything. Thea had her friend and her daughters move in with the Foss family until they were able to be back on their feet.
When the rowboat business began to dry up, Thea and her husband changed their business model. According to History Link, article linked below, "They began making deliveries to ships at anchor. They could bring groceries and marine supplies out to the ships and bring crew in for shore leave. They could ferry workers to mills accessible only by water at high tide." Around this time, Foss Maritime also began to add engines to make their boats motorized.
Some of Thea's brothers-in-law also set up a rescue business. Knowing that not everyone was equipped to use a boat in the choppy waters off of Tacoma, the brothers would go out and rescue the hapless victims if needed. If the victim happened to be a customer of Foss Maritime, they wouldn't be charged. If they weren't customers, they were charged twenty-five cents.
Thea continued to stay closely involved with the business right up until she died. Thea's only daughter died in 1914 at the age of twenty-five, and Thea was devastated. Her three sons stepped in and helped run the company taking on more responsibility, enabling Thea to move into more community activism roles as well. She died the day before her seventieth birthday. Her funeral was one of the largest ever seen in Tacoma.
The company continued to grow and is now a world class shipping fleet known for being the largest tug and towing operation on the west coast of the United States. Originally based out of Tacoma, Washington the company later moved to Seattle. The Foss family sold their major interest in the company in 1987, but the business continues to stay in operation.
Tugboat Annie is said to have been inspired by Thea's story, one of the many plays, movies, and other projects based on her story. Although the Annie in the story is loud and outspoken, the same was not true for Thea who was known to be reserved, quiet, and of course not at all comfortable floating on the seas (some difference from a captain of a vessel like Annie!). Despite the differences, the Tugboat Annie stories began to spring up in the years after Thea's death in the Tacoma area, and so she is credited with being an inspiration behind the character.
According to History Link, article linked below, the following have been named in her honor: "Thea Foss Waterway on Tacoma's Commencement Bay waterfront and the Thea Foss Lodge of the Daughters of Norway in Port Townsend."
In 2006, a documentary about her life entitled Finding Thea was released and won several awards and accolades. After the documentary aired in Norway, a play was written about Thea's life in Norwegian. The play was later translated into English to be performed in front of American audiences as well as Norwegian.
Badges Earned:
Find a Grave Marked
Located In My Personal Library:
Wild West Women by Erin Turner
Sources:
https://historylink.org/File/20706
https://fosswaterwayseaport.org/seaport-exhibits-2/finding-thea/finding-thea-dvd/
https://www.nwyachting.com/2020/05/the-remarkable-thea-foss/
https://www.findagrave.com/memorial/14662316/thea-andrine-foss