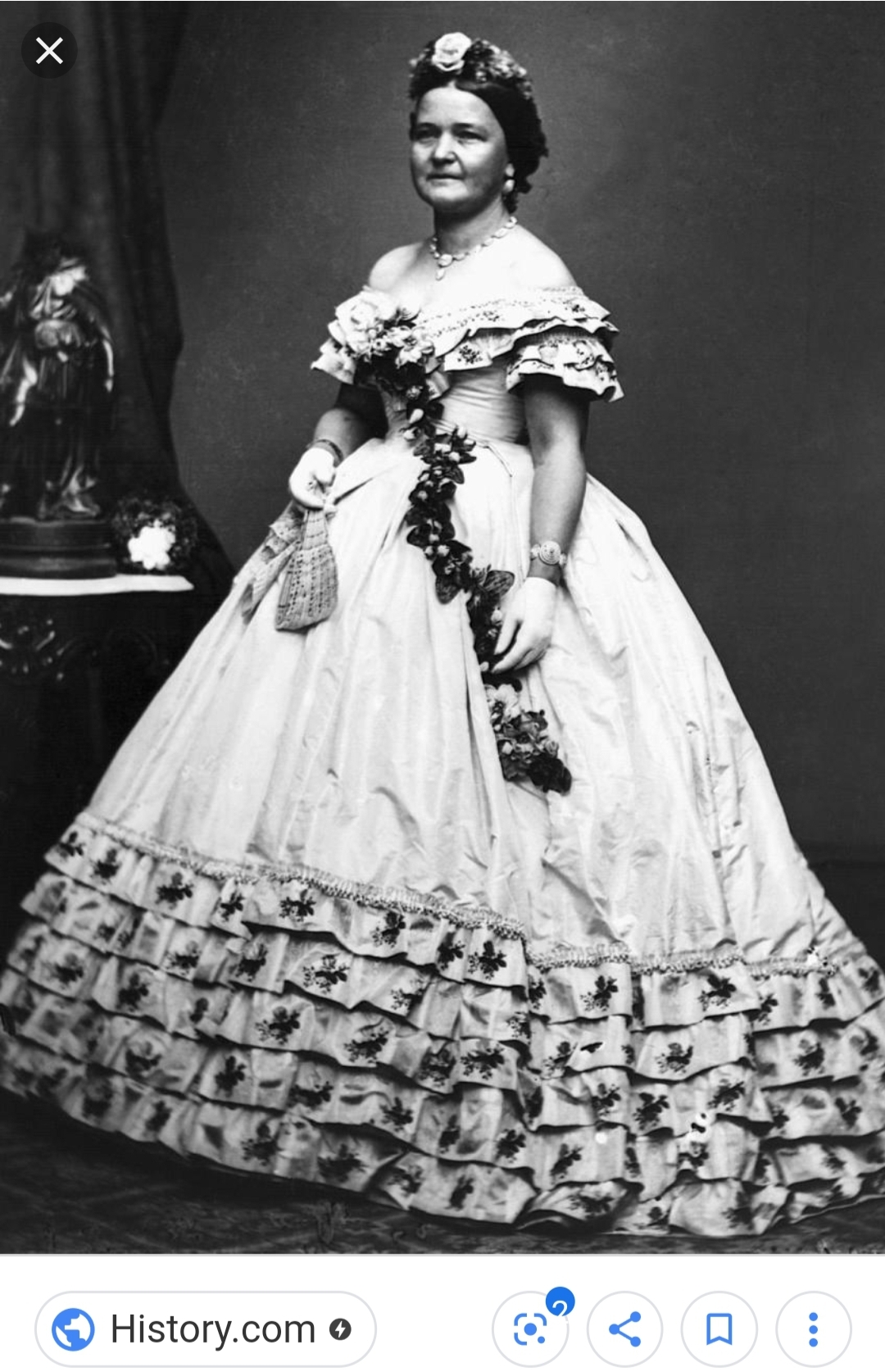 98) Mary Todd Lincoln
Former First Lady of the United States During Her Husband Abraham Lincoln's Administration
Born: 13 December 1818, Lexington, Kentucky, United States of America
Died: 16 July 1882, Springfield, Illinois, United States of America
Mary was ostracized while her husband was in office because of her southern upbringing and opulent reputation (just look at pictures of her dresses from the period to understand—including the one shown here).
Mary is remembered today for her frequent bouts of mental instability (also understandable, she buried three of her four sons and her husband all within a relatively short period of time).
Despite her southern upbringing on a plantation she did become an abolitionist and one of her closest friends and confidantes in the White House was her African American seamstress Elizabeth Keckley.
Mary and the president's relationship was anything but perfect and some speculate it was closer to abusive at times.
After their son Willie died Mary became increasingly reliant on spiritualists and mediums in an attempt to communicate with her sons—a tradition which would carry on after Abraham's death as well.
She also lost three of her half-brothers in service to the Confederacy during the war.
For seventeen years after her husband's death (and later her son Eddie's) she wandered in a daze throughout Europe and America—finally being committed to an insane asylum by her only remaining son Robert (though she was later released with the help of her friend Myra Bradwell).
Badges Earned:
Find a Grave Marked
Located In My Personal Library: Are You Ready for This? Here We Go:
Abraham Lincoln Vampire Hunter (What? She's technically a character) by Seth Grahame-Smith
Affairs of State: The Untold History of Presidential Love, Sex, and Scandal (1789-1900) by Robert Watson
After the Fact: The Surprising Fates of American History's Heroes, Villains, and Supporting Characters by Owen Hurd
America's Women: 400 Years of Dolls, Drudges, Helpmates, and Heroines by Gail Collins
The Apparitionists: A Tale of Phantoms, Fraud, Photography, and the Man Who Captured Lincoln's Ghost by Peter Manseau
Bad Days in History by Michael Farquhar
Dead Presidents by Brady Carlson
First Ladies: Presidential Historians on the Lives of 45 Iconic American Women by Susan Swain and C-SPAN
Killing Lincoln: The Shocking Assassination that Changed America Forever by Bill O'Reilly and Martin Dugard
Legends & Lies: The Civil War by Bill O'Reilly and David Fisher
Lincoln's Last Days by Bill O'Reilly and Dwight Jon Zimmerman
The Madness of Mary Lincoln by Jason Emerson
Mr. Lincoln's Wife by Anne Colver (Historical Fiction)
The Smithsonian First Ladies Collection by Lisa Kathleen Graddy and Amy Pastan
Star Spangled Scandal: Sex, Murder, and the Trial That Changed America by Chris DeRose
Stealing Lincoln's Body by Thomas J Craughwell
Who's Haunting the White House? By Jeff Belanger
Sources:
The books listed above and
http://www.mrlincolnswhitehouse.org/residents-visitors/family/family-mary-todd-lincoln-1818-1882/