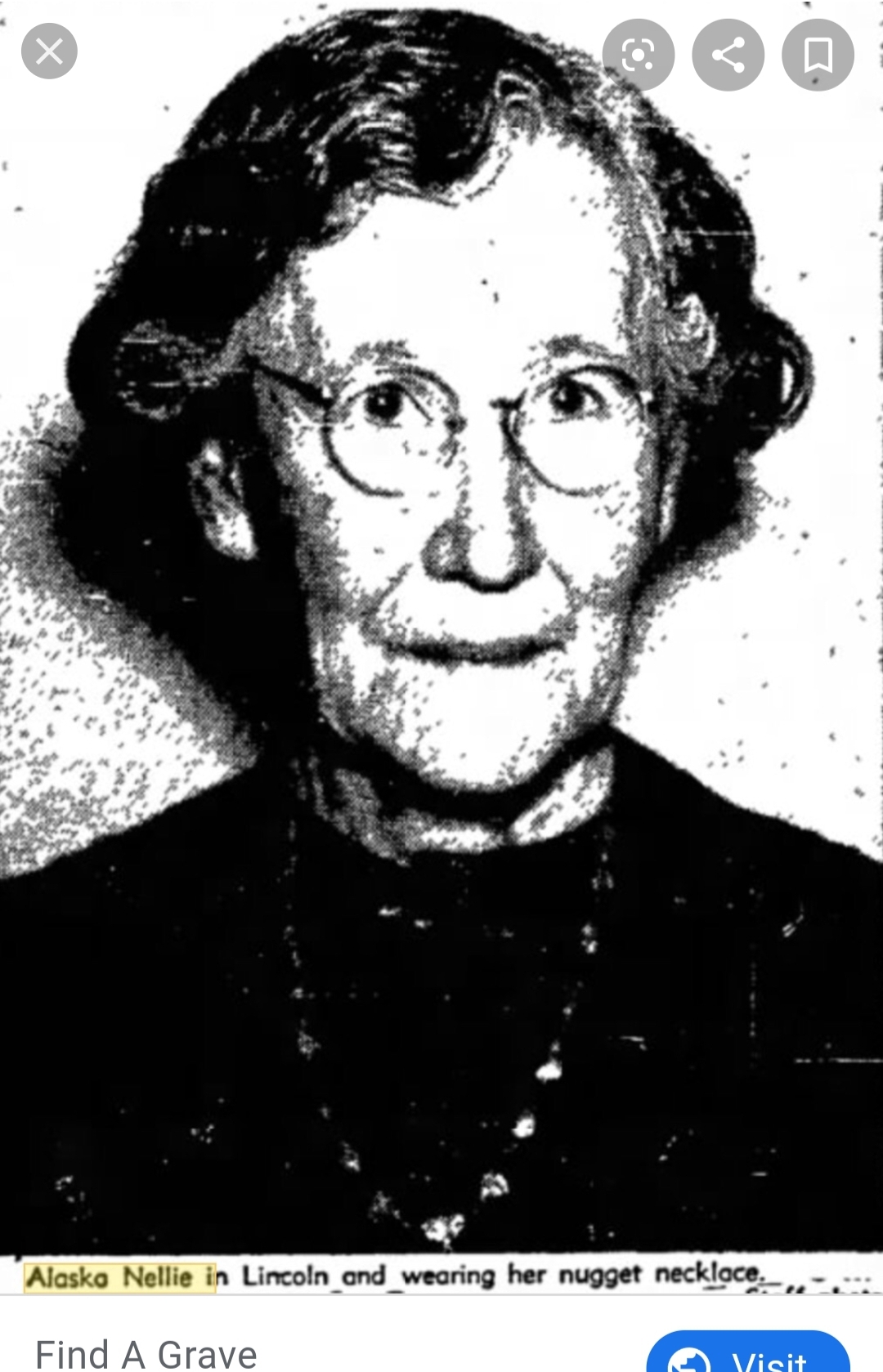 947: Nellie Neal Lawing
Roadhouse Operator, Frontierswoman, Sled Runner, Hunter, & Trapper
Born: c.1874, Buchanan County, Missouri, United States of America
Died: 10 May 1956, Steward, Alaska, United States of America
Also Known As: Alaska Nellie
From the time she was a child, Nellie dreamed of going to Alaska; America's last frontier. She finally arrived in the icy northern state in 1915 when she was forty-two years old.
Nellie ran her roadhouse on the payroll of the United States Federal Government while the Alaska Railroad was being built. She was the first woman to be paid by the federal government in Alaska. Nellie was contractually obligated to provide food and lodging to employees of the railroad, but she did more than that.
Eventually, Nellie operated three roadhouses for the workers, providing fresh game and vegetables from her garden. Nellie also entertained the lodgers with storytelling and by letting people look at her pet bear (yes, I'm serious). She also loved to show off her hunting trophies and was reportedly one of the best big game hunters in the area.
One winter, Nellie noted the mailman hadn't arrived on time. She went out in the blizzard, tracked the mailman down, helped him back to her roadhouse, fed him, and then delivered the mail to the train station while the man recovered. So yeah, Nellie was a bit of a bada**. The local town gifted Nellie a gold nugget necklace in gratitude for her rescue of the mailman.
Nellie also kept track of how many visitors she'd seen over the years. Her final count reached above 150,000, including two US presidents, a Bulgarian prince, various other celebrities. The home was added to the National Historic Register in 1975.
Nellie was married but had no children. Her autobiography was published in 1940.
Nellie's final roadhouse can still be visited; albeit from the outside. After her death, it was realized that the probate courts had never gone through her husband's things when he had died twenty years earlier. Now Alaska had to go through probate for both Nellie and her husband's effects, and the entire ordeal took years to sort out. Today, most of Nellie's items have been auctioned off and spread around the world; despite the fact fans tried to keep them together after her death.
Badges Earned:
Find a Grave Marked
Located In My Personal Library:
Wild West Women by Erin Turner
Sources:
https://www.anchoragemuseum.org/exhibits/extra-tough-women-of-the-north/women-of-the-north-profiles/nellie-neal-lawing-pioneer-hunter-roadhouse-operator/
http://www.litsitealaska.org/index.cfm?section=Digital-Archives&page=People-of-the-North&cat=Pioneers&viewpost=2&ContentId=2720
https://www.geni.com/people/Nellie-Lawing/6000000022988605380
https://www.findagrave.com/memorial/9907925/nellie-neal-lawing