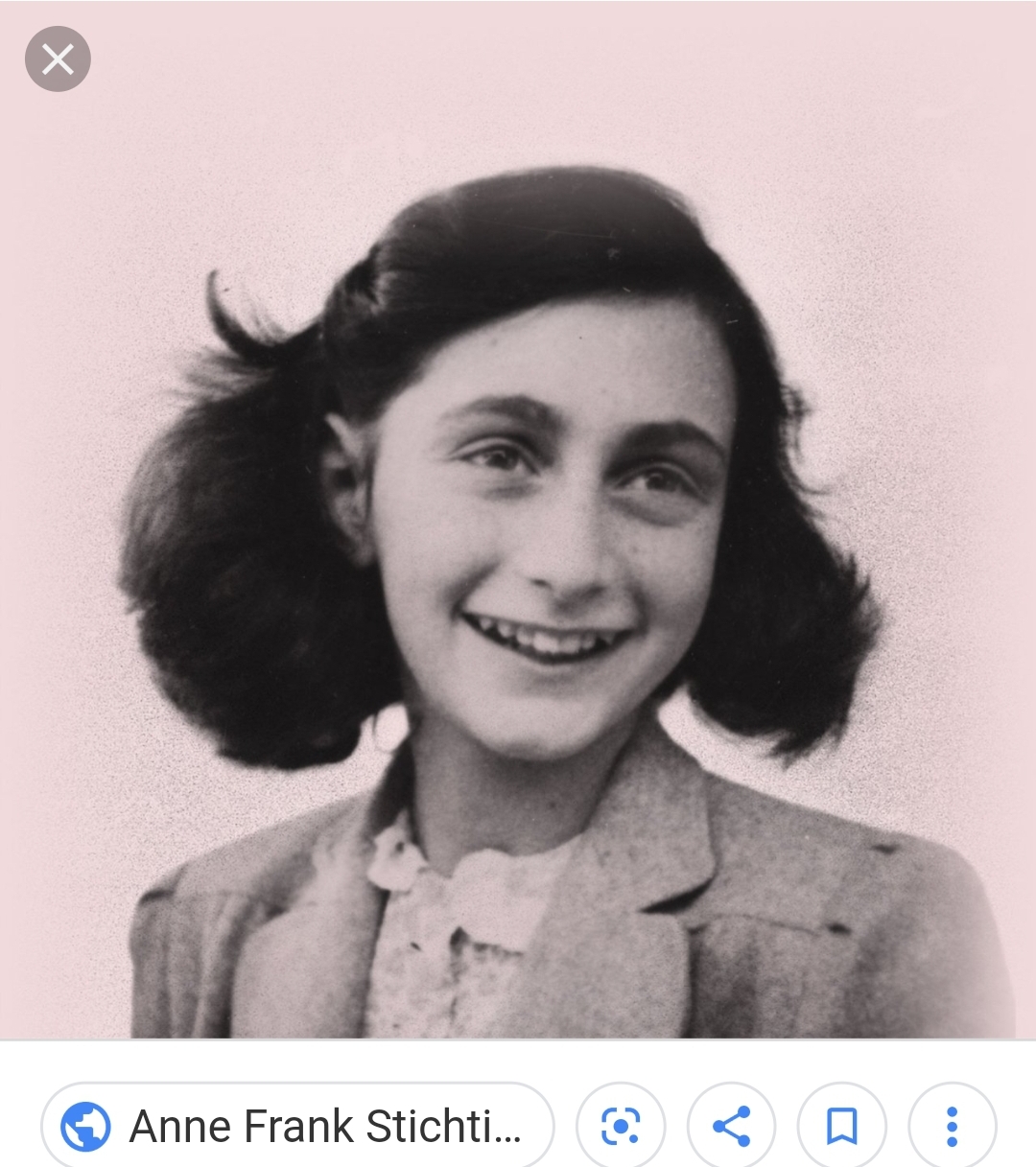 94) Anne Frank
Her personal writings The Diary of a Young Girl are read by almost every child growing up in the United States and many countries around the world
Born: 12 June 1929, Frankfurt, Germany
Died: February 1945, Bergen-Belsen Concentration Camp, Germany
Original Name: Annelies Frank
Anne had a sister three years older than her named Margot.
When she was still very little her parents moved the family to Amsterdam to get away from Germany's hellish economy and the rising anti-Semitism brought out by the Nazi Party.
Then, when Anne was ten, the Nazis invaded the Netherlands and her life was forever changed. Her father lost his business and as Jews her family were barred from access to many public places and businesses and Anne was forced to go to an all Jewish school.
In July of 1942 her parents made the decision to go into hiding instead of being deported to who knows where by the Nazis.
Eight people crammed into the tiny annex space Anne's father had had the foresight to build in his old place of work.
For the two years they remained in that space Anne recorded anything and everything in her diary. She eventually started editing her journal into one coherent story after hearing that the Minister of Education wanted a collection of diaries and stories from the war.
In August of 1944 the people in the annex were betrayed and arrested by the Nazis—the person who turned them in remains unidentified to this day.
Anne's diary was kept safe by Miep Gies, who had helped supply those hiding in the annex with food and provisions.
The annex group were eventually sent to Auschwitz-Birkenau.
Anne, Margot, and their mother were sent to the women's labor camp while their father went to the men's.
In November Anne and her sister Margot were sent to Bergen-Belsen where they quickly contracted typhus and died in February of 1945.
Anne's father Otto was the only person from the annex to survive the war.
In June of 1947 he published his daughter's diary (though he had edited parts of it out we now know). The diary has now been translated into over seventy languages.
In 1960 the annex became a museum: The Anne Frank House.
Badges Earned:
Find a Grave Marked
Located In My Personal Library:
Memories of Anne Frank by Alison Leslie Gold
The Diary of a Young Girl by Anne Frank
Inferno: The World at War 1939-1945 by Max Hastings (She is briefly mentioned)
Secret Heroes of World War II by Eric Chalene
Who Knew? Women in History: Questions That Will Make You Think Again by Sarah Herman
The Book of Awesome Women: Boundary Breakers, Freedom Fighters, Sheroes, and Female Firsts by Becca Anderson
The Betrayal of Anne Frank: A Cold Case Investigation by Rosemary Sullivan
The Secret Library: A Book-Lovers' Journey Through Curiosities of History by Oliver Tearle
Sources:
https://www.annefrank.org/en/anne-frank/who-was-anne-frank/
https://www.history.com/news/anne-frank-diary-hidden-pages-discovery
https://www.britannica.com/biography/Anne-Frank
https://www.annefrank.org/en/anne-frank/diary/