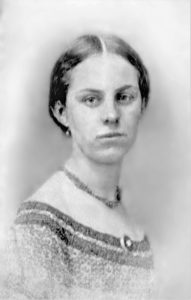 931: Seraph Young Ford
The First American Woman to Cast a Ballot Vote
Born: 6 November 1846, Winter Quarters, Nebraska Territory, United States of America (Present-day Near Omaha, Nebraska, United States of America)
Died: 22 June 1938, Montgomery County, Maryland, United States of America
It was 14 February 1870, and Seraph had arrived at the polling station early to cast her ballot before heading to work as a schoolteacher. The simple act of filling out her ballot secured Seraph's place in history. She was the first American woman to vote under a new equal suffrage law, a full fifty years before the Nineteenth Amendment to the US Constitution guaranteed the rights of citizens to vote regardless of sex in federal and state elections both.
On 12 February 1870, Utah became the second US territory (following Wyoming) to enfranchise women. Though Wyoming passed their law first, Utah held an election first. Therefore, women in Utah were given the first chance to vote despite living in the second territory to earn that right (I know, it's a little confusing).
It's believed only around twenty-five Utah women voted in the first election that February day. However, by the time a general election was held six months later several thousand women participated.
Little is known of Seraph's personal life. What is known is that she was a grandniece of Brigham Young, a prophet for the Church of Jesus Christ of Latter-Day Saints and later Governor of Utah. Seraph traveled to Utah as an infant and was the oldest of nine children. Two years after casting her historic vote, she married a War Between the States veteran. They had three children, one of whom died in childhood. The family later moved to New York state. The move sadly meant Seraph had to forfeit her right to vote for a time.
The family lived off of Seraph's husband's small wartime pension. In the records for when he applied for the pension, Seraph's husband listed his ailments as blindness and spinal disease, meaning he was paralyzed. Seraph cared for him and their children both, as well as maintaining the house. Money grew so tight, some newspaper accounts state Seraph and her children would perform on street corners, singing and playing instruments to earn coins from people passing by.
The family eventually moved to Maryland, just outside Washington DC. Seraph would eventually adopt her ten-year-old granddaughter after one of Seraph's daughters divorced and remarried. Seraph's husband passed away in 1910, and after Seraph lived in a small rented home near one of her daughters.
Seraph is buried at Arlington National Cemetery alongside her husband. Her name was in the news in 2020 thanks to the fact that the Trump Administration and other community activists from Utah finally corrected the spelling of Seraph's name on her headstone. Her name was mistakenly written as "Serath" instead of "Seraph," for eighty-two long years.
Seraph has been honored in the Utah state capitol building. A large mural in the North House Chamber depicts Seraph casting her historic vote.
Badges Earned:
Find a Grave Marked
Sources:
https://www.utahwomenshistory.org/bios/seraph-young/
https://www.betterdays2020.com/blog/2018/11/6/meet-seraph-young-utahs-first-female-voter
https://history.churchofjesuschrist.org/training/museum/first-to-vote
https://kutv.com/news/local/headstone-of-utahs-seraph-young-ford-corrected-at-arlington-national-cemetery
https://www.findagrave.com/memorial/31643474/seraph-cedenia-ford