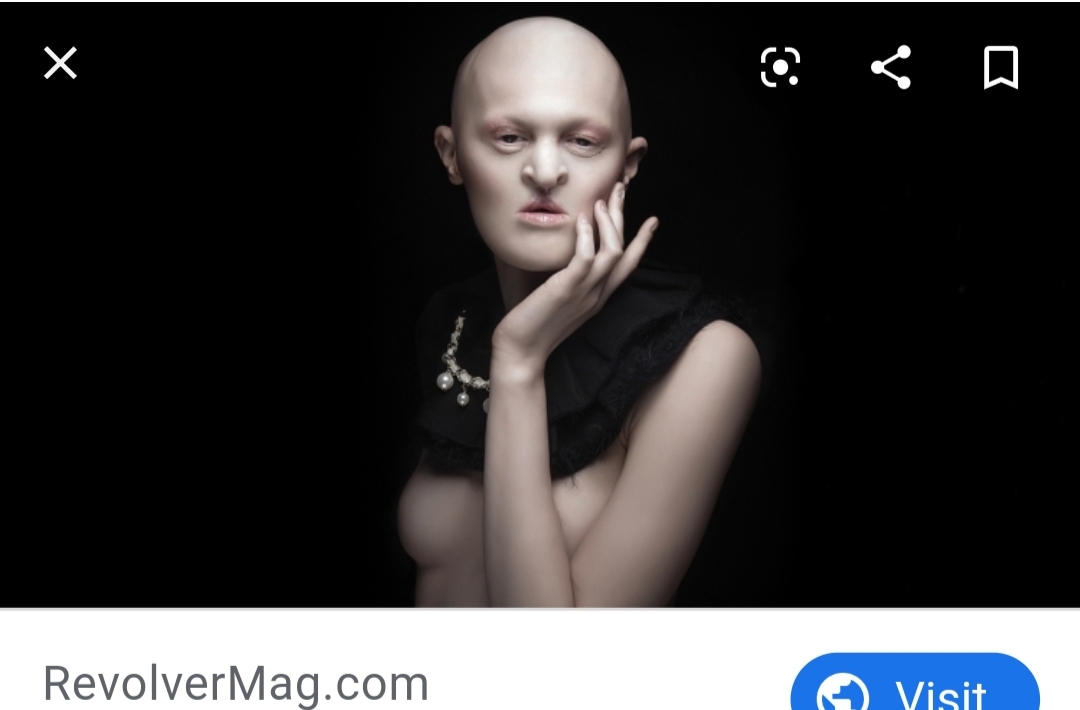 "I was never, ever bothered by the way that I look. It has nothing to do with me."
928: Melanie Gaydos
Model Born with Ectodermal Dysplasia
Born: 1990, Connecticut, United States of America
Melanie is unique within the field of Ectodermal Dysplasia. Though its estimated 1 in 10,000 human births result in a form of the genetic disorder, Melanie is the first in recorded medical history to have the exact symptoms or presentation of the disorder in the way she does.
Ectodermal Dysplasia, in Melanie's case, has prevented her teeth, bones, pores, nails, and cartilage from fully developing. She also has alopecia and is partially blind because her eyelashes grew in and scratched her corneas when she was a child. Melanie underwent over thirty different surgeries as a child. The results are easy to see with your own eyes (see the photo in this article) but instead of letting it get to her, Melanie rocks her look and uses it to her advantage. She's completely given up using wigs or dentures and instead has decided to live exactly the way she was born and work with what she was given.
Melanie first entered the art world after attending the Pratt Institute in New York City. While there, one of her friends who happened to be a photographer asked her to sit for a few photos. As a child, Melanie was taught how to draw realistic human portraits by her father, but she hadn't really decided what she wanted to do with her life.
Melanie walked in New York Fashion Week for the first time in 2015. Most of her photoshoots can safely be described as avant garde. Her unique look allows her to appear in all different sorts of locations, outfits, and accessories.
One of Melanie's first big gigs was appearing in a music video for German heavy metal band Rammstein. She has also appeared in a music video for polish artist Behemoth. In 2018, Melanie was featured as one of the ten muses in Kat Von D's "Muses" makeup collection. Melanie has also appeared in several horror films.
Melanie was featured in the PBS docu-series 9 Months That Made You.
Sources:
https://www.harpersbazaar.com/fashion/models/a10033498/model-melanie-gaydos-interview/
https://i-d.vice.com/en_au/article/59g5qz/melanie-gaydos-is-one-of-the-many-models-challenging-normative-standards-of-beauty
https://www.boredpanda.com/model-genetic-disorder-ectodermal-dysplasia-melanie-gaydos/?utm_source=google&utm_medium=organic&utm_campaign=organic