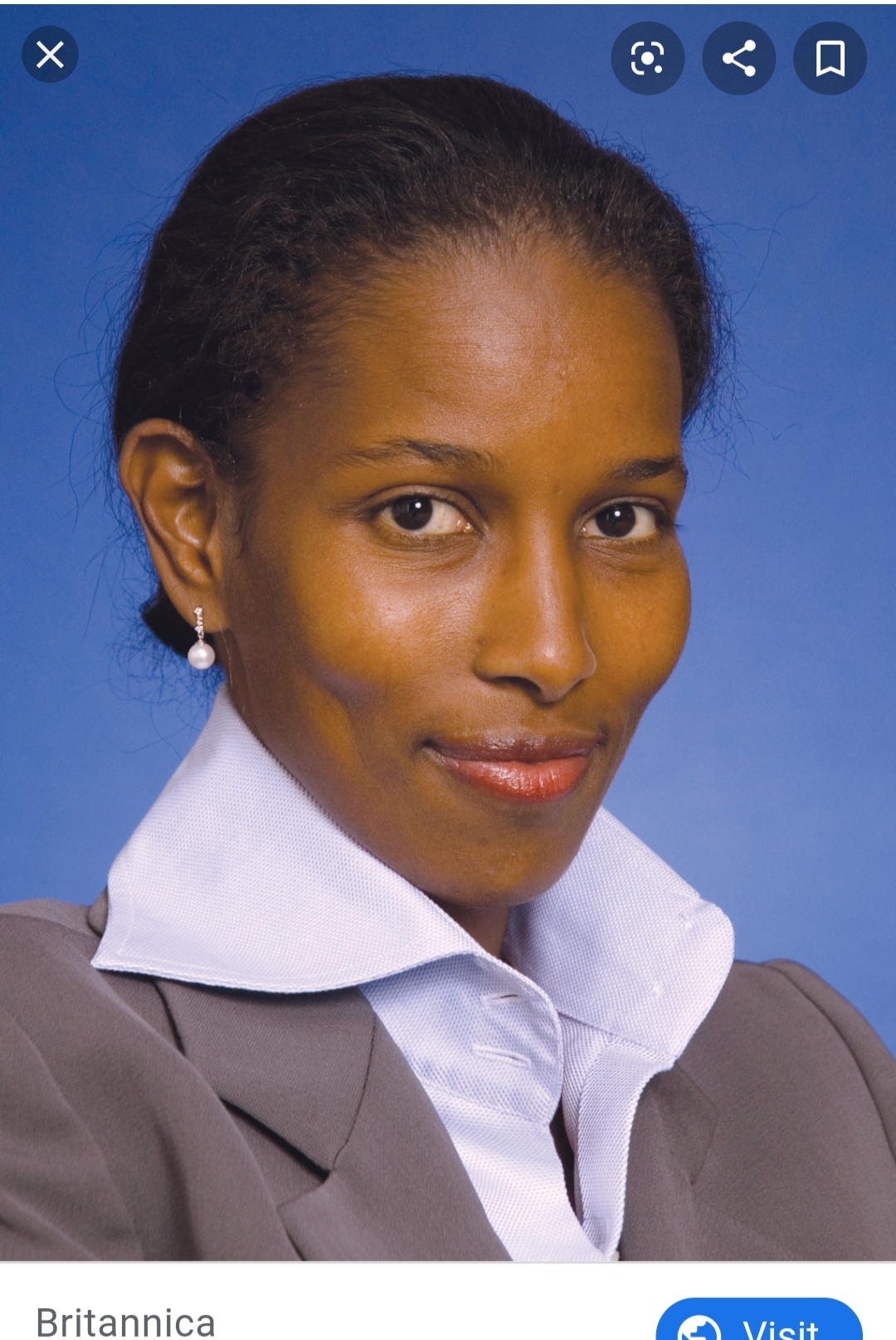 "Tolerance of intolerance is cowardice."
922: Ayaan Hirsi Ali
Outspoken Atheist and Activist
Born: 13 November 1969, Mogadishu, Somalia
Ayaan is a champion of free speech, a women's rights activist, and an author. She has also been criticized by many for stating Islam "is fundamentally incompatible with Western democratic values, especially those upholding the rights of women," (quote courtesy of Britannica).
Ayaan is a supporter of ridding the world of Female Genital Mutilation once and for all. Sadly, she herself was subjected to this horrible practice as a child (it was carried out on her grandmother's orders). She could not understand, even as a young girl, why she was being taught women must always obey their husbands. Ayaan wondered if husbands had to obey their wives as well. She would soon learn the answer to that question—it was a resounding no (in her strict Muslim upbringing in any case).
Ayaan fled and claimed political asylum in the Netherlands after her father forced her to marry a distant cousin. Ayaan was eventually elected to parliament after starting off in the country as a janitor. While in parliament, Ayaan let her voice be heard. She advocated for an end to FGM and honor killings once and for all.
In 2004, Theo van Gogh, who had directed a short film about Ayaan and other oppressed Muslim women, was assassinated with the killers leaving a threatening note for Ayaan on his body.
In 2013, Ayaan became a United States citizen; continuing her activism work in a country that supported her right to free speech and expression in a way she wasn't able to attain in the Netherlands.
As of 2021, Ayaan has published six books and holds a degree in political science.
Ayaan founded the AHA Foundation to help further her efforts with free speech and women's rights. She is also a research fellow at the Hoover Institution at Stanford University.
Badges Earned:
Located In My Personal Library:
Infidel by Ayaan Hirsi Ali
Prey: Immigration, Islam, and the Erosion of Women's Rights by Ayaan Hirsi Ali
Sources:
https://www.theahafoundation.org/ayaan-hirsi-ali-founder-of-the-aha-foundation/
https://www.britannica.com/biography/Ayaan-Hirsi-Ali