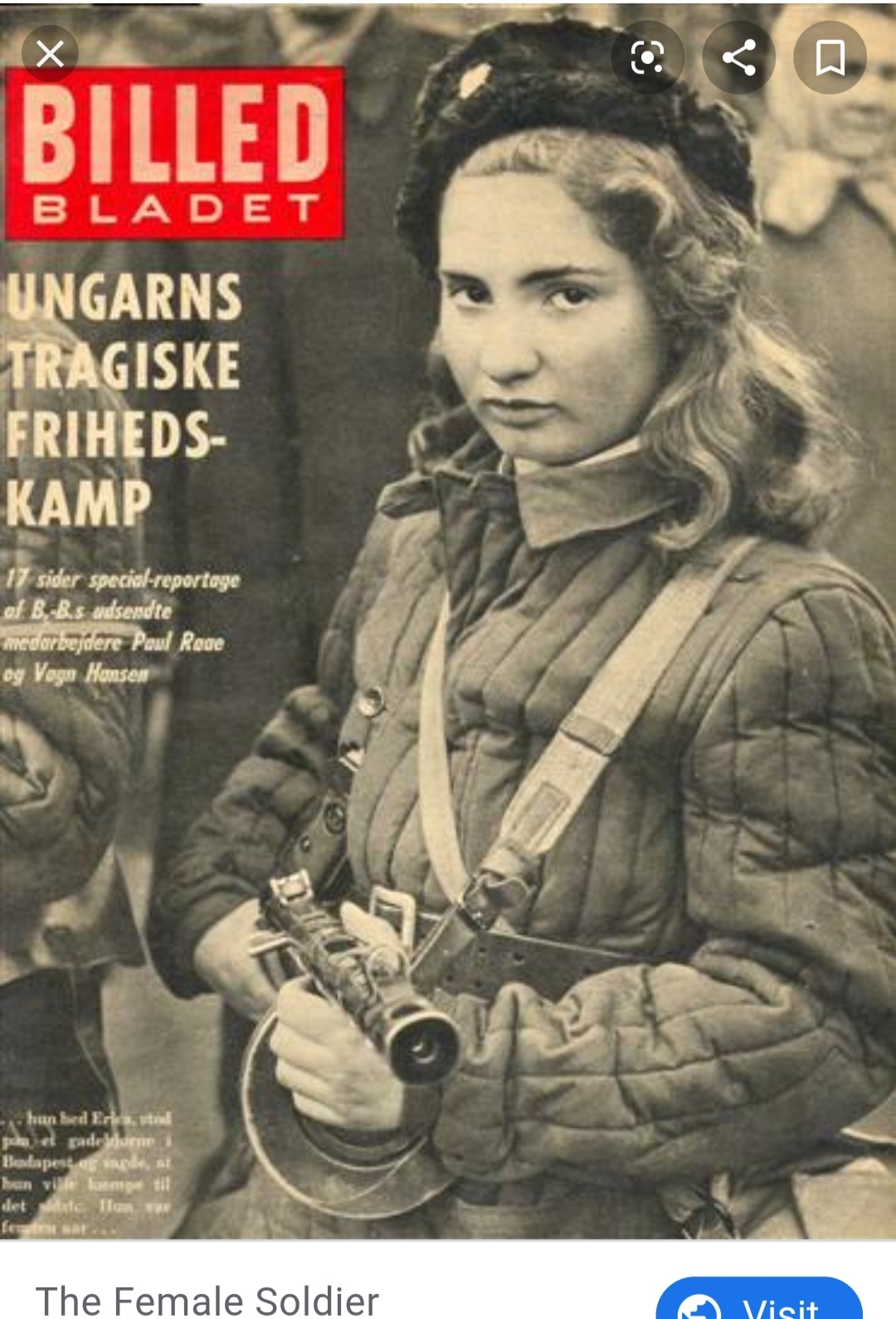 "I accidentally managed to take a picture that became world-famous and became a symbol of the revolution." -Vagn Hansen, the Photographer
914: Erika Szeles
Soldier in the Hungarian Revolution of 1956
Born: 6 January 1941, Budapest, Kingdom of Hungary (Present-day Budapest, Third Hungarian Republic)
Died: 8 November 1956, Budapest, Hungarian People's Republic (Present-day Budapest, Third Hungarian Republic)
Before the fighting broke out Erika was an apprentice cook at a hotel in Budapest. Her family was Jewish, and her father was killed during the Shoah in 1944, though the exact circumstances of his death are unknown. Erika's mother was a staunch Communist and died herself after hearing of Stalin's death in 1953 (according to one story, another says she was still alive when Erika died, so who knows).
Even though her mother was a communist, Erika reportedly became disenfranchised with the regime after falling in with an older friend. This same friend would later encourage Erika to join the fighting in the Revolution.
Erika used a machine gun and fought on the frontlines. The 1956 revolution broke out after Hungarians fought to push the Soviets, who had invaded, out of their country and become free of the USSR once and for all. On November first, the now-famous photograph of Erika holding her weapon was snapped by a Danish photographer. Three days later some other friends convinced Erika she was too young, only fifteen, to be fighting. She put down the gun and became a volunteer nurse instead, working for the Red Cross.
Erika was gunned down in the streets of Budapest four days later. At the time, she was tending to a wounded friend, was completely unarmed, and was wearing a uniform with the red cross of a nurse on it.
The photo that had been taken of Erika only a week before soon graced the covers of magazines across the Western world. Few who saw it knew Erika was already dead. Her image inspired others to stand up and fight for their own freedoms. Though Hungary would not become free of the Soviet Union following the Revolution's end, they did slowly gain more and more freedoms, culminating in their complete separation from the USSR in 1989.
The photographer did not know Erika's identity when he snapped the photo. In 2006, as the fiftieth anniversary of the uprising approached, some who remembered the picture decided to try and track down who the girl in the photo was. It took two years, but finally in 2008 Erika's story was recovered, and her heroism for her country was remembered once more.
It should be noted that Hungary gave women the same/equal rights as men in 1945. That year, Hungarian men and women were both given the right to vote, and universities began admitting female students. This allowed for women to play a large role in the 1956 Revolution, including being some of the first to come out in large numbers to mass demonstrate in the streets of Budapest. Today, Erika is seen as a hero in Hungary, and rightly so.
Badges Earned:
Find a Grave Marked
Sources:
https://hungary-1956.fandom.com/wiki/Erika_Korn%C3%A9lia_Szeles
https://www.freedomfirst1956.com/women-played-their-part-in-the-1956-revolution/
http://thefemalesoldier.com/blog/erika-szeles
https://www.findagrave.com/memorial/103704387/erika-korn%C3%A9lia-szeles