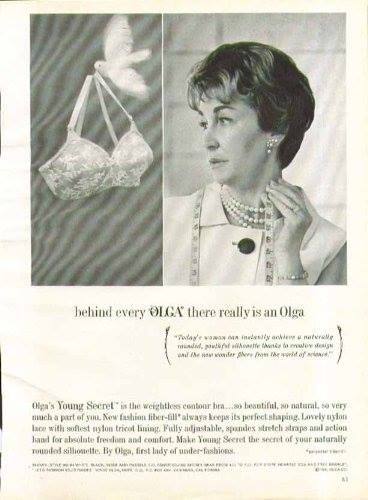 892: Olga Erteszek
The Queen of Ladies' Lingerie
Born: 15 June 1916, Krakow, Poland
Died: 15 September 1989, Brentwood, California, United States of America
Olga had several patents (Wikipedia claims twenty-eight) for women's undergarments--including the first nightgown with a built-in bra, the seamless bra, and her first product, a lacy garter belt (ooh la la). Olga's face graced hundreds if not thousands of advertisements for the brand over the years, and most department store shoppers in the latter half of the twentieth century would have recognized her face. In fact, at one point her products were sold in 3,000 department stores around the world. At their peak, the company offered 150 different garment designs in over 2,000 color and style combinations.
Olga and her husband immigrated from Poland and started their company with $10 and a rented sewing machine. The pair had fled Poland before World War II kicked off, both of them fervent anti-Communists.
When her brand, The Olga Company (Today known as Olga Intimates), sold in 1984 it had reached $67 million in volume. They also had 1,800 employees that same year.
After the company sold, Olga's daughter continued to work for the brand under the new owners. Olga and her husband had three daughters in total.
Olga and her husband were honored for their humanitarian work, as well as remembered for their keen business sense. Olga designed while her husband, a lawyer before moving to the United States, ran the paperwork end. Together, they were an unstoppable force in the world of lingerie. Their dedication and hard work has ensured the company has survived over seventy years, with no signs of stopping.
Olga passed away from breast cancer.
Badges Earned:
Find a Grave Marked
Sources:
https://www.nytimes.com/1989/09/19/obituaries/olga-erteszek-73-dies-founder-and-designer-of-a-lingerie-firm.html
https://www.chicagotribune.com/news/ct-xpm-1985-12-04-8503240360-story.html
https://www.latimes.com/archives/la-xpm-1989-09-17-mn-174-story.html
https://en.wikipedia.org/wiki/Olga_Erteszek