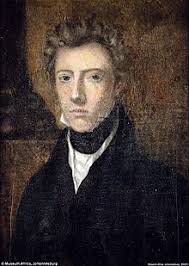 "Was I not a girl I would be a Soldier!"
881: Margaret Ann Bulkley
One of The First European Doctors to Perform a Successful C-Section
Born: c.1789-1795, Cork, Ireland (Present-day Cork, Republic of Ireland)
Died: 25 July 1865, London, United Kingdom
Also Known As: Dr. James Barry
Margaret's medical feat occurred while serving in Cape Town, South Africa.
Margaret served as a surgeon in the British Army all under the guise of pretending to be a man (Dr. James Barry to be precise). She rose all the way to the position of Inspector General of Hospitals, one of the highest medical positions within the military at the time.
Margaret was the first female doctor in Britain (though the public didn't know it). Over the years she was known for her eccentricities. She was a vegetarian, fought a duel, made Florence Nightingale mad, carried around a small menagerie of animals (according to one source anyway), and managed to keep her career afloat despite several inquiries from the Army into her conduct.
Her secret only came out after she died, when a woman undressed her to prepare her body for burial. The woman described Margaret as "a perfect woman" and guessed Margaret had once given birth based on stretchmarks on her abdomen (though no proof of her having a child has ever surfaced). This examination was done in direct defiance to Margaret's final wishes, that she be buried as soon as possible in the clothes she died in without an inspection of her body.
News exploded across the media of the day, and the scandal was so great the British Army buried her medical records for nearly one hundred years. Margaret's story spawned conspiracy theories (including one which stated she was the illegitimate child of King George III) and even a play. The doctor who signed Margaret's death certificate, when asked for a comment, stated it was none of his business whether Margaret was born male or female. And that was the truth; by that point Margaret, or James, was dead, and nothing could change that. But that didn't stop the media inquiries from continuing to question.
The truth was almost stranger than any of the stories previously put forward. Margaret was the daughter of an Irish shopkeeper, and when she was nineteen, she abandoned female attire in order to dress as a man and attend medical school in Edinburgh. Margaret borrowed her late uncle's name, James Berry, and used the small fortune she had inherited from him to pay for her schooling. Margaret became the first British woman to graduate from medical school; only she was the only person who knew it at the time.
After graduation, Margaret successfully joined the army as an assistant surgeon. Her first posting was to Cape Town in South Africa, where she would serve for the next twelve years and eventually come to be in charge of all medical practices there. After leaving South Africa, Margaret served in Canada, the West Indies, and parts of the Mediterranean. In total, she served the army for forty-six years.
Margaret had a temper issue, as mentioned above. She threw medicine bottles, fought in a duel, shouted at patients, and even other doctors and nurses. But she also had a medical gift. As also previously mentioned, Margaret performed one of the first successful cesarean sections in the world, and she was an advocate for better sanitation practices.
Though she was an incredible figure, even in her own day, her life was a lonely one. Because she was hiding such a huge secret, Margaret never married, and its never been verified if she had children or not. She died alone, but her story did not die with her.
NOTE: In the past few years it has become fashionable to affix labels like "transgender" to figures such as Margaret, however, I am uncomfortable labeling historical figures like Margaret in that way. Yes, she lived the majority of her adult life in the guise of a man. However, there's no evidence she did this for any reason other than to succeed in the medical field. Other theories state she was intersex, a hermaphrodite, following a male lover to school and had to dress as a male in order to do so, and so on. If evidence ever arises to show Margaret wanted to live her life as a man fully--socially, medically, and for her career, then I will reassess her profile on a transgender basis here. Until such time arises though, I will simply list her incredible feats and honor her under the biological sex she was while alive.
Badges Earned:
Find a Grave Marked
Located in My Personal Library:
Hypatia's Heritage: A History of Women in Science From Antiquity to the Late Nineteenth Century by Margaret Alic
Sources:
https://www.theguardian.com/books/2016/nov/10/dr-james-barry-a-woman-ahead-of-her-time-review
https://hekint.org/2020/04/03/a-surgeon-and-a-gentleman-the-life-of-james-barry/
http://www.medicaldiscoverynews.com/shows/jamesBerry.html
https://embryo.asu.edu/pages/margaret-ann-bulkley-james-barry-17891865
https://allthatsinteresting.com/james-barry