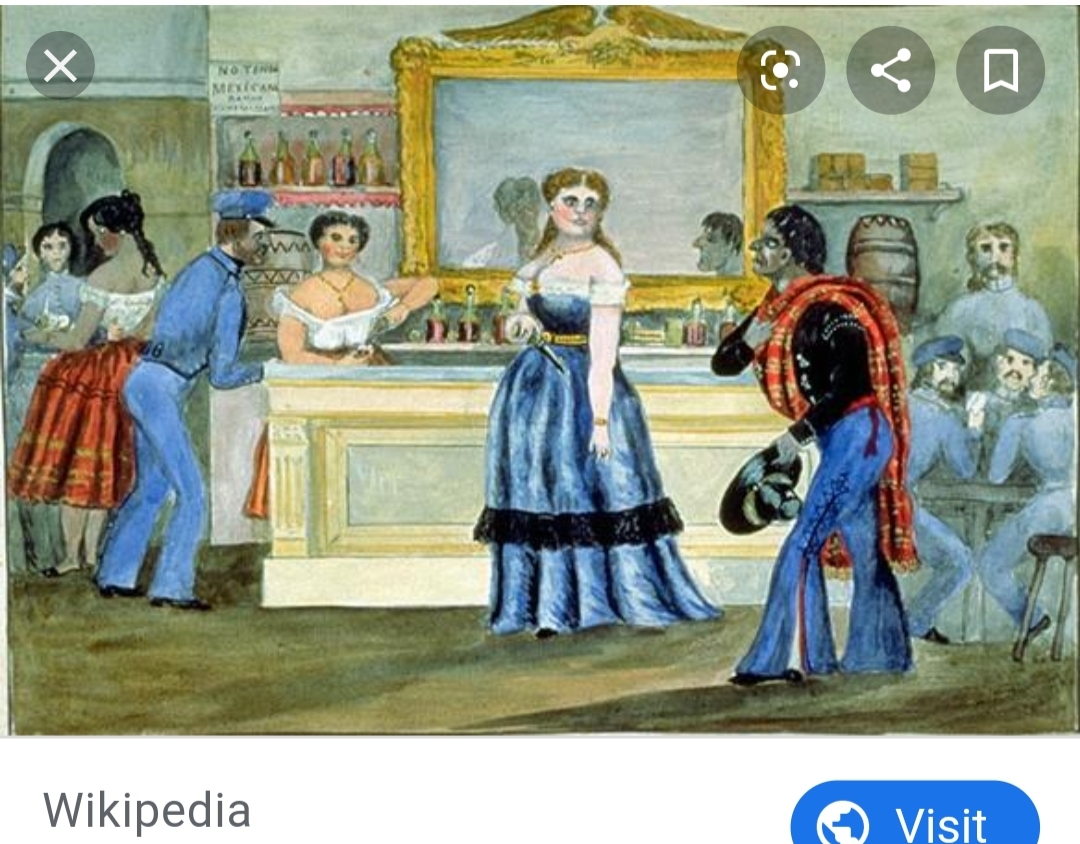 872: Sarah 'Great Western' Bowman
Innkeeper, Army Camp Follower, and Restauranteur
Born: c.1813, Tennessee or Missouri, United States of America*
Died: 22 December 1866, Fort Yuma, California, United States of America
Sarah is best known for being a follower of General Zachary Taylor's army during the Mexican/American War.
Sarah was (according to one source in any case) the first woman to become an officer in the United States Army. General Taylor promoted her to the rank of Colonel after she protected Fort Brown in Texas from Mexican Bombardment. She also served valiantly at the Battle of Buena Vista, treating the wounded, carrying them off the field at times, reloading weapons, and ensuring the troops were fed throughout the bombardment.
She earned her nickname "Great Western" from the fact she was at least six feet tall and 200 pounds—and the fact that a steamship operating at the time was called The Great Western and was known for being, well, huge.
She had many business interests despite being illiterate, including operating several inns, hotels, and restaurants over the years (and possibly some brothels too). Sarah was also fluent in Spanish and had several adopted children.
It is believed she was married three times or more over the course of her life. The reason we don't know for certain is because of the numerous surnames Sarah used throughout her life. The names included: Boginnis, Bourdette, Bourget, Bourjette, Borginnis, Davis, Bowman, and according to some, Foyle.
Rumors circulate that Sarah first became involved in military life after becoming a laundress and cook for her first husband's unit during the Second Seminole War (however, there is no actual source from the time period confirming this). By the time of the Mexican/American War, Sarah was married again (this is known with more certainty as the first historical record we know of with concrete fact stems from 1845). Sarah married her third or fourth husband later in life (Some sources state she had two during the course of the Mexican/American War).
Sarah is credited with being the first white woman to settle in El Paso, Texas and Fort Yuma, Arizona.
Sarah died from a spider bite. She was given a military funeral and buried in the fort's cemetery, the first woman to ever receive these honors. In 1890, all of the bodies in the cemetery were exhumed and moved to the San Francisco National Cemetery at the Presidio in California.
*The sources are split evenly between the two states, so for now Sarah will be listed under "Unknown Origins" as per the "Birth Locations" tab. If Sarah's definitive birth location is ever proven, then I will adjust her position accordingly.
Badges Earned:
Find a Grave Marked
Located In My Personal Library:
The Blue Tattoo: The Life of Olive Oatman by Margot Mifflin
Levi's and Lace: Arizona Women Who Made History by Jan Cleere
Sources:
https://library.uta.edu/usmexicowar/item?bio_id=51&nation=US&ofst=6&sort=nameasc&ni=52
https://www.tshaonline.org/handbook/entries/bowman-sarah
https://www.legendsofamerica.com/sarah-bowman/
https://militaryhallofhonor.com/honoree-record.php?id=2272